Why early marriage will be a big burden for you to carry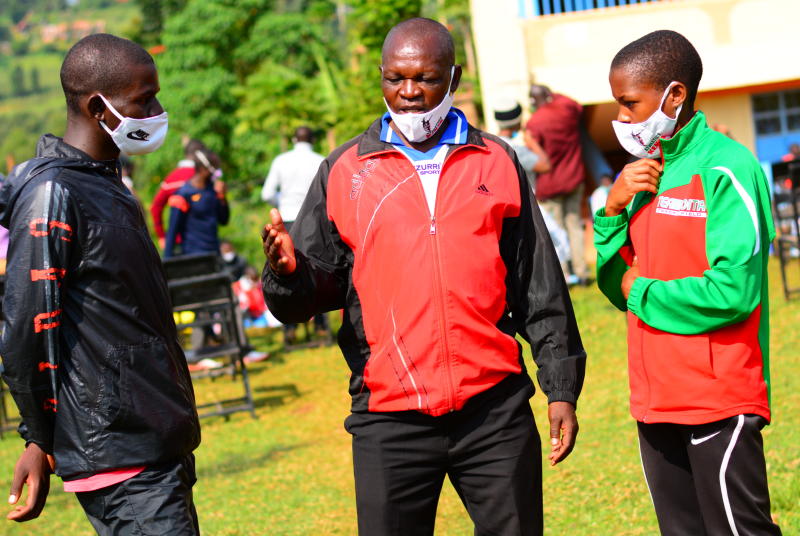 Poverty is a seed that germinates into numerous unpleasant fruits, one being early marriages.
And this is causing Athletics Kenya some sleepless nights.
With scarce opportunities to compete and lack of revenue, most young athletes are taking solace in marriages.
Speaking while distributing food and cash donations in Moganga Athletics Camp and St. Peter's Keberesi in Bomachoge, Kisii County, Athletics Kenya vice president in charge of youth development Barnaba Korir warned the runners against early marriages, advising them to focus on developing their career.
He cited recent reports indicating that in Machakos county alone, some 4,000 school girls below the age of 19 were already pregnant.
The Moganga Athletics Camp is one of the 19 training institutions that were set up by AK together with the Ministry of Sports to nurture talent ahead of the postponed world under-20 championships. The event was to be held on July 7-12 in Nairobi.
Over 1,400 junior runners in the camps are benefiting from stimulus food shopping (worth Sh3,000) and Sh3,000 cash from the government, as a way of cushioning them against hard times during this period of coronavirus pandemic.
"We have seen very talented runners getting into early marriages and in the end, the union doesn't last. This has seen the loss of so many talents," said Korir.
"Instead of investing the little money you have earned in the track and road races, you opt for the fast life, buying big cars and getting married, instead of concentrating on the sport. These things will come and it's good to get advice from someone you trust."
Elizabeth Keitany, who is a member of the Youth Development, also voiced her concern, saying it's denying the youth an opportunity to explore their talents.
"Girls are the worst affected. Instead of working hard in training, they start childbearing task and in most cases, it marks the end of their sporting careers," said Keitany.
The St. Peter's Keberesi athletics camp was founded by Athletics Kenya public relations officer Evans Bosire and has produced top runners including 2012 Olympics bronze medallist Abel Mutai, sprinter Lilian Odire of Kenya Prisons Services and Christine Cheshire, who finished fourth at the national cross country to earn a ticket to the Africa cross country championships that was to be held in February.
"This is a great initiative by the federation and the government of remembering these youngsters during this difficult period,"said Bosire, who is also the principal at Keroka Technical Training Institute.
Meanwhile, The World Under-20 Championships is open to athletes under 20 years by December 31 of the year of competition.
Nairobi was selected to stage the event back in 2017 in Buenos Aires, Argentina by World Athletics.
Korir said Athletics Kenya will do everything to protect the interest of young girls who have shown potential in track and field.
Kenya has grappled with teenage pregnancies amid reported cases of sex abuse in unregulated training camps as coaches and training partners prey on young girls.
"Young athletes need to celebrate their hard-earned cash into their twilight years of athletics. Develop your talents and plan well your career beyond your teenage years," said Korir.
"We have to be worried. We have the World Under-20 Championship coming and these athletes are the ones we will depend on, but the high rate of teen pregnancies is disturbing."