Team Cheruiyot breathing fire ahead of Impossible Games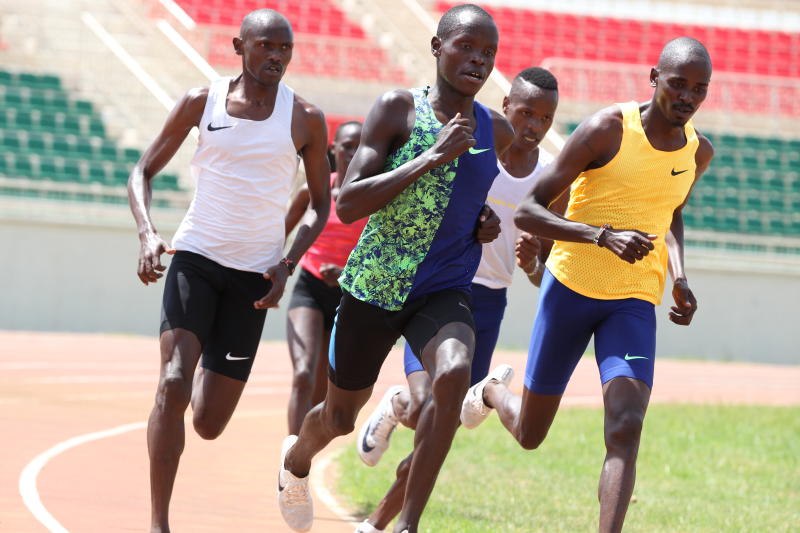 World champion upbeat as he gears up to lead Manangoi and others in virtual race against Norwegian brothers.
World 1,500m champion Timothy Cheruiyot and his team are in high spirits as they prepare for the 'Impossible Games' on June 11.
Cheruiyot and Manangoi, the 2017 world 1500m champion, will line up in the 2,000m contest at Nyayo Stadium while the Ingebrigtsen brothers in Henrik, Filip and Jakob test their mettle inside Bislett Stadium in Oslo, Norway.
With Covid-19 outbreak having halted sporting activities across the globe, the Bislett Games will certainly be a perfect clash where Cheruiyot, Manangoi, Edwin Melli, Timothy Sein and Vincent Keter will battle against the Ingebrigtsen brothers
Despite training at high altitude at 1,800m above sea level, Cheruiyot is oozing confidence ahead of the race against the compatriots in Oslo, which lies at almost sea level (23 metres).
"We are currently working on speed work and coordination with my teammates. We will give the Norwegian brothers a run for their money," said Cheruiyot.
The race named 'The Maurie Plant Memorial' in honour of the Australian athletics agent who passed away in January this year will be the first virtual race for the Kenyans.
"This will be the first virtual race for me also the first time I will compete in 2,000m. I am eager to see how it will go. It's good challenge and great opportunity for us," said Melly, who won Bronze medal in 1,500m race at the 2012 world junior Championships in Barcelona, Spain.
Manangoi has recovered from a stress fracture that saw him miss the 2019 World Championships in Doha, Qatar.
"This virtual race will be a great opportunity for me to test my recovery. Although we haven't trained together for long as a team due to Covid-19 restrictions, we are ready to challenge Jakob and his team. We have raced against him before and we are aware of his capabilities," Manangoi said.
Team Cheruiyot is mainly drawn from Rongai Athletics Club under coach Bernard Ouma and they will competing mainly for entertainment purposes.
There is no prize money for the winners, but the organisers, the Bislett Games will pay appearance fees for each of the athletes. The fees differ in each of the runners.
Both teams will start with five runners and will have to finish with three. The winner of the match will be the team with the best overall time for three runners.
Individual times will count as well, and the Ingebrigtsen brothers will have one eye on the European record of 4:51.39 held by Steve Cram, who will incidentally commentate the race.
The race will be shown on international TV as a split screen competition.