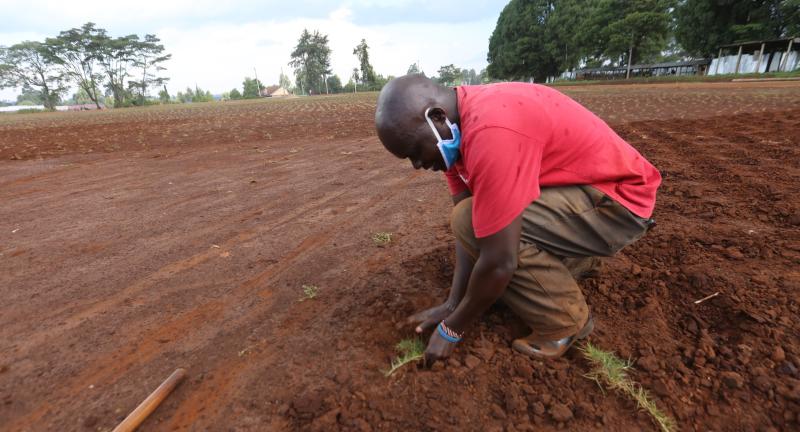 John Wooden, a former American basketball player and all-time head coach, once said; "Make each day your masterpiece."
And one man seems to follow in Wooden's wise words: John Chumo, an athletics coach based in Kapsabet.
SEE ALSO: Learn to cope with virus, Kipchoge says
At the Eliud Kipchoge Athletics Training Camp, in Nandi County, which is under construction, one would be mistaken to think the contractor has hired a landscaper.
A man is unusually busy planting and watering grass at the facility, which is funded by Nandi County government.
SEE ALSO: Jepkosgei hopes to excel in marathon despite race cancellations
Chumo, a 52-year-old coach, is not your ordinary trainer. He has coached the 2019 INEOS 1:59 challenge pacesetter and two-time Rotterdam marathon winner Marius Kipserem as well as women 3000 metres steeple chase world record Beatrice Chepkoech.
When all athletics camps in Kenya were closed in March over Covid-19 pandemic, Chumo's camp was no exception. He had no option but to release the 40 athletes at his Kapsabet base.
SEE ALSO: Kipchoge adopts 50 hectares in Kaptagat forest
Hi once busy schedule was now reduced to hours of idling around. It's then that he decided to volunteer at the training centre, which was established in honour of world marathon record holder, Eliud Kipchoge.
When his 10,000m running career was cut short by an injury in 1993, Chumo decided to coach junior runners from Kapsabet and since then, he has never turned back.
His coaching prowess has produced some big names in the track and field sport.
From former 800m world champion Janet Jepkosgei to Pamela Jelimo, an Olympic champion in the same distance, to two-time world marathon champion Abel Kirui, Chumo has nurtured young talents before releasing them to leading managers including the Global Sports and Rosa Associati.
Chumo takes pride in having nurtured former 800m Olympic champion Wilfred Bungei.
The endless list of protégés also includes Milka Chemos, Lawi Kiptum and Lydia Chepkwony.
He also coaches junior athletes seeking academic scholarships in the US.
"My aim is to make this pitch a masterpiece because this is where I intend to produce the next generation of track stars and marathoners," he says.
He was accompanied by Bill Kiptoo, a young athlete who had landed an academic scholarship at the University of North Carolina. He was to travel to the US before travel restrictions were issued over Covid-19.
The 3000m athlete now trains under coach Chumo but sends his training recordings to his US coach who is closely monitoring his progress.
He has planted and nurtured grass at the Kipchoge Athletics Training camp for three weeks and says he will not stop until the pitch is green.
"I released my athletes and gave them training instructions after closure of training camps was ordered. But two weeks later, I felt lonely and idle after spending a lot of my time at home and thought of the new training camp," Chumo said.
He says his decision to plant and nurture grass at the county sports facility was primarily to prepare the grounds for a rigorous coaching session once normalcy returns.
Chumo says he felt delays in completion of the sports ground would have dealt a blow to the Kenya Secondary Schools national athletics championships which were set to take place in Kapsabet in April.
It was his dream, he says, for the schools competition to take place in the county that has produced veteran athletes.
"I came here and found a bare field. A week later, even without notifying the contractor, I came with a hoe and started planting grass because I felt the contractor might delay finishing up with the work," he said.
Kiptoo said it has been easy for young athletes, who remained in Kapsabet after closure of training camps, to seek advice from Chumo because he is ever at the new sports facility.