Coronavirus pandemic denies world final Kipchoge-Bekele showdown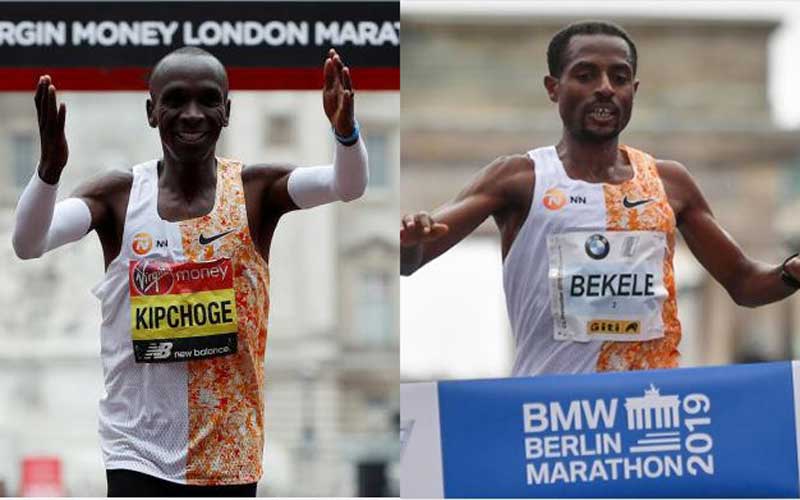 Were it not for the coronavirus (Covid-19) pandemic, the two world's best marathoners, Kenya's Eliud Kipchoge and Ethiopian Kenenisa Bekele would have gone head-to-head in the 40th annual London Marathon today.
The race, which was originally scheduled for Sunday, April 26 (today), was postponed to Sunday, October 4, 2020, following the rapid spread of Covid-19 cases in the United Kingdom.
While Kipchoge and Bekele share a common statistic – being the only two marathoners to have completed the full 42-kilometre marathon course in under two hours two minutes, they also share a common goal, to beat the other.
Kipchoge stole world headlines following his historic feat in Vienna, Austria, in October last year where he became the only known marathoner to break the sub-two-hour barrier in the INEOS 1:59 Challenge.
Bekele, about a month earlier, was shy of the world marathon record after winning the Berlin Marathon in 2:01:41 seconds, falling TWO seconds short of Kipchoge's 2:01:39 record, set in the same race in 2018.
Both runners had a point to prove, and the world could tell they were more than ready to race.
Today would have been the fifth time they faced each other in a long-distance race, the third in London. Both admit the world would have been treated to a spectacle.
Through a press conference chaired by Head of Elite Athletes for London Marathon Spencer Barden, Kipchoge and Bekele spoke on the challenge of training either alone or in lockdown alone amid the Covid-19 pandemic.
"Physically, I'm training to make sure that I am fit, but you cannot train alone and be in the best ever shape. Mentally, if you have an hour run and you're running alone, you really get tired because you are running alone, you are thinking alone. I have been with a team for past 15 years and it's really crazy for me, I can say it's not comfortable at all, but safety is my number-one priority," Kipchoge said as seen on Runners World.
Bekele faces the same challenge, saying maintaining efficiency is the main problem while training alone.
"It's not nice to run alone but of course it's not possible to run together. I'm trying to maintain my performance, but it's really not efficient. I'm praying that this time will be over soon. I run four or five days a week outside, running alone in the forest, but most of the time I am with my family at home. It's ok, it's going well, but it's sad to hear about Europe and USA where many people are getting the virus. Of course, I am very stressed about it," Bekele explained.
Interesting enough, as much as both athletes believe the marathon in London would have been epic, they also admit it would not have been completed under two hours.
"I believe it would have been a good race, an interesting one, but I don't think it would have been under two hours," Kipchoge told Runners World.
Bekele echoed Kipchoge's sentiments, admitting weather conditions would not have allowed it.
"Maybe if there were good weather conditions, there could have been a world record, if we'd both been pushing each other. I don't think under two hours would have happened this time," said the Ethiopian legend.
Who stands a better chance?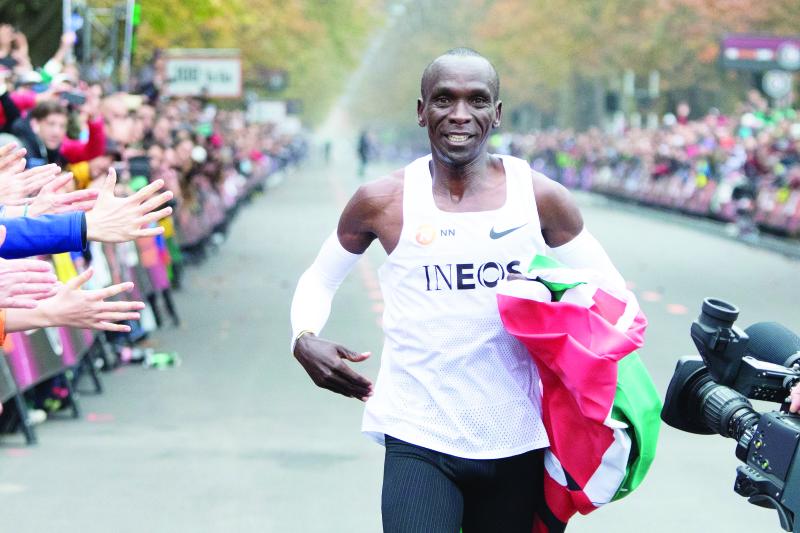 While most would argue Kipchoge is a better runner on paper, Bekele poses a threat considering his feats in the short distance races.
According to Running Magazine, Kipchoge and Bekele have met 20 times over all distances and surfaces, with the Ethiopian emerging victorious in 11 of their 14 meetings on the track.
However, Kipchoge's greatness manifests in the long-distance races (marathons). The Kenyan has impressively beat Bekele in all four meetings.
Summarised comparison of Kipchoge and Bekele's distinct histories, individual bests and head-to-head records
KIPCHOGE'S RECORDS
Olympics: Bronze in the 5000 metres in 2004. Silver in the same race in 2008. Gold in 2016 marathon.
World Championships: Gold in the 5000 metres in 2003. Silver in the same race in 2007.
World Records: Berlin Marathon (2:01:39) in 2018.
BEKELE'S RECORDS
Olympics: Won Gold in the 10,000 metres in 2004 and a silver medal in the 5000 metres. He also won gold in the 10,000 metres in 2008 as well as gold in the 5000 metres.
World Championships: Won gold in the 10,000 metres and bronze in the 5000 metres in 2003. Won gold in the 10,000 metres race in 2005, 2007 and 2009, as well as gold in the 5000 metres in 2009.
World Records: 5,000 metres completed in 12:37.35, set in 2004. 10,000 metres gold 26:17.53 set in 2004.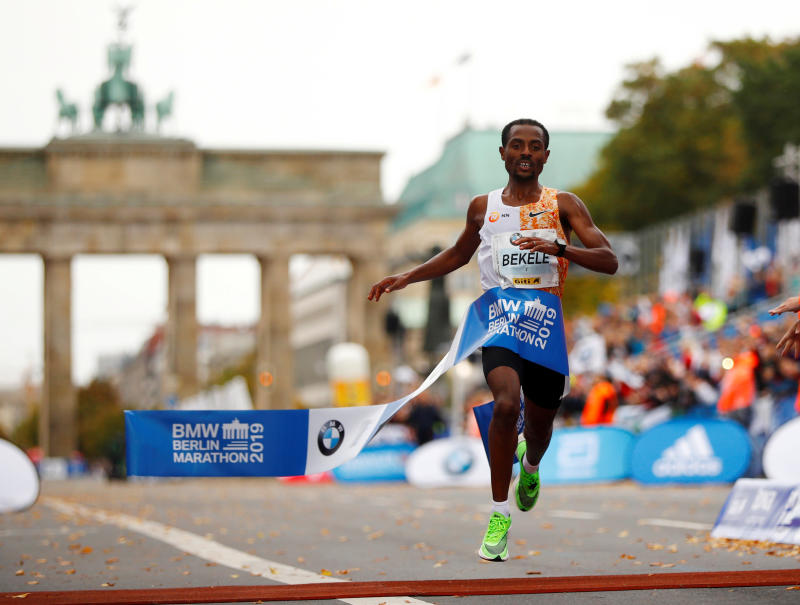 HEAD TO HEAD:
The following have met in 20 races over all running distances and surfaces in the following order:
Oslo 2003: They first met at the Oslo, Norway at the Bislett Games in 2003 in the 5,000 metres race. Bekele won in 12:52.26. Kipchoge finished in third in 12:52.61.
World Championships 2003: They met for the second time in Paris, France again in the 5,000 metres. Kipchoge won in 12:52.79 and as Bekele took bronze in 12:53.12.
World Cross-Country Championships 2004: They raced in the World Cross-Country Championships Brussels, Belgium. The Ethiopian was victorious after clocking 35:52 seconds. Kipchoge finished a distant fourth in 36:34.
2004 Athens Olympics: In the 5,000 metres men's final, none won Gold, but Bekele crossed the line ahead of Kipchoge to claim silver in 13:14.59. Kipchoge won bronze in 13:15.10.
2005 World Cross-Country Championships: They met again in Saint-Étienne, France. Bekele won gold after crossing the finish line in 35:06. Kipchoge failed to make into the podium places, finishing fifth in 35:37.
2006 World Indoor Championships: This was the first time they competed against each other in an indoor race. This time, they went head to head at the 3000 metres, Bekele was victorious again winning the championship in 7:39.32 seconds. Kipchoge finished third in 7:42.58.
Rome 2006: In Italy in the 5,000 metres race, Bekele won after clocking 12:51.44. Kipchoge was a distant sixth-place finisher in 12:54.94 seconds.
London 2006: Even though none became the winner in England a fortnight later, Bekele finished an impressive second ahead of the Kenyan who could only manage fourth place.
Zurich 2006: They faced off for the fourth time in 2006 in Zurich, Switzerland. Bekele again pipped Kipchoge to win the race in 12:48.25 seconds. Kipchoge was third, almost 10 seconds behind Bekele.
Brussels 2006: The two again faced off in Belgium's capital in the 5000 metres final, where not only did the Ethiopian win the race but did it in style, 13 seconds ahead of Kipchoge. Bekele crossed the finish line in 12:48.09.
2008 Beijing Olympics: The faced off for the last time at an Olympic event in China's capital. Bekele won the gold medal in 12:57.82, four seconds ahead of Kipchoge's 13:02.80.
Thessaloniki 2009: Kipchoge crossed the finish line in ninth place after 8:07.26 seconds when the two met again in Greece for the 3000-meters race. Bekele won in 8:03.79.
2009 World Championships: In Berlin, Bekele claimed another world championship in the 5000 metres race. He crossed the finish line in 13:17.09 seconds. Kipchoge finished fifth in 13:23.34.
Brussels 2011: They met again in Belgium, this time at a 10000 metres race, where Bekele emerged victorious in 26:43.16, the. Kipchoge finished fifth in 26:53:57.
Doha 2012: At the Doha Diamond League in the 3,000 metres race, Kipchoge beat Bekele, finishing second in 7:31.40 seconds. Bekele finished seventh nine seconds later.
Paris 2012: Kipchoge finished in eighth place in the Paris Diamond League (12:55.34), under half a second ahead of the Ethiopian (12:55.79).
2014 Chicago Marathon: The Kenyan was victorious after crossing the finish line in 2:04:11 seconds, 1:40 seconds ahead of Bekele who came in a distant fourth.
2016 London Marathon: In yet another long-distance race, Kipchoge won in 2:03:05. The Kenyan crossed the finish line three minutes ahead of Bekele, who was third in 2:06:36.
2017 Berlin Marathon: Kipchoge was again victorious in 2:03:32 seconds. Bekele registered a DNF (DID NOT FINISH).
2018 London Marathon: This is the last time they met. Kipchoge again won after crossing the line after 2:04:17 seconds. Bekele finished sixth in 2:08:53.
PERSONAL BESTS (PB):
In the 1,500 metres race, Bekele has a Personal Best of 3:32:35, with Kipchoge at 3:33:20.
In the 3,000 metres race, Bekele has a Personal Best of 7:25:79, with Kipchoge at 7:27:66.
In the 5,000 metres race, Bekele has a Personal Best of 12:37.35, with Kipchoge at 12:46.53.
In the 10,000 metres race, Bekele has a Personal Best of 26:17.53, with Kipchoge at 26:49.02.
In the Half-Marathon, Bekele has a Personal Best of 1:00:09, with Kipchoge at 59:25.
In the Marathon, Bekele has a Personal Best of 2:01:41, with Kipchoge at 2:01:39.
*Information according to Running Magazine.*
Both men training at home
Kipchoge and Bekele have now turned their attention to helping fight coronavirus. Their focus has shifted to maintaining their fitness at their homes in Eldoret, Kenya and Addis Ababa, Ethiopia respectively.
Both hope the Covid-19 situation is soon dealt with and believe the Olympic games, which have been rescheduled to July next year are not so far away.
"For now, like the rest of the world, his focus is on staying healthy, but if all goes well and life goes back to normal, I would love to run a marathon at the end of the year," said Kipchoge.
Bekele added: "The main issue right now is helping each other, transferring information and helping the organisations fighting the virus."