Eldoret City marathon postponed as coronavirus hits sport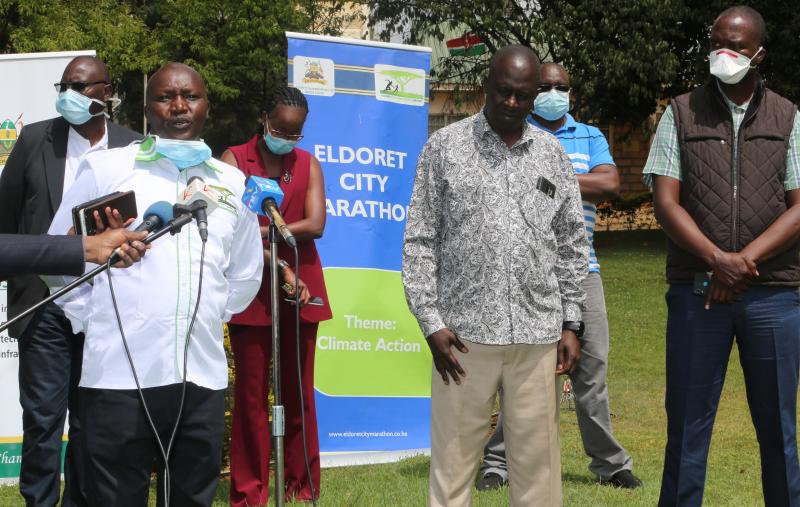 The third edition of Eldoret City marathon which was to be staged on April 19 has been postponed in adherence to measures to curb the spread of Covid-19.
With at least 3,000 runners and more than 50,000 fans expected, the 2020 edition had been billed as the biggest race in Kenya owing to the big prize money – Sh3.5 million for winners of both the men and women races.
Yesterday, race organisers led by the marathon director Moses Tanui made the much-anticipated decision to officially postpone the race indefinitely.
An announcement to either proceed with the race on April 19 or postpone it was expected two weeks ago but the technical team chose to delay as it monitored the Covid-19 situation and measures in Kenya and beyond.
Mid last month, high altitude training camps across the counties of Elgeyo Marakwet, Nandi and Uasin Gishu counties were shut down after the state banned public gatherings to prevent the spread of the virus that has now plunged the sports industry in uncertainty.
Tanui said the postponement was delayed because the team was hoping the coronavirus pandemic would not escalate to the current proportions.
"I am asking athletes that we need to keep safe. It is a very hard time for the world that we have this virus. I am urging you to train alone because we need you in the future," the retired athlete said.
Tanui said the Sh3.5m prize money will not be reduced after the postponement, assuring athletes that the race will be staged before end of the year.
He said Sh18 million will be given out to top 20 runners in the two categories.
Tanui said at least 100 athletes had registered for the race before the announcement of the stringent measures to curb the virus last month.
AK Central Rift chairman Abraham Mutai said the postponement was a culmination of series of meetings.