It is back to the barracks for Kenya's top athletes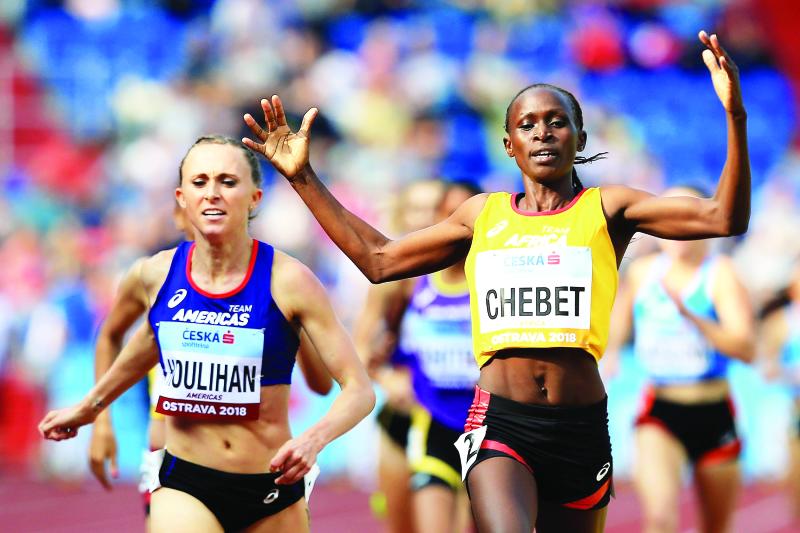 Kenyan athletes, who work in the disciplined forces –Kenya Defence Forces, National Police Service and Kenya Prisons Service –are known to be mainly active at their work stations during the offseason.
But the coronavirus pandemic has forced them back to work.
However, world 5,000m champion Hellen Obiri said she was yet to resume work at her station at Moi Airbase, but will be doing so soon.
"Most of my colleagues have reported to their work stations. I am just waiting for communication from my bosses. We have to work. That is where we now earn a living to take care of our families.
"It is sad that we are in this situation. But I don't regret. I have come from far. As athletes, we will rely on our contracts and employment to get income," she said.
Obiri is known to have switched from her 1,500m speciality where she boasts of a World Championships bronze medal from Moscow 2013, to the 5,000m, aiming to cut some baby-weight and which also saw her win a world title in Doha, Qatar last year.
On her part former world 1,500m champion Winnie Chebet said she has reported to her work place at Thika barracks.
"I am at work at the moment. In fact we are very busy. Let us pray that all will be well," she said.
Chebet has come a long way. She basks in the glory of five silvers –won in World Youth and World Juniors and other championships –that earned her the 'silver girl' tag in athletic circles before winning the Africa title.
She was dropped from the 2012 Olympic Games team and was replaced by 2010 World Junior silver medalist Cherono Koech, who both happen to come from Kericho, the area known for producing the best junior athletes in the country.
National Olympic Committee of Kenya then ruled out Chebet, who was second in the trials, because she did not have the 'A' qualifying standard for the Olympics.
But she has battled her way for long. In 2009, when former Olympic champion and 2008 Golden League winner Pamela Jelimo was struggling to return to form, Chebet was a school girl waiting in the wings.
Chebet then made her intentions clear when she won her speciality in an amazing time of 2:05.9 at the then New KCC/Athletics Kenya national athletics championships at the Nyayo National Stadium.
"That was when I realised that I could compete well at the senior. I went to the Africa Juniors in Mauritius that year (2009) with high hopes," said Chebet.
South Africa's controversial track star Caster Semenya spoiled her party in Mauritius.
While all thought Chebet, the 2006 World Junior 800m silver medalist, would finally cement her dream for a maiden gold in her 800m speciality at the continental contest, Semenya, then embroiled in controversy over her gender following her victory at the Berlin World Championships, emerged strong enough to deny her gold in the Africa junior competition.
Sheila Chepkirui, the 2016 Africa 5,000m champion, said she will report back to her camp in Laikipia in three weeks' time.
"At the moment, I am still at home. I will get back to work on April 21. I expect that things will get better so that we resume training," she said.
Mark Kiptoo, a former Frankfurt Marathon winner, said he has been on duty.
"We have to work. It is normal for me since I always work while not on training," he said.
The 42-year-old Kenya Air Force sergeant is still destined for a bigger slice of marathon glory.
"I will keep on training alone while on off duty. I hope the situation will be put under control," he said.