Kenyan athletes to lose over Sh5b to virus threat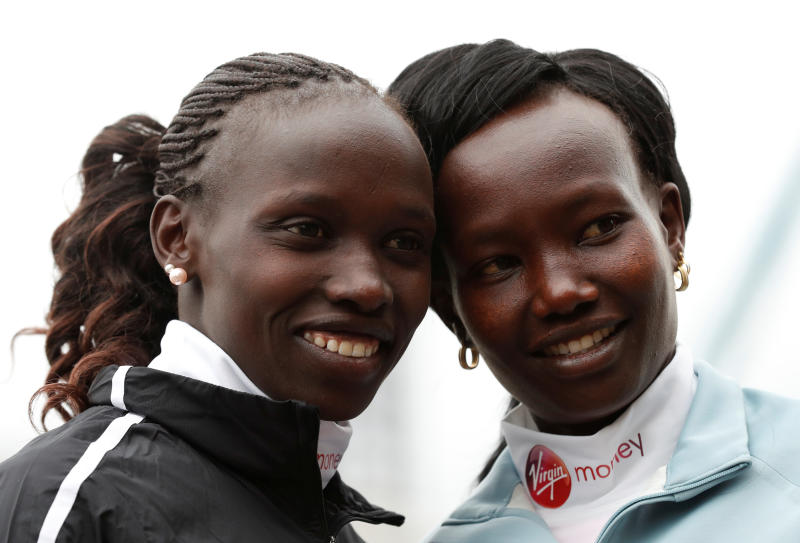 The writing is on the wall. The 2020 athletics season treads on a tricky path even as athletes remain hopeful of returning to competition soon.
Kenyan athletes stand to lose close to Sh5 billion in appearance fees, prize money and other endorsements if the season is closed until next year.
From the 14 leg Diamond League series, World Athletics Continental Tour, the Olympic Games and a number of marathons across the globe; our athletes are losing opportunities to win big money.
Barnaba Korir, Athletics Kenya chairman for youth development, said the coronavirus pandemic has huge financial implications on the athletes.
"Kenyan athletes will lose more than Sh5 billion. This is from appearance fees, prize money and other endorsements but outside their annual contracts. It is a big loss to the Kenyan economy," said Korir.
Race winners in Diamond League get Sh1 million ($10,000) while Diamond League Trophy winners earn Sh4 million ($40,000). Winners in World Marathon Majors (WMM) series races –depending on their appearance fees and endorsements –get between Sh30 million ($300,000) and Sh50m ($500,000).
There is also huge pay for the pacemakers. For instance, during the Ineos 1:59 Challenge in Vienna, Austria, last year, pacesetters earned Sh3 million each.
Boston, London, New York, Berlin, Chicago, Tokyo, Olympic Games marathon and World Athletics Championships form the WMM series races, where men's and women's winners share Sh100m jackpot. But there are more than 100 marathons around the world.
Although World Athletics scrapped races longer than 3,000m including the 3000m steeplechase – Kenya's number one race – this season in the Diamond League, athletes still stand to lose a lot of money.
The situation would deny World 1,500m champion Timothy Cheruiyot a chance to defend his Diamond League Trophy title as well as battle for an Olympic crown this season.
The virus would hand a double blow to Olympic 3,000m steeplechase champion Conseslus Kipruto as he seeks title defence in Tokyo Olympic Games. Kipruto has been in top form since winning the World Athletics Championships gold in Doha, Qatar, last year.
Kipruto stands out among few athletes who have won Africa, Commonwealth Games, Diamond League Trophy, World and Olympic titles.
Julius Yego, the Olympic javelin silver medalist, said the pandemic will see him lose a lot of money.
"This is the saddest season in our sporting history. We cannot compete anywhere and we cannot make money. I don't think we will get back to competition this season," said Yego, the 2015 world javelin champion. He now holds the Africa record at 92.72m set at the 2015 Beijing World Athletics Championships.
Track and field fans will miss the mouthwatering clash pitting Olympic 1,500m champion Faith Chepngétich, Ethiopia's Genzebe Dibaba and Sifan Hassan of The Netherlands.
This season would have offered world 5,000m champion Hellen Obiri a perfect ground to win Olympic medal and battle for Diamond League Trophy.
"It is sad we are in this situation. But I don't regret. I have come from far. As athletes, we will rely on our contracts and employment to get income," she said.
For three-time world half marathon winner Geoffrey Kamworor, the pandemic spoiled his memorable week of the year – the last weekend of March.
It's no doubt that the last week of March since 2011 –save for 2012 and 2013 –to date stands out in athletics circles as "Geoffrey Kamworor week."
In 2011, he won World Cross Country junior title in Punta Umbria, Spain and then chalked up wins at World Cross Country (2013 and 2015) and World Half Marathon titles (2014, 2016 and 2018) and have fallen in the last week of March. He bagged bronze medal at the World Cross Country Championships in Aarhus, Denmark, last year.
"It is unfortunate that I will be at home this weekend just relaxing. I have always enjoyed the third weekend of March winning either world cross country championships or world half marathon championships.
"But I urge my fans to dedicate the week to taking preventive measures on the spread of coronavirus and save humanity. I promise them that come next year's world cross country championships, I will back," said Kamworor.
A boom was expected in the spring marathons with London Marathon offering a big pay out. World marathon record holder Eliud Kipchoge was set to clash with Ethiopia's Kenenisa Bekele, the world's second fastest marathoner. Vivian Cheruiyot will miss the London Marathon duel while Edna Kiplagat will miss Boston Marathon pay out. Kiplagat said she expected a tough race.
"I had been invited to Boston where I was to race for the fourth time. It is a big loss for us," said Kiplagat a three time World Majors champion.