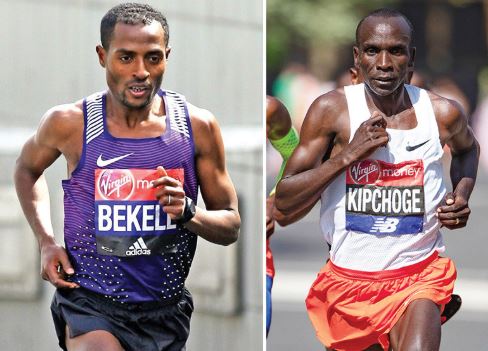 A dogfight awaits as eternal Kenya and Ethiopia athletic rivalry lights up the 40th Virgin London Marathon on April 26.
World's top two marathoners in Eliud Kipchoge and Kenenisa Bekele are lined up for an epic battle in this year's United Kingdom's flagship race.
The two share a cocktail of similarities. They are accustomed to hilly terrains as they were born and bred within the Great Rift Valley.
Kipchoge comes from Kapsisywo village in Nandi County while Bekele was born in Bekoji village in Ethiopia's Great Rift Valley, some 300km south of Addis Ababa, where there are plenty of goats and cows on the roads.
Just like Nandi County, Bekoji is in a high altitude region. It stands at 10,500 feet above sea level and is an arable area where crops like tea, cereals, coffee and oil seeds grow. Bekele is the elder brother of Tariku Bekele, former world indoor 3,000m champion.
He comes from the same village alongside trio Dibaba siblings –Genzebe, Tirunesh and Ejegayehu –and their cousin Derartu Tulu, Africa's first woman to win gold medal in 10,000m at the Barcelona Olympics.
He is a triple Olympic champion and double world record-holder on the track and became the world's second-fastest marathon runner of all time when he won the 2019 Berlin Marathon in 2:03.41.
Olympic 10,000 metres champion Kenenisa Bekele's father was reportedly opposed to his son's athletics career but relented when he saw it was driven by religious faith.
His father said he named him Kenenisa which means 'you brought me delight' in the Oromo language while Kipchoge means 'one born by the granary' in Kalenjin language.
The two stars are God fearing and managed by Jos Hermens of Global Sports Communications camp in Nijmegen, The Netherlands. Kipchoge turns 35 this year while Bekele is 37 years old.
Kipchoge, a devout Catholic, saw people from far and wide pray for him as he prepared for Ineos 1:59 Challenge in Vienna, Austria, last year.
His mother Janeth Rotich, said: "I wake up at 3am every day to pray for Kipchoge and his children. I pray for him as he prepares to run the marathon in under two hours. I also pray the rosary.
"I also asked God to guide him in the race. As a family, Kipchoge has helped us and I think it was time God rewarding him," she said in an earlier interview.
Kipchoge is innovative, astute, eloquent and blessed with a popular touch and a philosophical intelligence that's a stark contrast to his humble personality.
In all his endeavours, Kipchoge seems to consider Briton author Charles Caleb Colton's counsel: "The purest ore is produced from the hottest furnace, and the brightest thunderbolt is the one elicited from the darkest storm."
Bekoji has a population of 17,000 that's almost double the 8,000 numbers of Kipchoge's Talai clan in Nandi County.
Like Bekoji area, Kipchoge's birth place also boasts a number of world beating athletes that include 1992 Olympic 3,000m steeplechase silver medalist Patrick Sang, America's world champion Bernard Lagat, Amsterdam Marathon winner Vincent Kipchumba, Isaac Songok and Marius Kipserem.
The two athletes have insatiable hunger for business. Bekele's business interests are wide reaching. He has built the Kenenisa Hotel in central Addis Ababa - situated in close proximity to the airport - and he has also invested in properties in Bekoji.
Investment, however, stands out as Kipchoge's subject of conversation thanks to the childhood challenges he went through.
Kipchoge has keenly studied the famous philosophers Aristotle and Plato - another trait that sets him apart from his peers and goes on to explain his extended run at the top.
Kipchoge says he picked some investment ideas from Shoe dog: "It's a very encouraging book. You get to know how you can grow a small business idea into a big enterprise."
"As an athlete, I believe that you must invest once you start earning and ensure you save your earnings. As much as there is the allure of money, run for the sport and the money will follow," he said in an earlier interview.
He engages in tea and dairy farming and has invested in real estate. "I am not a large scale farmer but I love real estate. It's not so demanding," said Kipchoge, who is a brand ambassador for vehicle manufacturing dealer Isuzu East Africa.
But Bekele and Kipchoge have waged some epic battles on the track during their storied careers. At the 2003 World Championships in Paris, the then 18-year-old Kipchoge won one of the great races of all time, defeating Bekele (the greatest long distance runner ever) and Hicham El Guerrouj (the greatest miler ever). Five years later, Bekele turned the tables by producing arguably the finest 5,000 metres performance in history to defeat Kipchoge for the Olympic title in Beijing.
But so far, the two legends have yet to produce a defining marathon showdown. In four head-to-head encounters, Kipchoge has come out on top comfortably each time, defeating Bekele by 1:40 at 2014 Chicago, 3:31 at 2016 London and winning 2017 Berlin in a world-leading 2:03:32, in a race that Bekele could not even finish.
Individually, Kipchoge rips off essentially one exceptional marathon performance every time he goes to the start line as his marathon record now stands at 10 victories from 11 starts, with the course record in London (2:03:05) and the fastest 26.2-mile time ever by a human (2:00:25 at Breaking2 in 2017) and Ineos Challenge where he unlocked human potential posting a brilliant 1:59.40 in Vienna.
However, it is Bekele who has the faster official personal best (2:03:03 from 2016 Berlin) and while Bekele has yet to bring his A game to any of his match ups with Kipchoge, he is one of the few men on planet earth, who at his best, has a chance to challenge the great Kipchoge at his best in the marathon. Last year, he went two seconds (2:03.41) shy of Kipchoge's world record mark of 2:03.39 at the Berlin Marathon.
According to statistics pulled together by Running Magazine, the pair have met 20 times across all surfaces and distances.
Bekele claimed notable wins over his rival in the Beijing 2008 5,000m final and at the World Championships the following year in Berlin. In total Bekele has come out on top in 11 of their 14 track meetings.
Kipchoge has won all four of their marathon meetings.
With four months to go until the two men square off at the 2020 London Marathon, the air of anticipation is growing across the two villages (Bekoji and Kapsisywo) ahead of the Bekele versus Kipchoge showdown in what is billed as a test of brain and brawn.