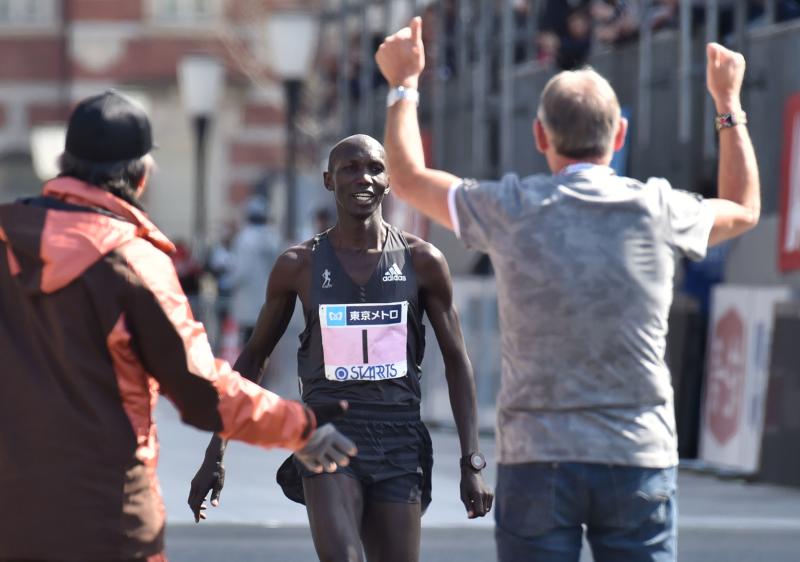 Blood passport analysis putting Kenyan athletes under the microscope as Kipsang faces serious violation charges.
After Wilson Kipsang, who is next in Kenya? This is a question athletics world is pondering after the former marathon world record holder was charged on Friday for anti-doping rule violation.
Yesterday, in a veiled warning that more was to come, Anti-Doping of Agency of Kenya (ADAK) CEO Japhter Rugut said anti-doping system in place has created a situation where "one can run but not hide."
"Our systems are more effective now. We have a fully functional intelligence and investigation team that is sharing findings with the testing teams, making our tests more targeted," Rugut said.
On Friday, the Athletics Integrity Unit (AIU) charged Kipsang with two breaches of anti-doping rules. It said: "The AIU confirms a provisional suspension against Wilson Kipsang Kiprotich of Kenya for whereabouts failures and tampering." The AIU didn't disclose any more information.
Yesterday, however, sources close to Kipsang quoting AIU were confident the athlete would not face tampering charges as there were no samples to be tampered with.
"The major issue at stake is incomplete whereabouts information and missed tests," the source said.
"There's contention on the reasons given behind the missed tests. However, this will be forwarded to the Court of Arbitration for Sports," the source added.
And while Kipsang, who is recuperating from injuries sustained in a road accident, has not been found guilty yet, the charges brought against him raises significant questions on violations among Kenyans.
Doping menace
Although his management VolareSports Running claimed in a statement on Facebook that, "No prohibited substance was found," the repercussions of the charges will no doubt further batter Kenya's image while thrusting the doping menace in the country into sharp focus.
When confronted with allegations of doping, Athletics Kenya have in the past sought to play it down especially after a German TV station aired an expose alleging rampant drug use among Kenyan athletes.
"Despite the good work which has been done by ADAK, WADA, AIU and AK, we are aware that in the past, there have been extremely malicious & unfounded allegations against the Athletics fraternity in Kenya whose intentions have been to belittle the vicious war against the doping," AK said on September 24 last year after the German TV report.
ADAK CEO Rugut said the systems put in place are effective and would nab athletes involved in the vice.
"The Athletes Biological Passport programme is yielding results, so is our APMU (Athlete Passport
Management Unit) analysis that helps to track Laboratory data over time, thus exposing cheating that may be done clandestinely by mischievous individuals," Rugut said.
WHAT IS ATHLETE BIOLOGICAL PASSPORT (ABP)?
Is an individual electronic record for professional athletes, in which profiles of biological markers of doping and results of doping tests are collated over a period of time. Doping violations can be detected by noting variances from an athlete's established levels outside permissible limits, rather than testing for and identifying illegal substances.
What Kipsang is accused of:
WHEREABOUTS FAILURE:
A whereabouts failure will be recorded against an athlete under the following circumstances:
- You have failed to submit your whereabouts (one hour where you can be found for samples to be collected in 24-hour clock) by the required deadline (Filing Failure).
- You have failed to update your whereabouts or you have not updated them as soon as possible after a change of circumstances (Filing Failure).
- You have filed your whereabouts on time but they are incomplete or inaccurate or insufficient to enable us to locate you for testing (training address missing, home address too vague, competition schedule missing or incomplete, no address of temporary accommodation during competition…) (Filing Failure).
- The Athletics Integrity Unit finds out that your whereabouts are inaccurate or incomplete following an unsuccessful attempt to test you (e.g. an athlete lives in a gated complex and fails to give instructions to the security gate to let the doping control officer in) (Filing Failure).
- You have filed whereabouts information but you are not available for testing at the location corresponding to your 60-minute time slot (Missed Test).
CONSEQUENCES
Under the World Athletics Anti-Doping Rules, any combination of 3 whereabouts failures (Filing Failure and/or Missed Test) within a period of 12 months constitute an anti-doping rule violation, for which the applicable sanction is 2 years' ineligibility subject to a reduction to a minimum of 1 year depending on your degree of fault. AIU expects full cooperation of athletes to avoid Whereabouts Failures.