Kigen dreams of conquering Olympic Games
ATHLETICS By Xinhua | November 6th 2019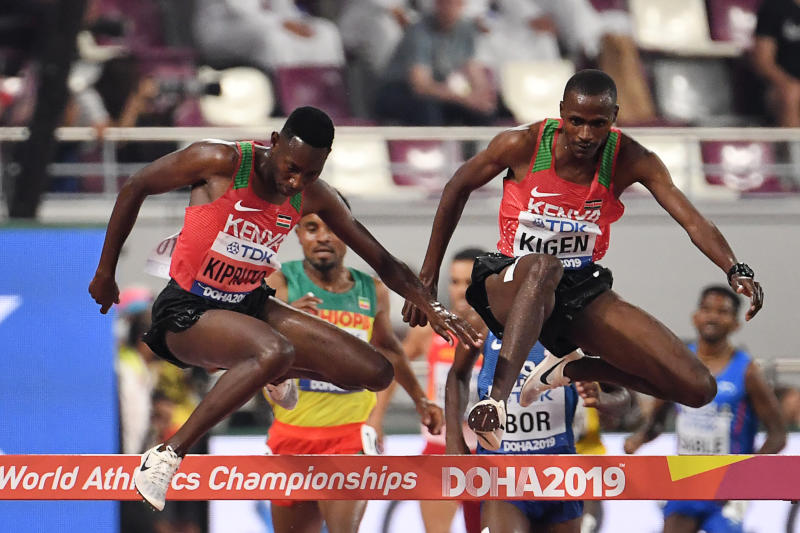 Benjamin Kigen, the Military World Games steeplechase champion, hopes his performance last month in Wuhan, China will propel him to do well at the Olympic Games in Tokyo, Japan.
Kigen, who is also the Africa Games champion, missed out on the medals at the World Championships in Doha, Qatar, but bounced back strongly to wrest the gold in Wuhan.
Now he believes he has regained his grove and will cruise past the small matter of making the Kenya team to the Olympics.
"Wuhan was a real inspiration for me. To win Kenya gold in China was a bonus, but it ignited a hunger in me that needs to be satisfied by winning at the Tokyo Olympics in 2020," said Kigen.
The 26-year-old has clocked a personal best of 8:05.12 in the water and hurdle race from his show in July during the Monaco Diamond League.
In Wuhan, Kigen clocked 8:24.50 to beat Algeria's Bilal Tabti (8:28.71) and Frenchman Yoann Kowal (8:29.72) in the final.
However, he is alive to the fact that he needs to be running consistently and clock faster times below the eight-minute mark if he is to make an impact and challenge World and Olympic steeplechase champion Conseslus Kipruto at the Tokyo Olympic Games.
"I had high expectation in Doha to win Kenya any kind of medal but I was disappointed not to make the cut. I went to Doha after a good season and a medal could have been the least achievement for me in Doha," he added.
His coach Isaac Rono, however, believes Kigen will overcome his challenges ahead of the Olympic Games Kenya team trials that will take place in Eldoret in May.
"He can run faster and get better performances," said Rono.