How Kenyan athletes are paid millions in Marathons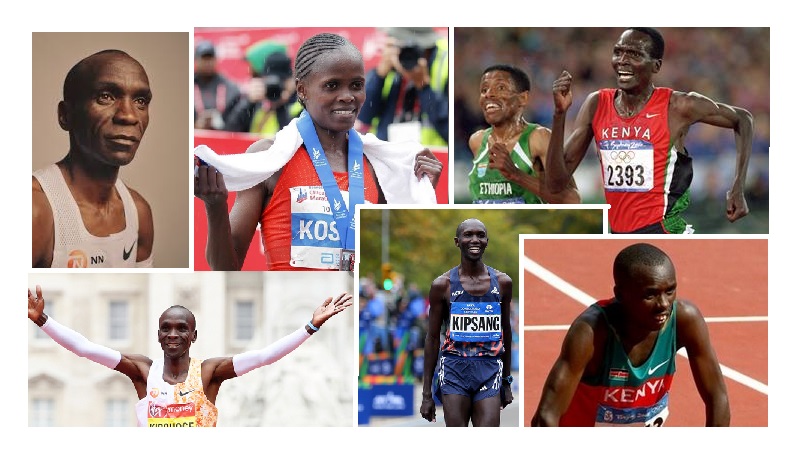 For most elite marathoners, there is more at stake than just the glory of winning the race.
For these professional athletes, for instance, Eliud Kipchoge, there is a huge prize for crossing the finish line ahead of everyone in marathons such as Berlin, Boston, Bank of America Chicago marathons among many others.
Here we take a look at some of the top few marathons over the world that offer the highest prize money to athletes.
1. Standard Chartered Dubai Marathon
The Dubai Marathon is the world's richest marathon with the most expensive prize money of Sh.20 million for first place winners and an additional Sh.10 million for marathon world record bonus.
In January of 2008, the Dubai Marathon was the richest long-distance running event in history.
The winners received Sh.25 million (more than double any prize money to that date) and a million-dollar offer from Dubai Holding if they set a world best according to the Standard Chartered Dubai marathon website
Getaneh Molla of Ethiopia and Kenya's Ruth Chepngetich won the 20th edition of the Standard Chartered Dubai Marathon.
2. Boston Marathon
The Boston Marathon is the oldest marathon in the world established in 1887 by a non-profit organization with a mission of promoting a healthy lifestyle through sports, especially running. The top male and female finishers each receive Sh.15 million with second place earning Sh.7.5 million and third takes home Sh.4 million according to Boston Marathon official website.
According to Forbes, there is a bonus prize of Sh.5 million for breaking the world's best time and Sh.2.5 for breaking the course record.
The most rewarded Boston runner of all time was four times champion Robert Kipkoech Cheruiyot, a Kenyan runner who has earned a total of Sh.46.9 million from the Boston race alone.
3. TCS New York City Marathon
The first NYC Marathon was held in 1970, entirely in Central Park, with only 127 entrants, 55 finishers and a lone female racer, who dropped out because of an illness, according to TCS New York City Marathon website.
Today the TCS New York City Marathon prize purse totals a guaranteed Sh.70.5 million. The men's and women's champion receive Sh.10million each, with an extra Sh.5 million for a time of sub-2:05:30 (men) and sub-2:22:30 (women) according to
4. London Marathon
The first London Marathon, held on 29 March 1981, finished on Constitution Hill between Green Park and Buckingham Palace.
According to World Marathon majors today, the race winner earns Sh.5.5 million with second place taking home Sh.3 million
There are also financial rewards for finishing under certain times, with these differing for men and women.
5. Bank of America Chicago Marathon
This coveted race is a showcase of some of the top marathoners.
The prize money for winning the 2015 race was Sh.10 million, plus Sh.7.5 million if you set a course record and time bonuses (non-cumulative) of Sh.5.5 and below according to the Bank of America Chicago Marathon official website
6. The Berlin Marathon
The race was founded in 1974 by a Berlin baker, Horst Milde, who combined his passion for running with a family bread and cake business
According to the Berlin Marathon official website, the prize money is as follows;
26.45 million-plus bonuses in 2018. Expected to be similar in 2019.
First place male: 4.6 million (10 deep) in 2018
First place female: 4.6 million (10 deep) in 2018
Bonuses of Sh.5million. Time bonuses available for 1st and 2nd places only Sh.3 million for first place sub-2:04:00 men, sub-2:19:00 women.
7. Seoul International Marathon
Celebrating its 85th year running, the Seoul Marathon in South Korea is one of the most prestigious races.
The champion male and female finishers get to bring home Sh.8 million provided that they finish under 2:10:00 and 2:24:00 respectively Sh.4 million if they do not meet the target time) according to World Marathons.
According to the Seoul International Marathon, the world record bonuses are Sh.5million for men and Sh.3 million for women.
There is also a time bonus of Sh. million for sub-2:04:00 (male) and sub-2:18:00 (female); and other time bonuses amounting down to Sh. 500000
8. Standard Chartered Nairobi Marathon
Since the launch of the Marathon in 2003, only one winner has successfully defended their title. Every year the marathon produces new winners.
This year, the organizers increased the cash award for the 42km race prize money from Sh.1.5 million to Sh2million, according to the Standard Chartered Nairobi Marathon official website.
The half marathon price has also been increased to Sh300, 000 while the 10km race will see a cash award of Sh200, 000