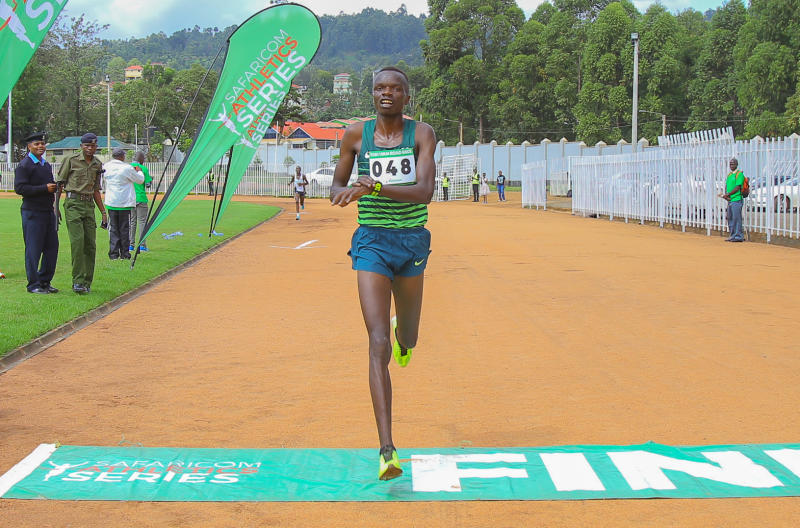 After being pulled out of the World athletics championships for not complying with the mandatory ant-doping test last month, Daniel Simiu remains optimistic all the same.
To him, that was just a hiccup and longs for a brighter future. He has promised to triumph in the Standard Chartered 10km race on Sunday.
SEE ALSO: Athletics: AK to set up under 20 athletes camp in Mombasa
Simiu, the national 5,000m champion, failed to represent the country at this year's IAAF World Championships after failing to meet anti-doping regulations that required him to have a minimum of three out of competition tests.
"It was heartbreaking for me, having worked hard in training and secured the second slot at the trials. But I have since overcome the disappointment and embarked on more training," said Simiu.
SEE ALSO: Cycling: Is it time to say goodbye Froome?
"Things are looking up for me. Before the national trials, I was relatively unknown. I didn't have a manager and I have managed to secure one, Malcom Anderson's Moyo Sports," added Simiu, who trains in Iten under the guidance of Eric Kibet.
After the world championships disappointment, Simiu won the Kisii 10km road race and followed it with victory at the Family Bank half marathon victory in Eldoret.
SEE ALSO: Keter turn guns to Diamond League debut
"Soon, I will be running races abroad, but before that, I want to win the Standard Chartered Marathon 10km race. After that, I know Malcom has more plans for me to race abroad. This will be a great opportunity for me to make my international debut."
Simiu started running while a student at Aiyam Secondary School in Laikipia County and took running seriously when he finished his secondary school education in 2016.
"I used to watch athletes on television and read newspapers and promised myself that one day, people will watch me too," remembered Simiu.
Meanwhile, some roads will be closed on Sunday for the event.
They include Uhuru Highway, Kenyatta Avenue, Harambee Avenue, Bunyala Road, Lusaka Road, Haile Selassie and Waiyaki Way.