World marathon record holder Eliud Kipchoge feted with the highest civilian state commendation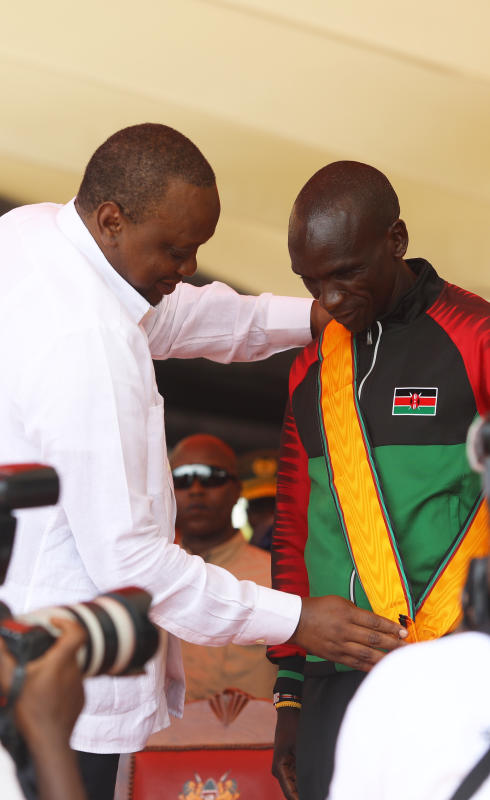 World marathon record holder Eliud Kipchoge was on Sunday awarded with the highest civilian state commendation by President Uhuru Kenyatta.
Kipchoge who arrived in Mombasa on Friday was hailed by Uhuru, Deputy President William Ruto and Former Prime Minister Raila Odinga as a hero.
The athlete was wildly cheered during the Mashujaa Day celebration as he stood to receive the Elder of the Order of Golden Heart (EGH) from the President.
EGH is awarded someone in recognition of outstanding or distinguish services he or she had rendered to the nation in various capacities.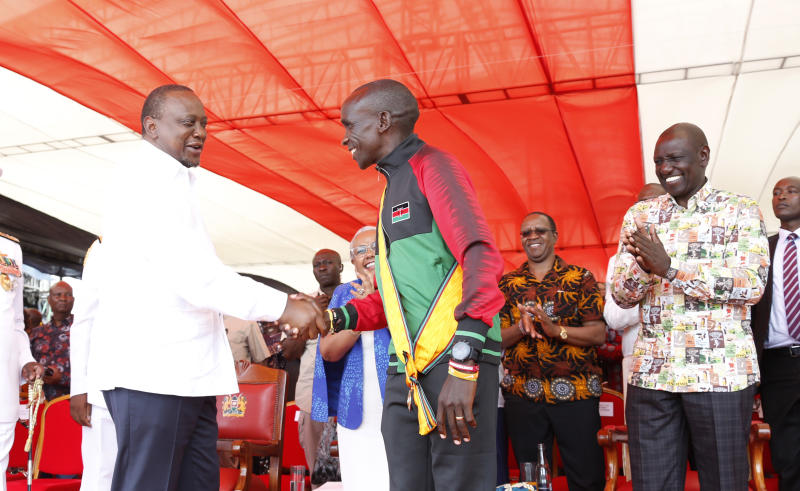 It is awarded by the president upon advice of a National Honours and Awards Committee in the president's office.
"Asante sana (thank you very much)" was all the Kipchoge said after President Uhuru put the ribbon across his chest.
Uhuru commended Kipchoge as a great inspiration to many people in the world saying that his achievement reminded many that they should not limit themselves to the ordinary but go an extra mile.
'His achievement reminds us that we should never limit ourselves to the ordinary. Eliud Kipchoge remains the greatest of our time,' said the president.
Kipchoge became the first man to run for 42 km in under two hours in the INEOS marathon challenge in Vienna, Austria. He closed 1.59.40.
The president also heaped praises on another marathon great Brigit Kosgei who holds the world female record.
He said with Ms Kosgei's achievement, Kenya was now busking in glory as it keeps two important world athletes honours to itself.
'Today Kenya is custodian of both men and women world marathon titles,' the head of state said.
Earlier, deputy president William Ruto said he had been asked by the president to bring Kipchoge to the Mashujaa celebrations.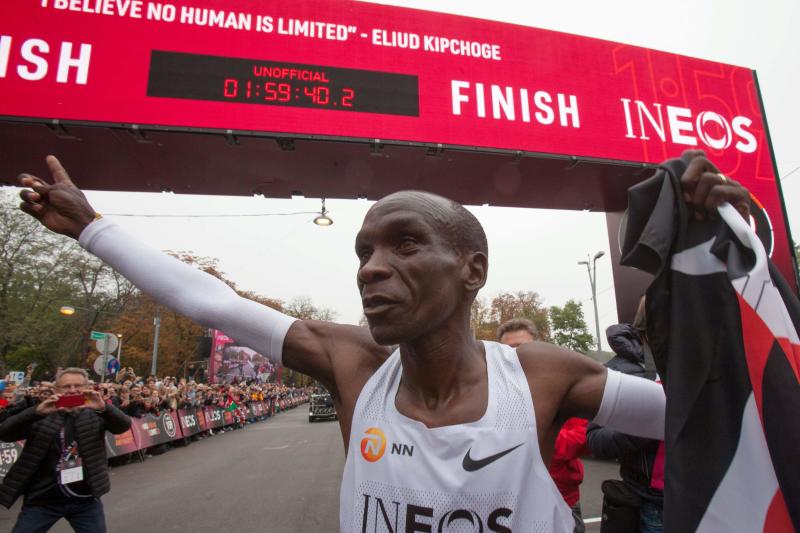 'The president asked me to come with Eliud Kipchoge and he is here,' Ruto said.
The athletes were among 200 heroes and heroines who attended the celebrations and paraded for recognition.
Media personalities Learnard Mambo Mbotela, Sammy Lui and Ali Salim Manga led the entertainment programmes.