Kenyans set for tough duel in three major city marathons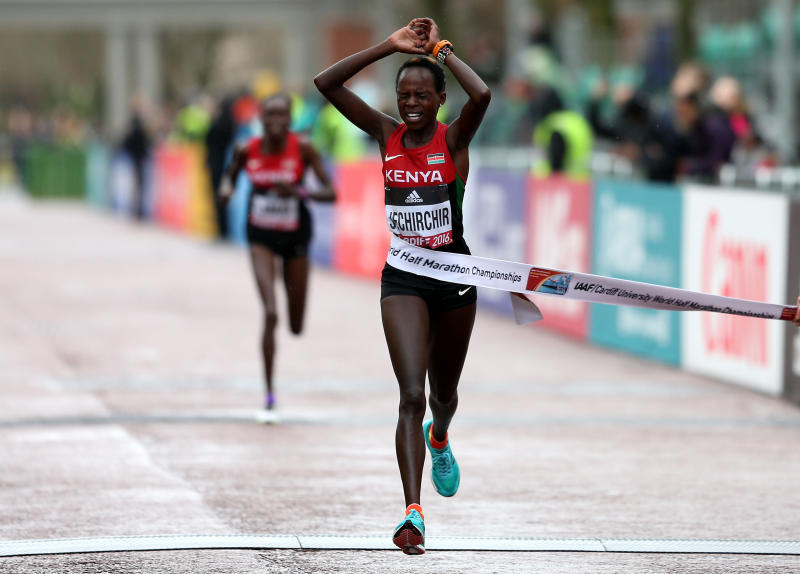 After the historic marathon week for Kenya – Eliud Kipchoge's iconic 1:59.40 and Brigid Kosgei's 2:14.04 world record – more Kenyan stars are expected to set fast times in four marathon races in Europe, Asia and North America.
In the Netherlands, Linet Masai returns to Amsterdam for the Gold Label road race and targeting victory tomorrow.
Masai, the 2009 world 10,000m champion, set her Personal Best of 2:23:46 to finish fifth in Amsterdam last year. Following a 1:07:44 run at the Great North Run, she returns to the Dutch capital with an eye on the course record of 2:21:09.
Fellow Kenyans Elisha Rotich and Vincent Kipchumba head to Amsterdam off the back of personal bests earlier this year. Rotich ran 2:06:12 in Seoul while Kipchumba won in Vienna in 2:06:56.
In Canada, Olympic qualifying will be uppermost in the thoughts of many athletes at the Scotiabank Toronto Waterfront Marathon tomorrow.
Kenya's Philemon Rono, better known as 'Baby Police', basks in a course record of 2:06:52. Rono, who won in both 2016 and 2017, must contend with the man who supplanted him as Toronto champion a year ago, Benson Kipruto.
The women's race will be no less compelling. Ethiopia's Biruktayit Degefa Eshetu and Dibabe Kuma, as well as Ruth Chebitok of Kenya, are evenly matched on paper as their personal bests range between 2:23:28 and 2:23:34.
Magdalyne Masai-Robertson, the Kenyan wife of New Zealand's athlete Jake Robertson, who finished fifth in Toronto a year ago is also in action.
Most intriguing is the inclusion of Betsy Saina. The winner of the 2018 Paris Marathon in 2:22:56, she dropped out of the Chicago Marathon having reached halfway in 1:11:11 after suffering stomach cramps.
In India, Eric Kiptanui is the fastest in the field at the 15th Airtel Delhi Half Marathon IAAF Gold Label road race tomorrow.
Kenya's Stacy Ndiwa, who finished third and fourth in Delhi last year, also returns to the Indian race. Caroline Kipkirui, who set a personal best of 1:05:07 at the 2018 Ras Al Khaimah Half Marathon, is the fastest in the field.
In Portugal, former world record-holder Peres Jepchirchir leads the women's field at the LUSO Lisbon Half Marathon (Gold) and the EDP Lisbon
Others in the field include Vivian Kiplagat, 10km world leader Dorcas Kimeli, Monica Jepkoech, Ethiopia's Waganesh Amare, South Africa's Glenrose Xaba and Portuguese duo Jessica Augusto and Catarina Ribeiro.
With a PB of 58:48, Kenya's Jorum Okombo is the fastest in the men's half marathon field and has the ability to challenge the course record of 1:00:13, but he heads to Lisbon with a season's best of 1:02:31 so might not be at his absolute best.
Kenya's Stephen Chemlany, who has a best of 2:06:24, is the fastest in the field, but his PB was set back in 2014 and the 37-year-old hasn't raced this year. Fellow Kenyan Samuel Wanjiku won in Lisbon in 2014 in 2:08.21, but his PB of 2:07:04 dates back even further to 2012.
Barnabas Kiptum, however, heads to Lisbon off the back of a 2:08:02 lifetime best at the Gold Coast Marathon three months ago. Others in the field with personal bests inside 2:09 include Patrick Terer, Joseph Aperumoi and Richard Mengich.
How Netherlands beat Kenya
Kenya began the 2020 International Cricket Council (ICC) T20 World Cup Qualifiers campaign on the wrong footing...