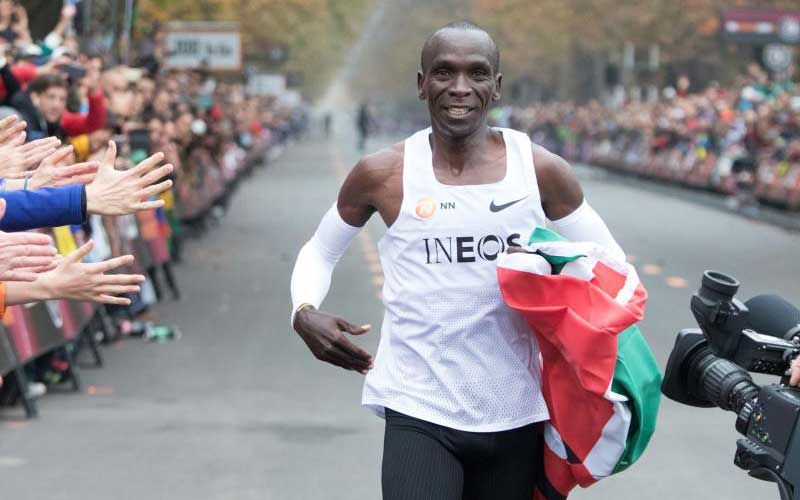 When Eliud Kipchoge posted an impressive 1:59.40 at the Ineos Challenge last Saturday, the world was dazed.
Reason? From South Pole to North Pole, the global audience expected a royal reception for the marathon icon at Jomo Kenyatta International Airport and a road show to his rural home at Kapsisiywa village in Nandi County. But it never came to pass.
Kipchoge thinks different. The welcoming parties, complete with government and Athletes Kenya functionaries, ululating friends and relatives, upcountry buses decked with twigs and the trademark sip of mursik (sour milk) for the conquering heroes, is too much for him.
But there are many other talented and successful professional athletes who are more celebrated abroad than at home.
That is nothing compared to the swooning madness that some sports stars, like India's cricket players, have to endure from fans.
Without fanfare
But Kipchoge wishes everyone would just let him sneak quietly back home – without fanfare and get on with his simple life.
He is really a man of few words who likes to go about his business quietly. He rarely comments on issues... he is evasive but keen enough to post congratulatory messages on his Facebook wall to the media and his coach after winning big races.
And despite having won medals in major competitions since 2001, Kipchoge had his most rousing welcome on the night of April 28,2015 when he arrived at the Eldoret International Airport. His mother Janeth Rotich was among the welcoming party.
"I do not like big parties. Why should I be driven around the town after winning a race? It does not add up for me," he said in an earlier interview.
He has won 11 well heeled marathons besides the 2017 Breaking-2 Project in Italy and the Ineos 1:59 Challenge in Vienna, where his wife Grace Sugut and their three children were.
His arrival was no surprise as Kenyans only came to know about his return on Wednesday via a tweet from Kenya Airways.
The airline tweeted: "Honoured to fly our CHAMPION @eliudkipchoge home from Amsterdam. The Pride is so proud of you! #ChampionOnBoard #NoHumanIsLimited."
The only confirmation that he was indeed on the flight was the photo of him and Kenya Airways staff posted on the airlines' Twitter handle.
Any follow ups on his arrival at the airport bore no fruit. Kenyans took to Facebook and other social media platforms later on Wednesday, posting pictures of him being served tea while at his Global Communication camp at Kaptagat in Uasin Gishu County.
There were also other pictures of him with his wife Grace in their car, captioned Eliud in Eldoret today.
But those were old photographs and Kenyans were misled into thinking he had arrived home. The media also thought they were fresh photographs taken at his home in Eldoret this week since his humility will always make you think that photos of him last year are the same as the ones taken this year.
And the script has never changed. Unlike many other Kenyan stars, Kipchoge brushes aside big parties that include slaughtering of bulls.
He was reported to have said: "It will not happen in my life. My biggest celebration is at the finishing line."
Despite his iconic feat, Kipchoge now wants the world to move onto other things that can continue shaping humanity.
Kipchoge was set to celebrate alongside his team, family and training mates at the Global Communications camp in Kaptagat.
"Now I am concentrating purely on celebrating. It is good to celebrate, calm down, thank my team again, sit down together and plan on what next. I will not go haywire while celebrating. I always celebrate in a calm, humane way," he said.
He said that having learnt people back home were celebrating when he ran under two hours in Vienna is his happiness.
"My message to them is thank you for sacrificing your 1:59:40 hours to sit down to watch me run. I always tell them, 'please get inspired and put it in mind that no human is limited.'
Inspired children
"Running marathon under two hours means a lot. I have left a legacy and made history and I think I have inspired most of our children," he said.
In an interview in Vienna, he said: "I never doubted myself. I always believed in myself that I will go through it. I don't come to such a race in a 50/50 (situation). I come here 90-100 per cent."