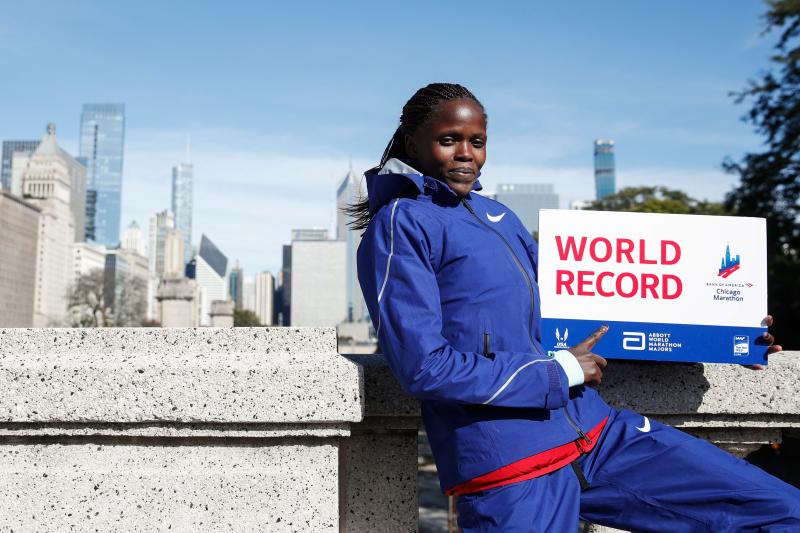 Newly crowned women's world record holder Brigid Kosgei wants to kill two birds with one stone next year: run a sub-2:14 and make the team to Tokyo Olympic Games.
On Sunday, Brigid produced a brilliant 1:14.04 all-time mark at the Chicago Marathon to smash the 16-year-old world record held by Britain's Paula Radcliffe by 81 seconds.
Radcliffe set the world record of 2:17.18 at the 2003 London Marathon and the only time a concerted effort was made to break it was in 2017 when Kenya's Mary Keitany set a time of 2:17:01, that is a women-only world record.
Chicago Marathon has a pancake flat course with 31 turns, which often produces fast times and thus enabled the 25-year-old Brigid to set the women's mixed world record.
SEE ALSO: Chicago Marathon officially canceled
Berlin course, which has 17 turns, is also known to produce world records, especially in the men's race.
Chicago has produced world records including Khalid Khannouchi of Morocco who set the men's world record two hours, five minutes and 42 seconds in 1999.
SEE ALSO: Learn to cope with virus, Kipchoge says
Yesterday, Brigid landed back and visited Riadha House where she held talks with Athletics Kenya President Jack Tuwei alongside her coach Eric Kimaiyo, who posted 2:07.43 to finish runner up at the 1997 Berlin Marathon.
Brigid has had a steady progression, having run an impressive 64.28 to break the course record at the Great North Run race but the mark was not ratified as world record since the course is not certified by the IAAF.
"I was in top form when I left for Chicago. I was confident of defending my title but I wasn't sure of breaking the world record. I was targeting 2: 16, which could be my personal best. But as the race progresses and reaching 30km, I felt my body was okay and I went on to win," she said.
Brigid added: "But I broke the world record. I did not know even how to express my joy. My next target will be to run the women-only world record held by Mary Keitany at 2:17:01. I hope to make the team to the Olympic Games next year."
Brigid comes from Kapsait in Elgeyo Marakwet and trains at the nearly Kapsait Athletics Camp.
Meanwhile, Lawrence Cherono, the men's winner at the Chicago Marathon, landed Eldoret International Airport to a grand reception. His father Marko Kipsang, mum Maria Kipsang and wife Winny Cherono were on hand to welcome him back.
Cherono, who clocked 2:05.45, said he eyes a slot in the 2020 Tokyo Olympic Games team. "More Ethiopian runners are posing a challenge. It was tough in the last kilometre. We need to up our game," said Cherono.
[Additional reporting by Stephen Rutto]