INEOS 1:59: Eliud Kipchoge does it!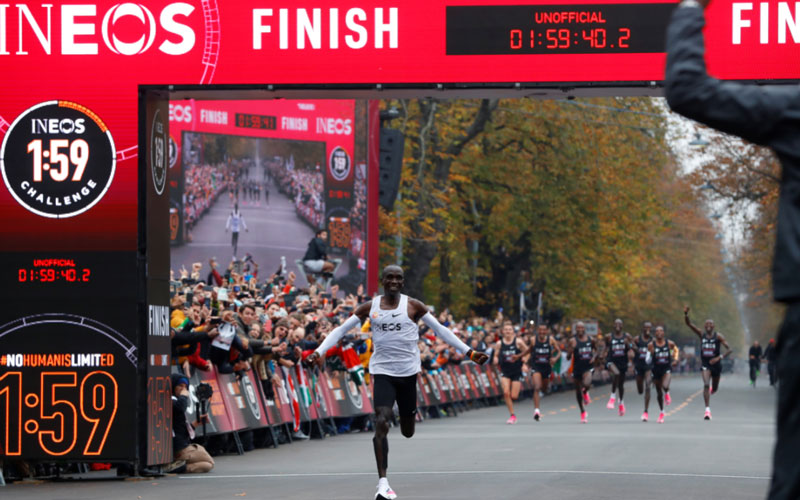 "In order to achieve the impossible, one has to be absurd…"
As absurd as it sounds, Kenya's most-daring son Eliud Kipchoge has just carved his name in the history books, completing a 42-kilometre marathon under two hours.
The challenge dubbed 'INEOS 1:59 Challenge' was staged in Vienna, Austria with a total of 41 pacesetters from different counties flanking the world-marathon record holder.
Kipchoge crossed the finish line at 1:59:40.
"I am feeling good. It has taken 65 years for a human being to make history in sports; after Sir Roger Bannister," said a delighted Kipchoge after the race.
"I have tried. I am the happiest man to run under 2 hours to inspire many people; to tell people that no human is limited, you can do it. I am expecting more athletes from all over the world to run under 2 hours," he added.
Even though the pacesetters seemed off the pace in the initial stages of the race, the speed picked up after the hour mark, with Kipchoge on target by minus 10 seconds.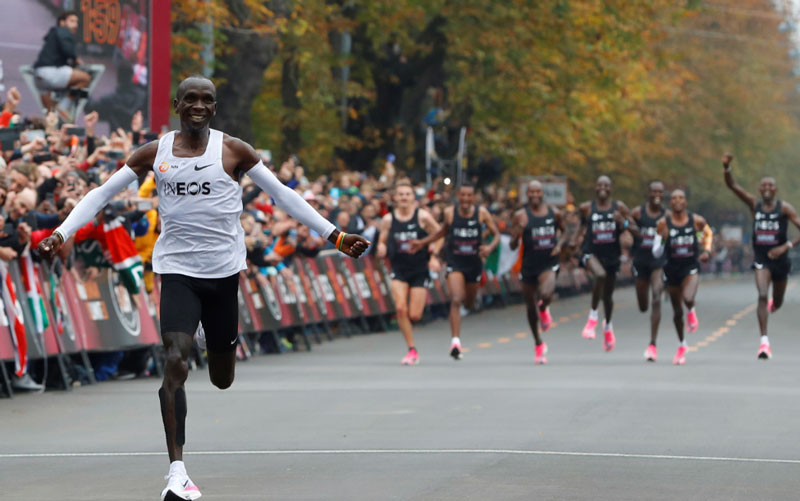 Kipchoge had the support of his inspirational long-term coach Patrick Sang and the team that has led him throughout his successful career, who ensured nothing was left to chance during the preparations.
An electronic pacer car fitted with green laser lights ensured Kipchoge the athletes kept the same pace over the stretch, with the pacesetters interchanging after intervals of 10 and 15 minutes.
INEOS, one of the world's largest manufacturing companies, which also sponsors the children's running charities, saw the race broadcasted to millions of people around the world both on traditional and digital channels.
The challenge sponsor, considered 'among UK richest men' Sir Jim Ratcliffe had expressed faith in Eliud completing the challenge, saying he was the only athlete capable of achieving this 'impossible' feat.
"Eliud Kipchoge is the greatest ever marathon runner and the only athlete in the world who has any chance of beating the two-hour time,' Ratcliffe said last week.
Kipchoge will now rest easy, having tried and failed to break this record at an event in Monza, Italy in 2017 where he crossed the finish line after 2:00:25, 25 seconds short of the two-hour barrier.