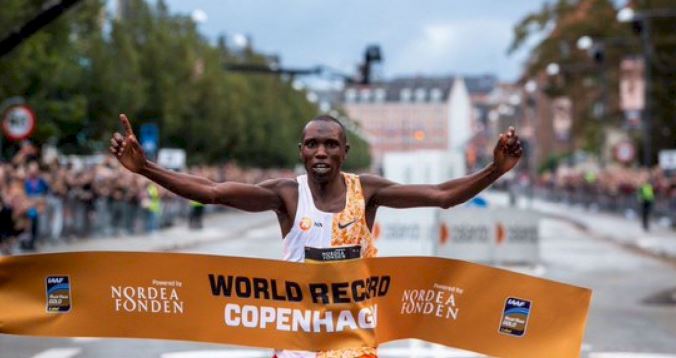 With one of the finest performances of all-time, Kenya's Geoffrey Kamworor has set the new Half Marathon World record on Sunday in Copenhagen, Denmark.
Kamwowor set the record time when he won the fifth edition of the Copenhagen Half Marathon in 57 minutes and 59 seconds on Sunday, smashing the previous time of 58.18 set by compatriot Abraham Kiptum in Valencia last year.
It was a nostalgic moment for the 26-year-old Kenyan who was returning to the Danish capital where he won his first three world half-marathon titles.
"It is very emotional for me to set this record and being in Copenhagen, where I won my first world title, adds something to it," he said.
Kamworor overlooked the opportunity to compete at the IAAF World Athletics Championships Doha 2019 to target the record.
He started with fellow competitors at the onset but increased the speed reaching the 10 kilometres in 27:32, six seconds inside his target time.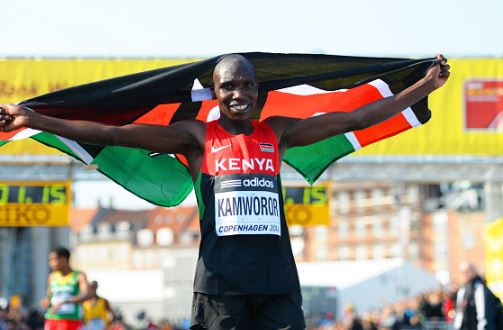 Shortly after, he was all alone as he covered the final 11 kilometres without any competitor.
Even the heavy downpour did not dampen his zeal with 37 minutes on the clock.
He covered the next five-kilometer segment in a swift 13:31, reaching 15 kilometres in 41:03, 11 seconds inside sub-58-minute pace.
Despite dropping his speed for the final quarter, he still had the gas to break the record.
The clock ticked over to 58 minutes just before Kamworor reached the finish line and moments later his winning mark was confirmed at 58:01.
Another Kenyan Bernard Kipkorir finished second in 59:16 while Ethiopia's Berehanu Wendemu Tsegu completed the podium finish in third in 59:22.
'The world' took to social media to react to Kamworor's win. Here are some of the reactions captured by Game Yetu:
Kenya athlete are doing wonders for this country. Congratulations to Geoffrey Kamworor for giving us another WORLD RECORD in the Men's Half Marathon(21.1k) in Copenhagen, setting a new time of 58:01 @ a running pace of 2:45 per KM pic.twitter.com/vmPFCWreKO — Ambassador Kirimi (@PsSportsKenya) September 15, 2019
Geoffrey Kamworor is one of my favorite athletes to watch. Resurfacing this short story from before last year's New York City Marathon when I went for a morning run with him in Central Park. Now he's the half marathon world record holder.https://t.co/kTO5BOgjpp — Chris Chavez (@ChrisChavez) September 15, 2019
How long do you think you could run at Kamworor's 4:25 world-record pace? ???? https://t.co/sjzS1ul6tQ — Runner's World (@runnersworld) September 15, 2019
Geoffrey Kamworor has just made Kenya proud by winning the Copenhagen half marathon.
Congratulations pic.twitter.com/XhGoT69h5g — Agnes Kagure (@itsagneskagure) September 15, 2019