Cherono to battle Farah in Chicago race
ATHLETICS By Xinhua | August 22nd 2019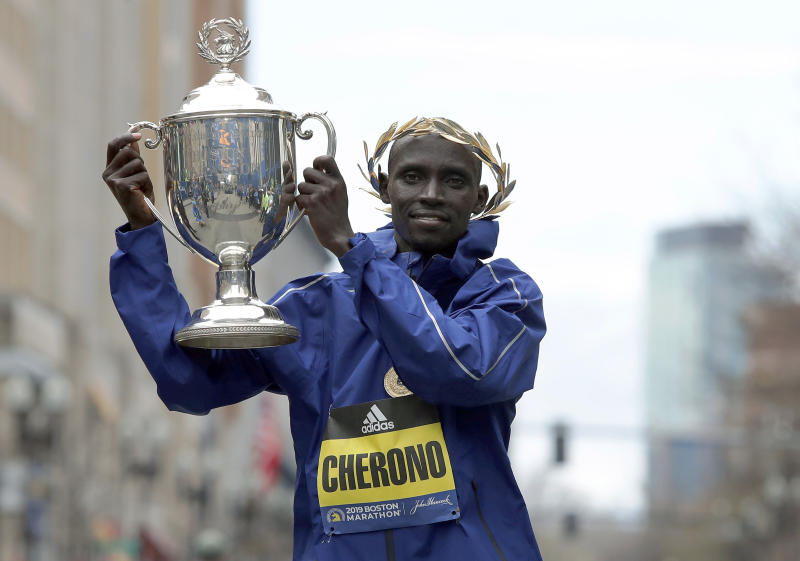 Boston marathon champion Lawrence Cherono has confirmed he will compete in Chicago in October against Britain's Mo Farah.
Speaking from his training base in Kaptagat, Cherono (pictured) says he is focused on making two wins in a year in major US marathons.
He bagged the Boston title in April against a spirited challenge from compatriots and Ethiopians rivals.
Now, the 31-year-old, has raised his ante in training as he seeks to be in peak condition before stepping out on the flat Chicago course.
"I feel strong and ready for the challenge in Chicago. The determination and drive to excel in major marathon races is there and of course it will help a lot in my dream to make the Kenya team to the Tokyo Olympics in 2020 should I win in Chicago," said Cherono yesterday.
Making the Kenya team in marathon is not for the faint hearted and Cherono is choreographing his path to the games by picking up wins in major city marathons and road races.
His last outing this year was in Colombia last month where he finished second at a half marathon race in Bogota clocking an impressive 64.09 minutes.
This was barely two months after he had also ended up second at the Rock 'n' Roll Half Marathon in San Diego California clocking 60:46 minutes.
"I always put my best in training because when you go out of Kenya to trace, it is like going to war. Everyone targets to beat you and I want to be at my best when I head to Chicago because it will not be an easy walk through the park," he added.
Indeed, in Chicago, Cherono will face one of his biggest challengers when he comes up against the experienced Mo Farah.
The Briton won the race in 2018 and confirmed that he is focused in defending his Chicago Marathon title on October 13.
Farah has not ruled out the prospects of running at the World championships in the 10,000m race that will be on October 6 in Doha, Qatar.
"I am a reigning world champion, so I do get an automatic spot anyway," Farah said of the 10,000m.