Omanyala fights AK's policy on doping at tribunal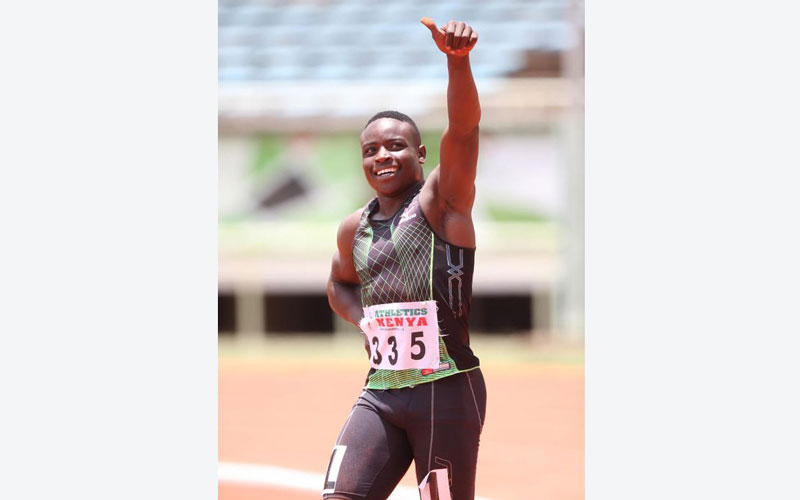 Kenyan sprinter Ferdinand Omanyala has challenged Athletics Kenya's Executive Committee's decision to bar any athlete who has served a doping ban from ever representing the country by filing a case at the Sports Dispute Tribunal (SDT).
In his battle against AK and its Executive Committee decision, Omanyala wants the SDT to order the national athletics' governing body to suspend the policy and allow him to continue representing the country at various international events.
Omanyala was banned in 2017 and served a 14-month ban by Anti-doping Agency of Kenya (Adak) after testing positive for glucocorticoid betamethasone, a substance banned by World Anti-Doping Agency.
His coach Duncan Ayiemba was slapped with a two-year ban for administration or an attempt to administer betamethasone.
The 22-year-old sprinter had qualified for the IAAF World Relay Athletics Championships in Yokahama, Japan earlier this year, but was kicked out of the team days before the competition for having a doping history.
"I hope the court will rule in my favour because at African Games trials I finished in the second position, but I was not included in the team," Omanyala who is being represented by lawyer Sarah Ochwada told Standard Sports. The case's ruling is set for today.
During her visit to Riadha House last month, Sports Cabinet Secretary Amina Mohamed supported AK's policy in fighting doping and suggested that apart from banning an athlete, his or her handlers should be sanctioned as well.