Why ABP testing will turn Kenya's doping crisis into a national disaster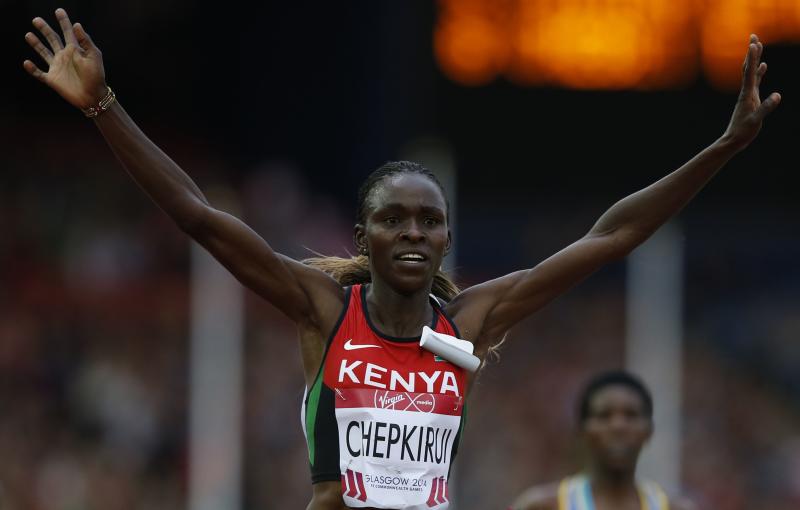 On Tuesday, the Glasgow 2014 Commonwealth Games and African women 10,000m Joyce Chepkirui became the latest high profile, Kenyan distance runner, to be suspended from competition for doping.
Chepkirui and little-known compatriot Jacob Kibet Chulyo Kendagor, were issued charges by the Athletics Integrity Unit (AIU) for doping violations with the former sanctioned for use of a prohibited substance and evading, refusing or failing to submit sample collection for the latter.
As if on cue, the AIU- world body IAAF's anti-doping watchdog- released a report that ranked Kenya as the third country in the world and the first in Africa in doping, staining the already tainted reputation of the most successful sporting export from the country.
Chepkirui, who hit top form between 2012 and 2014 when she won her nation gold medals at the Africa Cross (2012/senior women 12km), Africa Championships (2014/10,000m) and Commonwealth (10,000), is the latest top athlete to be charged due to the ABP or Athletes Biological Passport.
The 2015 Amsterdam Marathon winner who finished fourth in the 2016 New York Marathon is the fourth Kenyan to be suspended for doping in an ABP case after Abraham Kiptum, Cyrus Ruto (banned in April) and Sarah Chepchirchir (February).
According to the World Anti-Doping Agency (WADA), "The fundamental principle of the Athlete Biological Passport (ABP) is to monitor selected biological variables over time that indirectly reveal the effects of doping rather than attempting to detect the doping substance or method itself."
It simply means drug cheats can be exposed long after they perform when their stored blood samples from the past are compared against fresh samples.
If wide variation of the blood parameters (Haematological variables) is detected, then as WADA explains, doping control officials can "Identify and target athletes for specific analytical testing by intelligent and timely interpretation of Passport data; and
"Pursue possible anti-doping rule violations based on an atypical passport, in accordance with Article 2.2: Use or attempted use by an athlete of a prohibited substance or a prohibited method of the World Anti-Doping Code (Code)."
WADA's ABP Operating Guidelines were approved by its Executive Committee and took effect on December 1, 2009.
This first version contained a standardised approach to the profiling of individual Athlete Haematological variables for the detection of blood doping.
The fourth version of the ABP Guidelines of the Steroidal Module, which became operational on January 1, 2014 were approved in November 2013.
The Steroidal Module monitors selected urinary steroid concentrations over time in order to detect steroid doping.
Put simply, an athlete biological passport is an individual electronic record for professional athletes, in which profiles of biological markers of doping and results of doping tests are collated over a period of time.
Doping violations can be detected by noting variances from an athlete's established levels outside permissible limits, rather than testing for and identifying illegal substances.
The IAAF introduced their ABP programme in 2009, and they announced the first sanction under the passport in May 2012.
The Portuguese marathon runner Hélder Ornelas became the first track and field athlete to get suspended for doping based on the biological passport where he received a four-year suspension in May 2012.
With the cases of the four Kenyans charged with ABP still on going, no athlete from the country has been officially sanctioned under the programme but the country is in line for more shocking drug busts as anti-doping officials go through stored samples.
The ABP has been praised for nabbing high profile cheats in what could rearrange the finishing order at recent major championships and top races.
It also presents a new problem to governing bodies on whether to strip convicted drug cheats of medals and earnings earned for cheating their way to the podium.
"Athletes Biological Passport ABP needs thorough awareness and education as 3 out 12 athletes banned so far is due to inconsistencies in their ABP records," renowned local sports medicine expert, Dr Dan Sule tweeted following the news of Sarah Chepchirchir's suspension.
"We are tired of this chorus of doping. What the hell is happening? Are we going to show the coming generation that you can't run without doping? How are we going to end this menace? A lot should be done," Andrew Rotich the former pacemaker of banned Beijing Olympic 2008 champion, Asbel Kiprop, remarked.
"The Athlete Biological Passport program has become an incredibly efficient tool for targeting athletes and uncovering anti-doping rule violations as proved through these cases.
"The IAAF is committed to increasing the Athlete Biological testing and these sanctions should make it clear to those athletes who are doping that the IAAF will be aggressively monitoring and targeting them," AIU said in a statement on Friday.
In the same statement, it disclosed "The data package handed over to AIU representatives on 18 June contains approximately 110,000 files in total including all underlying raw data generated from analysis of the samples.
"The AIU will start analysing the LIMS data immediately with a view to reporting its findings to the IAAF Council in due course."
It implies that more top athletes will soon fall under the ABP dragnet further fuelling the doping menace that is now a full-blown crisis that should be declared a national disaster.