Kamworor and Chepkoech star at Police contest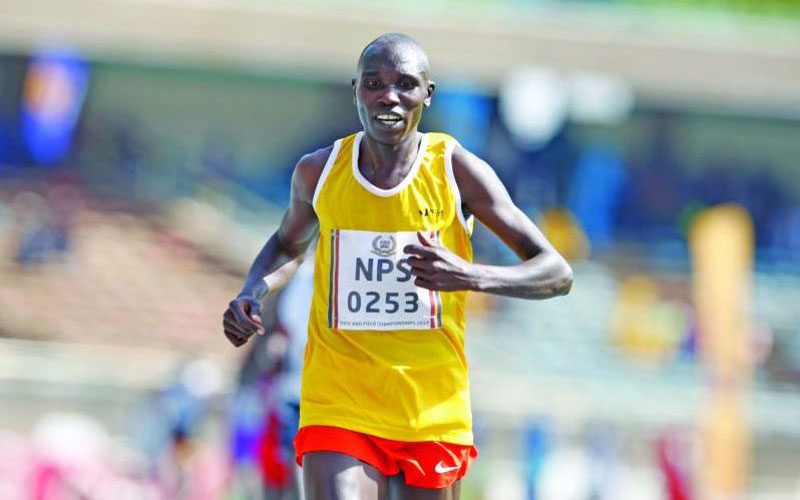 Three-time half marathon champion Geoffrey Kamworor signal his intentions ahead of National Championships as eases to victory in men's 100000m finals yesterday at the National Police Athletics championships at Kasarani Stadium.
Kamworor christen 'man of all surface' due to his prowess in track, roads and cross country competition was in a class of his own as he shot down his opponents.
Kamworor timed 27:50.65 to finish wellhead of Josephat Bett dipped home 28:40.58. Joseph Kiptum closed the podium with 38:40.74 while former world junior 5000m silver medalist Mathew Kisorio came in fourth with 28:44.63 while road race specialist Peter Kirui finished fifth in 28:45.25.
"I didn't get much trouble here today, the level of competition was a bit low, that's why I won easily. But I'm sure National Championships will be very competitive, so I will go home and focus on that"
I'm yet undecided whether I will go for World Championships in Doha because at the moment I'm focused on Copenhagen Half Marathon in September also I want to minimize the number of races I want to run in a season" said Kamworor.
Just as expected, World 3000m steeplechase record holder Beatrice Chepkoech, was simply too good for her rivals -winning 3000m steeplechase race finals.
Chepkoech who missed out of Monaco Diamond League which was due last night in Franch is focusing on world championships where she is looking to win her speciality. She timed 9:58.34 ahead of renown steeplechase pacemaker Caroline Tuigong (10:16.28), Lilian Chebii was third in 10:16.18.
Like Kamworor Chepkoech is building on her endurance and speed ahead of National Championships showdown set for August 21-23 at Kasarani Stadium.
"I had to make a tough choice because police Championships was coinciding with Diamond League where I was due to run 3000m. My focus is purely on World Championships in Doha, for now, I'm just building on my speed endurance" said Chepkoech.
2015 World steeplechase Champion Hyvin Kiyeng out- printed Sheila Chelengat to win women's 5000m finals.
Kiyeng clocked 15:35.4 while Chelangat returned 15:36.43 ahead of Ngong-based Margaret Wangari (15:49.61) with Pascalia Chepkorir timing 15:51.53 in fourth place.
In women's 1500, Beatrice Chepkoech registered another victory, her second of the championship winning the race in 4:07.82. Mary Kuria was second in 4:08.95 with Winfred Mbithe finishing second in 4:10.44.
Bethwell Birgen won corresponding men's 1500m final in 3:41.0. Gilbert Kwemoi was second in 3:41.04 with Collins Cheboi finishing third in 3:41.6.
Eunice Kadogo also registered double victory winning both 100m and 200m respectively.
National Police Service Athletics Police Chairman Joseph Kiget promises good show at the National Championships:
"We have a great squad which I'm sure will dominate the nationals, I'm also sure our athletes get many slots in the national team to Doha World Championships."
Next on the track will be Kenya Prisons Service athletics Championships on July 19-20 at Kasarani Stadium.
Selected results
Men's 10000m finals
Geoffrey Kamworor 27:50.65
Josephat Bett 28:40.58
Joseph Kitum 28:40.74
Mathew Kisorio 28:44.63
Peter Kirui 28:45.15
Women's 3000m steeplechase
Beatrice Chepkoech 9:58.34
Caroline Tuigong 10:16.18
Lilian Chebii 10:17.62
Veronica Nyogosoi 10:22.97
Lydia Chepkirui 10:39.51
Women's 10000m final
Margaret Chelimo 33:03.81
Stacy Ndiwa 33:04.01
Edith Chelimo 33:07.38
Sylvia Kibet 33:07.57
Pascalia Chepkorir 33:14.07