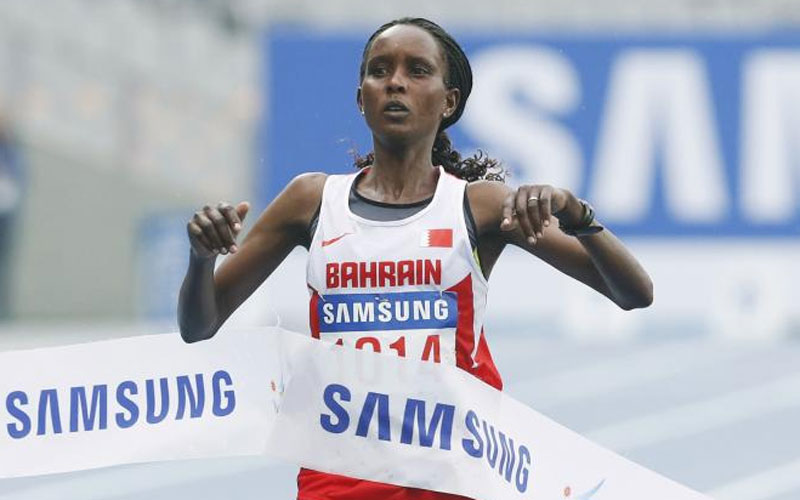 Another week, another seismic doping ban; the latest being the provisional suspension of Bahraini Eunice Kirwa, the silver medallist in the marathon at the Rio Games in 2016.
This ban shook distance running to its core in another inquest to its legitimacy.
SEE ALSO: Kenya Open champion Kibet ready to roar to Grand Slam arena
Last Tuesday, Athletics Integrity Unit (AIU) announced that the Kenyan-born runner is temporarily ineligible for competition for the use of what is fast turning to be the substance of choice among drug cheats.
That is recombinant Erythropoietin (EPO)- the banned blood booster that can only be injected into the body to aid in stimulating red blood cell production.
SEE ALSO: Coronavirus: We should think beyond bailouts in sports recovery plan
An increase in red blood cells improves the amount of oxygen the blood can carry to the body's muscles and for a distance runner, this comes in 'handy' when one sets out to cheat.
Kirwa, who is coached by her Kenyan husband, became the second medallist from the Rio 2016 women's marathon final to be accused of EPO use after champion Jemimah Sumgong, who is serving a record eight-year ban.
SEE ALSO: 'Beautiful' Lloris-Son row a sign Spurs are growing up: Mourinho
So, spare a thought for two-time world women's marathon champion, Edna Kiplagat; the peerless 39-year-old, who stands out as one of, if not the, most affected by the EPO scourge in distance running.
Following news that Kirwa had tested positive for the nuisance substance, a tweet by Jonathan Gault, a staff writer for American athletics website LetsRun.com aptly captured the unfortunate plight of the 39-year-old who continues to soldier on despite the overwhelming feeling her greatness has been robbed by convicted or suspected cheats.
"One woman (of many) affected by the Sumgong/Kirwa EPO positives: Edna Kiplagat.
"Kiplagat won the marathon world title in 2011 & 2013, was 5th in 2015 (Kirwa & Sumgong both finished ahead of her), and 2nd in 2017.
"Subtract Kirwa & Sumgong from the results = 4 straight medals," Gault wrote of the astonishing sequence of events that may have contrived to rob the Daegu 2011 and Moscow 2013 world champion of more glory and crucially, millions in income.
Aggrieved American elite marathoner, Sharlane Flanagan, also took to Twitter to remonstrate over being denied a chance to shine on the podium in a post that featured Sumgong and Kirwa holding hands after running to the Olympics 1-2 for Kenya and Bahrain.
"I can think of a lot worse things happening to me than being cheated out of dreams by dopers. But it still doesn't change the fact that it breaks my heart," she posted.
In 2008, she finished third in the 10,000m final at the Beijing Olympics before it was elevated to silver after Ethiopian born Turkish runner, Elvan Abeylegesse, was caught doping.
In Rio, she finished fourth in the marathon and now the top two have been busted for rEPO after the two women, who crossed the line before her at London 2012 Olympics where Flanagan placed 10th, were handed four-year bans.
The pain coursing through the deeply religious Kiplagat's veins must, therefore, be bordering on rage, the type of anger that stings at first but with time, motivates one not to give up until they get justice.
Another Bahraini, Rose Chelimo, denied Kiplagat a chance to become the first woman in history to win the women's World Championships marathon thrice.
The intriguing, absorbing and energy-sapping contest at London 2017 saw Chelimo win her adopted nation its first ever marathon world title in 2:27:11 at the death as she forced Kiplagat to accept the silver in 2:27:18 and a chance at sporting immortality slipped through the Kenyan's fingers.
Kiplagat, who was heading to clock 38 at the time, was so crestfallen that she considered even quitting the national team altogether to focus on her career sunset in the elite Abbott World Marathon Majors (WMM) races.
"The far I have come, I can only attribute it to the hand of God. I have no regrets whatsoever," she said.
"With my advanced age, the Commonwealth Games next March will come too early for me while the 2019 World Championships in Qatar and 2020 Olympics in Japan will be too late," she said after that defeat to Chelimo where her former countrywoman unleashed a decisive kick at the last to clinch gold.
Kirwa is coached by her husband, Joshua Kemei, who is one of the men in charge of the distance running training at the Bahraini funded camp in Kapsabet.
Another of their stars, Olympic women 3000m steeplechase champion and world record holder, Ruth Jebet is under investigation for -you guessed it- rEPO use.
It would, therefore, be of no surprise if Chelimo, who won the Asian Games Marathon title last year, also falls foul of the doping violation dragnet set by the AIU, therefore adding insult to Kiplagat's injury.
Dusting herself to win the 2017 Boston Marathon title against all odds before she bravely followed charging Ethiopian Worknesh Degefa, a first-timer at the classic race to the line for second this year, Kiplagat was included into the women's Team Kenya team for the Doha 2019 Worlds in September.
The queen of reinvention will now feature in her record-fifth Worlds and it does not take a rocket scientist to figure out why she is so determined to pursue history and eclipse Catherine 'The Great' Ndereba in the all-time list by winning a third gold despite staring down the barrel of 40.
At least on the elite circuit, Kiplagat has been crowned the Abbott WMM USD500,000 jackpot winner thrice in her career after all the original recipients, Liliya Shobkhova of Russia and compatriots Rita Jeptoo and now Sumgong, were banned for doping.
"Every marathon runner dreams of winning this title. It means so much to me and my family," Kiplagat said after she was crowned the WMM Series V champion in 2016, two years after Jeptoo was banned from the sport for rEPO use.
"It has raised the self-esteem of all athletes that if you run clean, you will get your due. Finally, justice has been followed (sic) and we are happy," the soft-spoken runner charged.
"Someone, who has been working hard for this like Edna, deserves to get her win after losing twice, once to (Liliya) Shobkhova and now Rita; so finally she has received the gift of winning the World Marathon Majors," her husband and long-time coach, Gilbert Koech added.
"As a coach, it is also encouraging to know I have produced a world champion twice and now a Majors winner," Koech added.
One can only hope that Kiplagat will summon her unshakable will to seek the elusive third world title she so craves in September, with a nation praying that another cheat or charging upstart will not spring from nowhere to steal her glory.
After all, none of the medals from the Olympics and Worlds won by convicted or suspected dopers have been redistributed by the International Olympics Committee and the International Association of Athletics Federations.
"It doesn't matter how long it takes to go through the process, but what really pains and disappoints me a lot is the fact that these people take time to bring up the culprits after they take (sic) the money and medals. We miss those celebrations at the podium, which is the best part of the game," Kiplagat told Standard Sports from the USA.