Kipchoge shows Kenya is the home of champions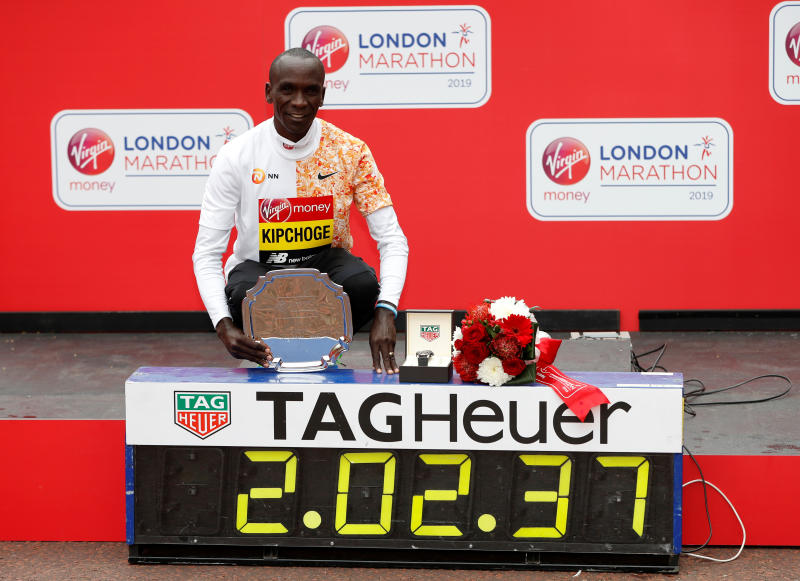 Superlatives to describe Eliud Kipchoge's performance in the king of all sports, marathon, are fast depleting.
When Kipchoge competes in the body-punishing 42.2km race, the whole of Kenya stands still, not to mention the athletics world that has been awed by the soft-spoken athlete.
Whenever he runs, Kenyans get the chance to see, in real time and practice, what he means when he says "no human is limited."
Seven months after shredding the world record, stopping the clock in a jaw-dropping 2:1:39 time in Berlin Germany, Kipchoge was in fine form yesterday in London – leaving Ethiopians in his wake.
For the duration of the London Marathon yesterday, Kenyans forgot the numbing reality that some of the country's athletes had brought shame for trying to cheat by using performance-enhancing drugs.
His winning time of 2:02:37 yesterday ranks the second all-time – a feat that left commentators scrambling for the best adjective to describe the 34-year-old's reason-defying performance.
Irrepressible perhaps goes some distance to describe the man his training partners call Boss Man.
There is no debating that Kipchoge has cemented his status as the greatest runner of all time. Yet he maintains possibilities are limitless. In an interview with BBC before the race yesterday, Kipchoge said: "The mind is what drives a human being."
He added: "If you have that belief — pure belief in your heart — that you want to be successful, then you can talk to your mind and your mind will control you to be successful."
Far from being a philosophical postulation, Kipchoge's development as a precocious talent in 2002 when he won the Kenyan trials for the IAAF World Cross Country Championships junior race, is well documented.
And, 17 years later, with a World Record in his custody, Kipchoge offers: "I want to show the world that you can go beyond your thoughts, you can break more than you think you can break."
Such is his determination that has kept him in the straight and narrow of discipline and always seeking to better himself.
In the process, he has captured the imagination of Kenyans who now join him, at least in mind, whenever he runs.
It is incredible to know that his last and only defeat in Marathon was way back at the 2013 Berlin Marathon, where he returned second behind Wilson Kipsang, who recorded what was then a world record 2:03:23.
Yesterday, as he pounded the London streets to victory, Kenyans in social media were unanimous that this is a man who has forgotten what defeat is.
Kipchoge's career has been defined by constantly pushing himself to compete against the clock more than fellow humans.
During the Nike Breaking2 project, where he attempted to run 42.2km under two hours, Kipchoge crossed the line in 2:00:25.
Instead of mourning about the failure to dip under two hours, the 2016 Rio Olympics champion chose to look at the brighter side of human endeavor, saying: "The world now is only 25 seconds away."
This is a man who has devoted himself to bettering himself – refusing to be weighed down by the intricacies of life.
In an interview with the New York Times in September last year, Kipchoge said: "Only the disciplined ones in life are free. If you are undisciplined, you are a slave to your moods and your passions."
He added: "It's not about the legs; it's about the heart and the mind."