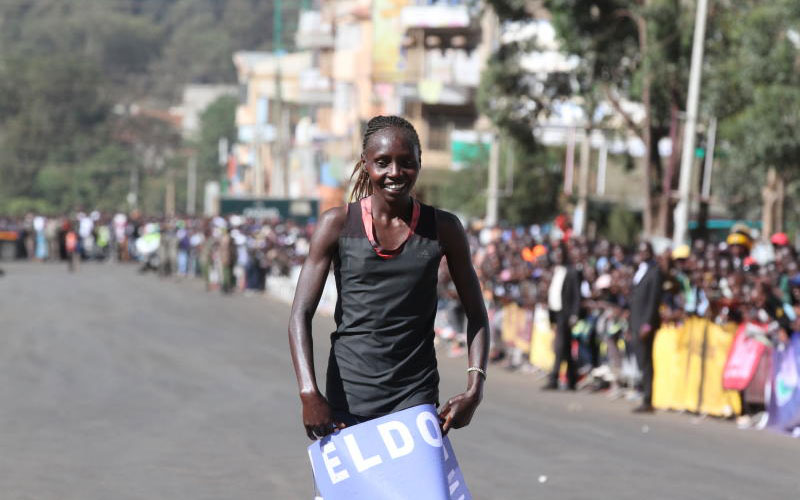 Valary Aiyabei bears the hallmarks of a strong-willed woman. She won the second edition of the Eldoret City marathon hours after an emotional funeral of her nephew.
The Standard Sport yesterday learnt that Sammy Kiprono, 25, the son of Valary's eldest sister Monicah Aiyabei had been laid to rest in Elgeyo Marakwet on Saturday, hours to the Sunday race.
SEE ALSO: FKF to publish Elections Guidelines on Tuesday
But Valary, who had attended and took part in the preparations of Kiprono's burial, still managed to live to the expectations of the over 30,000 athletics fans in Eldoret town by winning the race.
The reigning Beijing Marathon champion yesterday said she dedicated the race to Kiprono whom they grew up together in their Keiyo South home.
SEE ALSO: DCI hands NOC-K kit confiscated following Rio Olympics debacle in 2016
She ruled the Eldoret show, leading from the start to finish, having widened the lead from the 10k mark in a roller-coaster momentum.
"He (Kiprono) was a humble and a hardworking young man. My family and I had high hopes in him and I decided to dedicate the Eldoret race to him. I thank God I won the race for him," Valary said.
SEE ALSO: Kumari Taki outshines Kipruto in Diamond League trials
Valary, who is the 2018 Nagoya Women's marathon runner-up, said amidst the mourning, she took time to train well for the Eldoret showdown where she clocked 2:27:17, edging out Vivian Kiplagat and Elizabeth Rumokol to walk away with the Sh3.5 million prize money.
The Iten-based runner, who trains with her husband Kenneth Kiplagat said Kiprono's death was a big blow to her family and would have dealt a blow to performance on the streets of Eldoret.
"I remained focused on winning the race although losing a close relative and above all, someone you grew up together with, was a big challenge. My late nephew motivated me, especially in the early stages of my career in Kapkitony (Keiyo South)," she said.
Despite her exploits in international races, Valary often rolls up her sleeves to give a shot on local marathons and half marathons.
In December, she braved the searing temperatures of the Kerio Valley to win the inaugural Rimoi Half Marathon, barely three months after becoming the first Kenyan woman to top Beijing Marathon.
Her career in the marathon distance gained momentum in 2016 after she set the Barcelona Marathon course record in 2:25:26, a record previously held by Portugal's Marisa Barros for three years.
Valary's course record shaving streaks continued in 2017 when she smashed the 2017 Volkswagen Prague marathon in 2:21:57 to stamp her authority as Kenya's promising marathoner.
She owes her strong performance in the marathon to encouragements by her husband, Kiplagat.
She says: "He [Kiplagat] picked me at our Kapkitony home in Keiyo South and encouraged me to run. I ran in Kapkitony secondary school but never dreamt of becoming a professional marathoner."
Aiyabei's titles
Local races
Kabarak Half Marathon 2019
Kass Marathon 2015
Standard Chartered Nairobi Half Marathon 2018
Rimoi Half Marathon 2018
International races
Beijing Marathon 2018
Prague Marathon 2017
Barcelona Marathon 2016