How huge crowds electrified Eldoret during the 42km race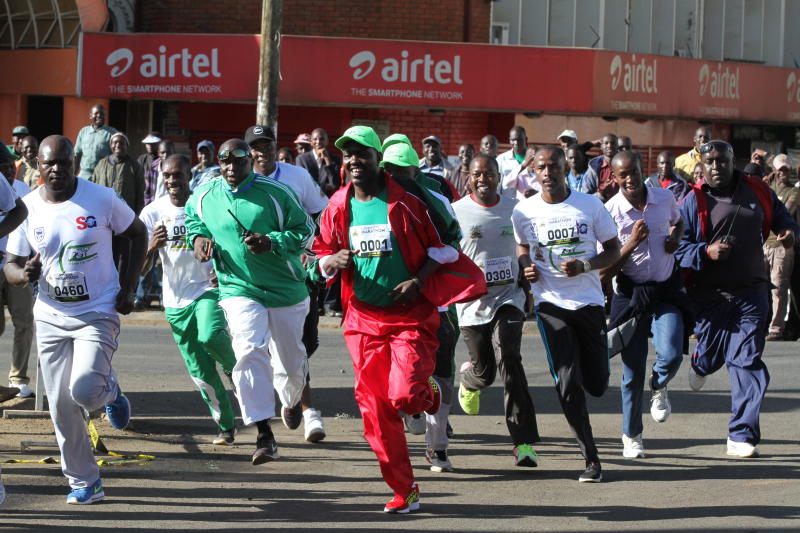 It was a day that started with huge expectations. Elite athletes, upstarts and dignitaries were in high spirits at the race starting point near University of Eldoret.
And it did not disappoint as Governors and other leaders from the North Rift region joined mammoth crowds in Eldoret's flagship race — Eldoret City Marathon.
The showpiece, which coincided with Easter holiday celebrations, and the fun that accompanied it, lived up to its billing.
The atmosphere was simply electrifying. From all walks of life, they came in their thousands to watch action that sent the Eldoret streets into delirium as the sonorous cheers livened the air.
Excited local fans, most of them wearing white T-Shirts, too, had a feel of the race all for a noble cause — to conserve the environment.
On Friday, two-time Boston Marathon winner Moses Tanui, who is the race director asked the Christian faithful for forgiveness as the race coincided with Easter holiday.
Some Christians opted to attend early morning mass to allow them catch up with the marathon action at 8am.
Security was tight within and outside as armed police officers patrolled the town.
Top, retired and active, athletes were stationed at water points to encourage and inspire upcoming athletes.
Shem Kororia, the three-time world half-marathon winner, handed over water at 30km mark while William Mutwol, the 1992 Olympic 800m bronze medalist served at the 35km point alongside Benjamin Limo, the 2005 world 5,000m champion.
Felix Limo, the 2006 London Marathon winner and a veterinary officer, headed the medical team.
Lawrence Cherono, fresh from winning Boston Marathon last week, stood at the finish line alongside immediate former world marathon record holder Dennis Kimetto. Kimetto drove the van with the race's timer.
Top brands from health to agricultural sector showcased their products and services at the meet attended by at least 30,000 fans and watched by millions, who followed the action on KTN.
Mediheal Group of Hospitals, which is one of the sponsors, as well as the Eldoret Hospital, deployed ambulances and health workers who provided first aid.
The Standard Group supplied free copies of The Standard newspapers to athletics enthusiasts.