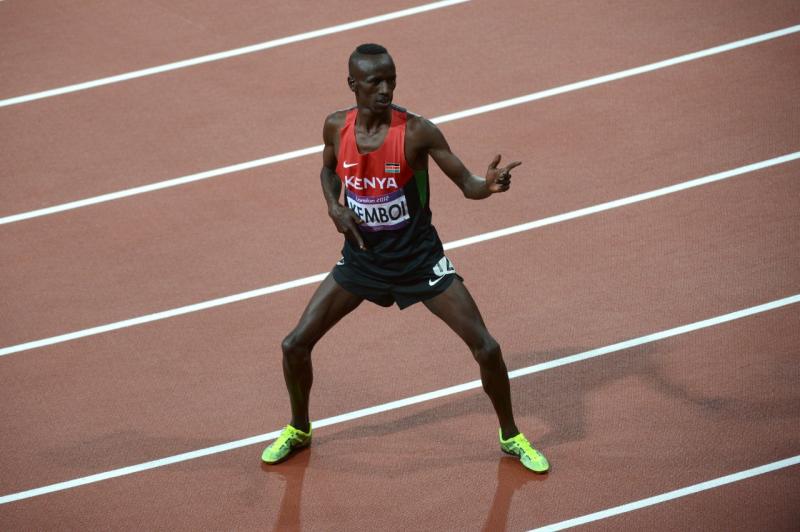 "Men are born for games. Nothing else. Every child knows that play is nobler than work." Cormac McCarthy wrote in his 1985 fiction novel, Blood Meridian.
Two-time Olympic and four-time World Steeplechase Champion Ezekiel Kemboi seems to be the embodiment of McCarthy's counsel.
Knowing well that play is nobler than work, the jig man is not about to hang his spikes and appears to be practicing new dance moves with the hope of illuminating the world's biggest stadia.
A year after he declared that he had retired from the water and barriers race, Kemboi's jig switches to the big city streets.
Kemboi will step up to marathon and, perhaps, change the dance as well.
With his diminutive frame that twisted in rhythm to imaginary tunes and beats, he enthralled spectators in the global arena and thrilled Kenyans glued to their television screens across the country.
The flamboyant and dramatic Kemboi is set to debut in 42km at the Haspa Hamburg Marathon in Germany on April 28. "I have been training hard on the roads. I will run my first marathon in Hamburg," he said.
When he stormed the athletics arena during the 2003 World Championships in Paris, Conseslus Kipruto (Olympics 3,000m steeplechase champion), the man who has dethroned him, was just nine years old.
It has taken the world the length of Kipruto's life to snatch the crown from Kemboi whose consistency in the field has been illustrious.
He announced his retirement from track competitions in 2017 after finishing 11th at the World Championships in London where Kipruto won.
Kemboi's entry into the 3000 metres steeplechase race came with a bang when he won the African Junior Championships in Réduit, Mauritius in 2001.
Since then it has been a journey marked by merry, controversy and ecstasy every time he emerged victorious in the race.
KENYAN RACE
This has always been seen as a Kenyan race internationally since 1968 when Kenyans, Amos Biwott and Benjamin Kogo took the lead one – two at the Mexico City Olympic games.
In the next Munich Olympics in 1972, the legendary Kipchoge Keino and Ben Jipcho also took one and two positions thus buttressing Kenya's position on the race.
In the history of the 3000 metres steeplechase, Kemboi is among the only two global athletes who won multiple Olympics titles in 2004 and 2012 alongside Volmari Iso-Hollo in 1932 and 1936 for the 87 years Olympics has been in existence.
The exuberant athlete has in the past courted controversy and in 2012 Olympics his participation was put in limbo when he was charged with sexual harassment just weeks to the global competition.
Anne Njeri had accused him of sexual assault but later sought to have the charges dropped.
His entry into the Haspa Hamburg Marathon comes only six months after compatriot Eliud Kipchoge set new marathon world record.
Kipchoge clocked 2 hours, 01 minute and 39 seconds at the BMW Berlin Marathon on September 16, 2018. "I want to emulate Kipchoge, I would like to shine at the road races just like at the 3000 metres steeplechase," Kemboi said.
Just like Kipchoge who is coached by his village mate and former athlete Paul Sang, Kemboi is under the able hands of another former steeplechase champion, Moses Kiptanui, who has been training him in Eldoret.
"I started training last year, my body is fit for the marathons and my timing is equally good," he said, adding that "the Hamburg Marathon will be my first after an illustrious career in steeplechase."