Jepkosgei prepares for marathon debut in 2019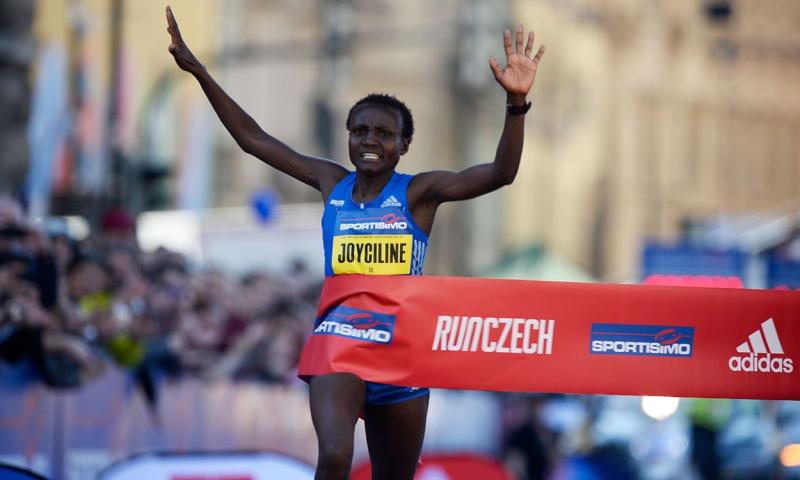 World 21km record holder Joyceline Jepkosgei plans to step up to marathon early next year.
Jepkosgei stunned the world last year as she broke four world records -10km, 15km, 20km and the half marathon -enroute to victory at the Prague Half Marathon.
She became the first woman to break 65:00 barrier in the half marathon at the 2017 Sportisimo Prague Half Marathon in a stunning 64:52 to slice 14 seconds off Peres Jepchirchir's then seven-week old world record.
The 24-year-old clocked 29:43 to breaking through the 30-minute barrier and shattering her own record of 30:04, also set in the Czech Republic capital. She set a world best for 5km of 14:33 and the 64.51 world 21km record.
And now she longs to go one better: step up to 42km running and perhaps strive for fast times. Jepkosgei, a soldier attached to Kenya Defence Forces (KDF) Six Brigade, will start off her campaign with KDF cross country championships in November.
"I have excelled in half marathon. I now need to try luck in full marathon. I will start with the small marathon races to gauge my form. I am yet to know the race I will compete in. I am waiting for confirmation from my management," he said.
Jepkosgei had settled for third place at Great North Run in UK on September 9 -losing to London Marathon winner Vivian Cheruiyot and 2017 Bogota Marathon winner Bridgit Kosgei.
She is currently doing between 10 to 15 kilometres at her high altitude training base in Iten.
"I am adjusting my training programme but I should run a half marathon before end of December. The body has to adjust first before I settle on a race to take part in. I am happy I am training well and in good form," said Jepkosgei.
Jepkosgei had lost to another multiple world and Olympic champion Tirunesh Dibaba, 33, of Ethiopia at the Great Manchester run in May.
Jepkosgei kept her stellar 2017 momentum alive this year at the Valencia Trinidad Alfonso Half Marathon, taking one second off her own world record to win the IAAF Gold Label road race in 1:04:51 on April 22.
"I don't know about my next encounter with Dibaba but I am hoping to defeat her. I competed with her in Prague last year and I beat her. I am now training harder," she said in Eldoret.
The women's world 21km record has gravitated around Iten town for long. From Kenyan-born-Dutch woman Lorna Kiplagat to neighbours Mary Keitany, Florence Kiplagat –save for Peris Chepchirchir from Nandi County –to record-holder Joyceline Jepkosgei; all live within a radius of one-kilometre in Iten and all-time marks have been gravitating around the town in recent years.
It's from Lorna Kiplagat's (66.25) set at World Half Marathon un Udine, Italy then to Mary Keitany (65.50) set in Ras Al Khaimah half marathon United Arab Emirates before Florence Kiplagat lowered it at the Barcelona half marathon to 65.12 to Jepkosgei's 64.52 –the only woman to run under 65 minutes.
The four live within a stretch of 400 metres along Iten-Eldoret highway and they train together in Iten and mostly, they share training at Kamariny Stadium, which is 500m away from ultra-modern Lorna Kiplagat Sports Academy tartan track.
Iten is billed as among the world's best athletics training areas slightly better than St Moritz in Switzerland.