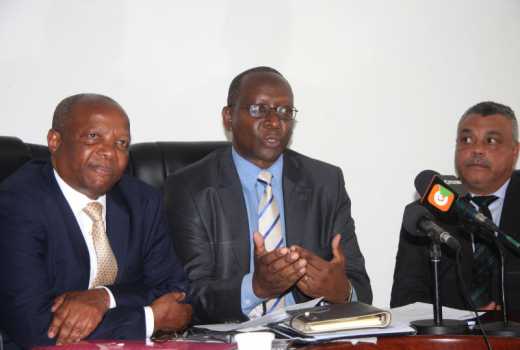 Anti-doping Agency of Kenya CEO Japhter Rugut has advised athletes to take seriously the Anti-Doping Administration and Management System (ADAMs).
This is in the wake of reports that World Junior 3,000steeplechase champion Celphine Chepteek Chespol has missed two doping tests as a result of two agents fighting over her signature.
SEE ALSO: Kenya to criminalise doping
The agents Marc Corstjens of Golazo and Owen Anderson are fighting to manage Chespol, a case that is now before the Sports Disputes Tribunal.
ADAMs is a Web-based functionality developed by World Anti-Doping Agency to help athletes comply with the whereabouts rules of their sport by entering their information from anywhere in the world.
SEE ALSO: ADAK responds to Russian article on doping scandals in Kenya
The system supports the delegation of this responsibility to an authorised representative such as team manager, agent or other third party.
In the case of Chespol, her authorised representative, a member of Golazo, allegedly entered misleading location hence her missing two out of competition tests when Doping Control Officers came calling.
SEE ALSO: Racism: Zaha wants action against online abuse
Adak CEO Rugut, however, warned "the ultimate responsibility (for ADAMs) lies with an athlete."
Rugut said: "Adak is always and at any time open to athletes. Whenever they have this issues like this, they should bring them to us."
He added: "We are yet to get a formal complaint from the said athlete. However, we emphasise that an athlete's life is in that ADAMs. Athletes should not suffer when we at Adak can help but first we must understand their challenges."
In a hard hitting letter copied to Athletics Kenya, IAAF Ethics Commission and Sports Disputes Tribunal, Chespol alleges she was "lectured (by an AK official) to remain with Golazo so that she can be cleared to race in IAAF Diamond League in Doha, Qatar and Shanghai, China."
Chespol mentions adversely an Athletics Kenya official and a coach for her tribulations and now fears for her athletics future.
"The case is before the Sports Disputes Tribunal and will leave it at that," Chespol told Standard Sports.
The Sports Tribunal has since ordered Athletics Kenya to issue Chespol with clearance letter in order to obtain Italian Visa to enable her compete in the IAAF Rome Diamond League on May 31.