Athletics: It's tough duel as AK picks team today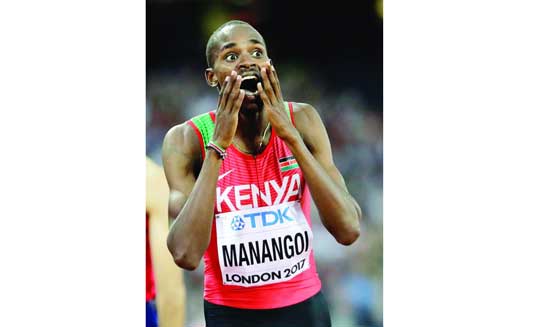 It's a do-or-die battle today as Kenyan athletes for slots to the 21st Commonwealth Games that run Gold Coast, Australia, on April 4-15.
Yesterday, decathlon and heptathlon events were staged at Kasarani Stadium.
After finishing sixth at the Africa Athletics Championships in Durban in 2016, Gilbert Koech is hopeful to make the cut in decathlon.
Koech posted 11.0seconds in 100m and 5.68 long jump, the two out of ten events.
"I have enough experience in this event. I have represented the country twice in Africa events. That's the All Africa Games and Africa Athletics championships and I am hopeful of picking a ticket to Australia," said Koech.
"My strongest events are throws. That's javelin, Discus and shot put," said Koech, a member of National Police service.
Other athletes taking part in the event include Elijah Chesoen who posted 11.8 seconds in men's 100m and 6.32 in long jump.
In the women's heptathlon, two women in Mary Mugure and Susan Murrey are competing in the event.
Take a quick survey and help us improve our website
Take a survey
Walking race kicks off today's programme then 800m semi-finals for men and women, 10000m men and 3000m steeplechase men as highlight of the day in the evening.
Kenya will pick a team of 65 athletes -36 men and 29 women - for the Gold Coast club games. There are three slots in men and women 800m, 1,500m, 3,000m steeplechase, 5,000m and 10,000m.
The 110 hurdles will have no representation. There are also two representatives each in men and women's 200m while three in men's 400m and two in women's over the distance.
While in 400m hurdles, 1-3 will automatically qualify and two in women's contest with 20km race walk having two athletes in each. There is one slot for men's high jump and women's long jump and triple jump.
Kenya will present two men in javelin, a woman in heptathlon and one man in decathlon.
Meanwhile, delegates meeting at Eastern Africa Athletics forum will watch Kenyan trials. The Eastern Africa Athletics board consists of ten member states that include host Kenya, Djibouti, South Sudan, Sudan, Rwanda, Tanzania, Uganda, Somalia, Eritrea and Burundi. The athletics stakeholders are meeting to discuss the year calendar and athletics development in the region.
Filbert Bayi represents Tanzania. [Dennis Okeyo]