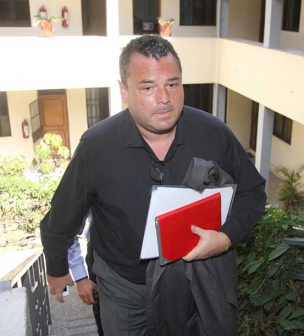 Collapsed Federico, Berardelli cases means nation is far from establishing the cause of the substance abuse scourge
Questions are unanswered as to who was responsible for Jeptoo and other athletes who have tested positive for banned substances.
Last week, Italian coach, Claudio Berardelli and two co-accused were cleared of administering banned substance Erythropoietin (EPO) on disgraced female marathoner, Rita Jeptoo in an anti-climactic end to a case that captured the world's attention last year.
Berardelli and his assistant, Daniel Cheribo Kiplangat alongside a pharmacist practising in Kapsabet, Dr Stephen 'Kalya' Kiplagat Tanui, were accused of conspiring to injure the profession of Jeptoo — originally a three-time winner at Boston and a two-time champion at Chicago marathons — who is serving a four-year international ban.
On August 2, 2016, Berardelli who had spent a week in cold cells in Eldoret and Nairobi, was arraigned in court, barely two weeks after his former boss and top agent, Federico Rosa was also brought to the dock to face similar charges.
At the time, the clamour to get to the bottom of the doping crisis — with Jeptoo, who tested positive for EPO on September 25, 2014, playing the role of poster girl — was at a crescendo with Kenya facing an international ban from competition, including the Rio 2016 Summer Olympics.
The effort to unearth the shadowy figures behind the scourge that had seen over 40 Kenyan athletes banned for substance abuse between 2012 and 2016 saw the personal intervention of President Uhuru Kenyatta who pushed for the fast-tracking of the process to make doping a criminal offence.
When Rosa and Berardelli were brought before the corridors of justice and the Anti-Doping Agency of Kenya (Adak) given the force of the law, the World Anti-Doping Agency (Wada), International Olympics Committee (IOC) and International Association of Athletics Federations (IAAF) were convinced enough was being done to spare Kenya an international ban.
With the country cleared to take her place at the Olympics, Kenyan athletes outdid themselves when they blacked out the harsh scrutiny — especially from another damning expose by German TV, ARD aired a day before the start of the competition — to bring home six gold, six silver and a bronze.
Over a year later, the country and indeed the world is nowhere closer to establishing exactly who is behind the spike in doping cases even after Wada declared the country compliant to its Code on September 12.
Since Rio, several Kenyan athletes, chief among them Olympics women marathon champion, Jemimah Sumgong (EPO again), whose case is ongoing, have tested positive for banned substances.
The collapse of cases brought against Federico, whose charges were dropped last November and Berardelli left authorities with egg on their face while Adak is yet to secure a successful prosecution against an athlete, agent, coach or any other party involved in doping Kenyan athletes.
Adak has however, sanctioned five athletes with doping violations and has several pending cases in court since the turn of the year with the Agency involved in a countrywide sensitisation drive to educate seasoned and budding athletes on the dangers of doping.
Regrettably, the purge on the two Italian nationals in a probe conducted by the Directorate of Criminal Investigations (DCI) and the anti-narcotics unit did not have the legal capacity at the time to prosecute the cases was doomed to fail the test of the justice system from the onset.
First, officers involved in the investigation had little knowledge on doping, the sinister network that supplies prohibited substances that are strictly controlled by the Pharmacy and Poisons Board-Kenya to athletes and the intricate web- locally and overseas — that covers up the trail once a runner fails a drug test.
To date, investigations of senior officials at the IAAF led by former president, Lamine Diack and his son, Papa Masatta Diack and here at home, two suspended top Athletics Kenya officials — David Okeyo (Deputy President) and Isaac Mwangi (CEO) — by Ethics Board of the world governing body are still on.
They are accused of, among other offences, abetting the cover up or soliciting bribes to either exonerate dope cheats or reduce suspensions and to unravel the cases, the DCI and anti-narcotic officers should have followed the same root and branch approach.
At the Rio Olympics, Federico's management, Rosa Associati, had seven athletes in Team Kenya having taken care of their interests for years when as a nation, we only come to their side when they win at international events.
Berardelli had six runners who represented the nation in Brazil after they decided to stick with him even after ending his employment with Rosa Associati and four of his former athletes, Jeptoo, Sumgong, Matthew Kisorio and Agatha Jeruto implicated in doping.
"We are not stupid machines. We know what our coach does for us and how he has helped our careers and as individuals. Those who decide to use drugs do so on their own will," the 2015 Chicago champion, Dickson Chumba, once told this writer.
Marathon Majors winner
In the 12 years he has been a coach in Kenya, Berardelli has given Kenya two female world champions in Janeth Jepkosgei and Eunice Sum and the second woman in history to win Olympics gold on the track in Nancy Jebet Langat.
The Italian has also coached the first two-time Marathon Majors winner Martin Lel, the first Olympics marathon champion in Samuel Wanjiru (late), the first Kenyan WMM winner in Robert 'Mwafrika' Cheruiyot, the 2015 New York, London, Chicago, Rome and Paris marathon champions.
No one can stand up and proclaim all those champions doped to succeed or the coach does not bear some responsibility, mostly to keep a keener eye on his charges, but as the collapsed cases showed, the State simply failed to conduct a thorough inquiry.
The 2008 Olympic men 800m champion, Wilfred Bungei, once told this writer: "You simply cannot fail to be aware of a substance that you have to inject yourself and the Rita case should be an example for others to stop."
Sick argument
Sadly, the fact that no one has been brought to book is only encouraging more athletes to turn to doping, with the sick argument being, if convicted cheats and their suppliers are still walking scot free, one can make as much money as possible and when caught, use some of the ill-gotten wealth on the legal process and enjoy the rest of the fortune to live happily ever after.
Elsewhere, President Vladimir Putin on Thursday said the US had put indirect pressure on the International Olympic Committee to block Russia from the Winter Games, adding it would be a "humiliation" for the country.
The IOC is currently assessing if Russian athletes will be allowed to appear at the event in South Korea in February.
Athletics world governing body the IAAF banned Russian track and field competitors from the 2016 Rio Games, after a World Anti-Doping Agency report on a vast system of state-sponsored doping.