Muema, Omare win athletics gold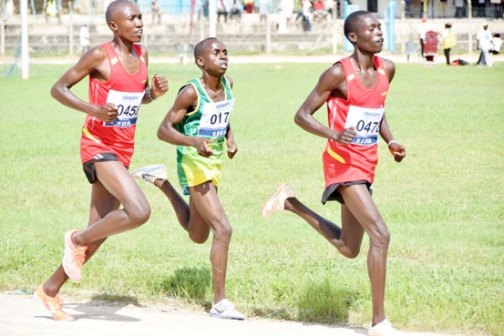 Kenya's Jackson Muema and Kevin Kibiwot yesterday won gold and silver in the boys' 10,000m as the 2017 Brookside East Africa Secondary Schools Championships entered Day Six in Gulu, Uganda.
The duo wowed the large crowd at Pece Stadium as they confirmed Kenya's running prowess and left their opponents gasping for breath.
Muema, a Form Two student of Kivandini Secondary School, clocked 29 minutes 50.3 seconds to win gold, while Kibiwot of Cheptongei School crossed the finishing line 0.6 seconds later to settle for silver. Uganda's Caiphas Kipyako settled for bronze in 30:42.1.
Muema, who was second at the nationals, said it was his well-planned strategy that won him the gold.
"After finishing second at the national, I returned to training with the aim of getting the gold in the East Africa games. My strategy was to remain close to him (Kibiwot) and finish with a strong kick with about 400 metres to go," Muema said.
Dolphine Omare secured Kenya's second gold after beating her peers in the girls' 5,000m. Omare cut the tape in 16:49.6. Aciro Knight of Uganda took silver in 17:22.5, while Kenya's Lucy Mokire completed the podium finish 24 seconds later.
In girls' volleyball, Kenya and Rwanda are guaranteed a place in the final. Former champions Kwanthanze take on compatriots Cheptil in a repeat of the national final, while 2015 winners GS Indagaburezi play fellow Rwandans St Aloys in the other semi-final.
Kwanthanze, who returned to the regional scene after a one-year absence, avenged their 3-2 loss to Indagaburezi with a 3-0 (25-23, 25-19, 25-13) victory in their last group match.
In the boys' contest, champions Malava failed to make it past the preliminaries and relinquished their crown after suffering a 3-2 loss to Malakal of South Sudan.