US-based Saruni dropped from 800m team for World Championships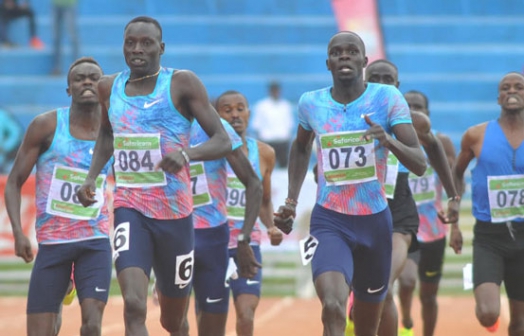 Two-time Olympic and world 800m champion David Rudisha and 2016 IAAF Diamond League winner Ferguson Rotich have been picked in the 800m squad to the 16th IAAF World Athletics Championships in London on August 4-12.
That means US-based Michael Saruni, who was third-placed in the national trials last month, has been sacrificed to accommodate the duo.
Yesterday, the vice president in charge of competitions, Paul Mutwii, said Athletics Kenya (AK) had decided to honour the athletes' efforts to win World Championships (Rudisha) and IAAF Diamond League Trophy (Rotich), which earned them wild cards.
"We made several considerations and opted to include the two athletes in the team. We found it wise to honour their hard work. So, we decide to drop Saruni (Michael) to 4x400m relay team and we want him to join the team heading for a competition in Belgium this weekend.
"He is still a young athlete with huge prospects in the future. We are certain the team will do well in London," said Mutwii.
AK had announced that the top three athletes will have automatic tickets to the London global showpiece.
"We evaluated it, yes. But we concluded that IAAF wild cards carried more weight. It's good to respect such a great honour," said Mutwii.
Paul Ereng, who guides Saruni in the US, was furious with the decision.
Take a quick survey and help us improve our website
Take a survey
"I am angry with this. It simply shows the bad management in Kenyan athletics, which has been there since 1950s.
"There is no reason why Kenya should field two wilds and the IAAF rule is clear on it. Kenya is flouting rules to suit certain interests. Rudisha and Rotich have not won a single race this season. Saruni beat Rotich in the trials and I am wondering why they decided to drop Saruni. I am wondering why we should have trials and still don't stick to the results. Saruni has not qualified in 400m and I don't know what they will do if he fails to qualify," said Ereng.
The IAAF qualification system and entry standards read: "The IAAF will accept the participation of the current Reigning World Outdoor Champion and that of the Winner of the 2016 IAAF Diamond League (in the corresponding World Championships event) and Hammer Throw Challenge, as wild cards, in each individual event, on the condition that the athlete in question is entered by his federation.
"If both are from the same country, only one of the two can be entered with this wild card. If a member federation has four athletes in one event as a result of this regulation, all four will be permitted to compete."
Rudisha and Rotich will lead youngsters Kipyegon Bett and Emmanuel Korir to the start line at Queen Elizabeth Olympic Park in East London.
Separately, IAAF yesterday authorised eight Russian athletes to resume competition under a neutral flag 20 months after banning the entire Russian squad over state-sponsored doping.