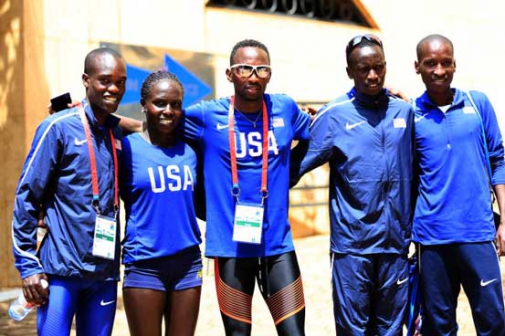 Athletes who have switched nationalities mainly because of better pay say they made the right move and have no regrets.
It was no surprise that USA and Turkey fielded former Kenyans at the IAAF World Cross Country Championships in Kampala, Uganda, last Sunday because Kenya has "exported" so many runners.
Turkey had a full-house of Kenyan-Turks among them Yasemin Can (Vivian Jemutai), Meryem Akdag (Miriam Jepchirchir Maiyo), Aras Kaya (Amos Kibitok) and Ali Kaya (Stanley Kiprotich Mukche) in the medley relay.
USA had Samuel Chelang'a, Stanley Kebenei, Shadrack Kipchirchir and Leonard Korir.
Olympic 5,000m silver medalist Paul Chelimo, who was born in Iten, was in the American mixed relay squad.
Bernard Lagat, 42, was one of the first Kenyans change their allegiance to the USA.
He was to be joined later by Chelimo, Hillary Bor (3,000m steeplechase), Leonard Korir and Shadrack Kipchirchir (both 10,000m). Bor, Korir and Kipchirchir also serve in the US army.
Samuel Chelang'a is the younger brother to 2007 Rotterdam Marathon winner Joshua Chelang'a.
Samuel, who was born and bred in Kabartonjo in Baringo County said Paul Tergat, a close friend of his elder brother Joshua, helped him get a US track scholarship.
Alphine Chepkerker Tialmuk, the younger sister of world cross country medalist Pauline Korikwang says there should be no talk about Kenya 'A' and Kenya 'B' in major competitions.
"We have strong athletes from Ethiopia, Eritrea and Australia. So, there is should be nothing much about Kenyans against former Kenyans," she said.
Kenya 'A' is the national team while athletes with Kenyan origin representing other nations are always branded as Kenya 'B'.
World Cross in Belfast
Leonard Korir gained US citizenship last year.
In the senior men 10km, Korir run alongside multiple National Collegiate Athletic Association (NCAA) star, Samuel Chelang'a.
While the elder Chelang'a ran for Kenya at the 1997 and 1999 editions of the World Cross in Turin, Italy and Belfast, Ireland winning the senior men long race (12km) team title besides finishing fourth in the latter, Samuel, 32, born in Baringo opted to compete for the US.
Stanley Kebenei and Shadrack Kipchirchir were the other Kenyan-born runners in the US senior men in Kampala, which had five former Kenyans in the team of 28 runners in USA squad.
Kebenei won nine NCAA junior national championship titles at Iowa Central Community College before joining the University of Arkansas and has now signed a professional contract with Nike.
Kipchirchir, born in Eldoret qualified for the Rio 2016 Olympics in 10,000m and in 2015, he finished 16th at the 2015 World Championships in Athletics in the 25 lap-race.
Stanley Kebenei pleaded with Kenyans not to castigate them as betrayers.
"We love Kenya, we love you. Just support us we know you guys don't like us now (for representing USA)," Kebenei said in Kampala. After failing to win a medal in Kampala, he said: "Congratulations to Kenya. I know you love us and we love you too. Now we go back to training and meet again, probably in the World Championships in London."
Kenyan-born Dane Wilson started the migration to other countries in the 1990's and was followed by naturalised Dutch woman Lonah Kiplagat, who won the IAAF World Cross Country title in 2007 in Mombasa.
Unlike in the Olympic Games in Rio, where the battle was between Kenyans and former Kenyans, the Kampala showdown produced a completely different script –'exports' fell by wayside as none of them won medals.
But more than 30 Kenyan-born athletes lined up in 2016 Rio de Janeiro Olympics, with Turkey and Bahrain accounting for the highest numbers. USA, Israel and Bosnia had claimed a slice of glory thanks to Kenya's talent glut.
From USA's former world champion Bernard Lagat, Turkey's Mike Kigen to Bahraini constellation of world beating stars that included Olympic 3,000m steeplechase champion Ruth Jebet and Olympic marathon silver Eunice Kirwa, they all lined up in Rio.
There was no love lost when Kenyans, often used to signaling each other with Kalenjin word 'Ngebe' (let's break away), devise new tactics to counter the growing number of Kenyans donning flags of their adopted nations.
They switch nationalities in the quest for money, fame and even in search of love – others get married.
Ruth Jebet, who hails from Kosirai area in Nandi County, made a strong statement about Kenya's athletics 'exports' as she cruised to victory in women's 3,000m steeplechase race in a world record time.
When she landed in Bahrain, Jebet was driven to meet Crown Prince Salman Bin Hamad Al Khalifa, who said the feat was the country's strongest show in the Olympic Games (Rio 2016). It won its first gold medal as well as a silver medal, a feat that placed it at the top of the Arab countries.
Jebet, who finished seventh in Kampala on Sunday, said: "I expected to win here but it's too humid and that's why everyone was tired. The cross country here is part of my build up for the track, where I intend to compete at the World Championships in London in August.
"I still urge my Kenyan fans to rally behind me and I might break the record again." Jebet holds the 3,000m steeplechase world record.
Bahrain also had John Koech and Nelson Cherutich (3,000m steeplechase) as well as marathoners Eunice Chumba and Eunice Kirwa, who won silver medal.
Benson Kiplagat Seurei, son of 1987 All Africa Games 1,500m champion James Seurei, lined up in 1,500m.
Seurei said he opted to change his citizenship as it is hard to make the national team in Kenya. "In Kenya, there is plenty of talent and some of us decided that we should utilise talent elsewhere," said Seurei.
Qatar has always fielded their naturalised athletes in major championships. A decade ago, there was a massive exodus of Kenyan athletes to the oil-rich Gulf nation.
The world-beating stars then attributed their change of citizenship to lack of compensatory remuneration from the Government.
World record holder
After almost a decade, the athletes who attracted hefty pay in the oil-rich nation have returned to their motherland and now go about their businesses. They retired from athletics.
Among them are Qatar's world 3,000m steeplechase record holder Saif Saaeed Shaheen, formerly Stephen Cherono, and Musa Amer Obaid (formerly Moses Kipkurui), who live in Eldoret.
Shaheen, an alumnus of Sergoit Secondary School in Keiyo North, is a farmer and lives in the upmarket Elgonview Estate in Eldoret.
This is despite the fact that he received a lifetime monthly wage of $5,000, and $250,000 if he wins a World Championship or Olympic gold medal for his adopted nation.
These stars were given Qatari names and offered lucrative deals and sponsored to train in Iten and Eldoret because Qatar's climate does not is not suited for long distance running training.
They lived in expensive hotels, where they began lavish lifestyles buying top of the range cars.