FALL OF KENYA'S SPORTS LEGEND: Kipchoge now presides over a corrupt, vicious NOCK regime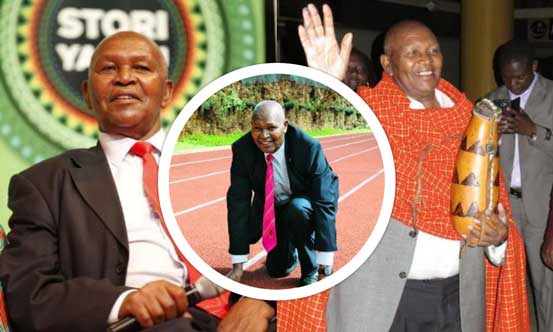 From a long distance runner who won almost a dozen medals, to a philanthropist, a successful businessman and pioneering Olympic Laureate, Kipchoge Keino has been one of the most iconic sports leaders.
The story of the 77-year-old chair of National Olympics Committee-Kenya (Nock) has been told and re-told through film, drama, movies and documentaries four decades after he hang up his running shoes as Kenya's first two-time Olympics champion.
He is truly a living legend, but recent events are threatening to soil his legacy — and people will only remember his acrimonious and embarrassing exit as the Nock boss.
Simply put, Kipchoge has ailed to realise that his time at Nock is up.
Earlier in the week, the International Olympics Committee (IOC) announced it was withholding funds from Nock pending the decision of its Executive Board on whether Kenya or errant members of its management will be sanctioned.
This is after Kipchoge led 11 of 13 members of his Nock Executive Committee to defy the IOC to make changes to Nock's constitution.
It was the second time in seven days that Nock failed to adopt governance changes in a new constitution, which the IOC had asked it to do after a tripartite agreement with the Government of Kenya and affiliate federations fed up with the excesses of the Nock bosses.
The country will be on the agenda of the IOC board meeting in Pyeongchang, South Korea, next Thursday and Friday and it would be the mother of all ironies should the nation be banned from the Olympics Movement by deeds orchestrated by the man widely acclaimed as the Father of Kenyan athletics.
There is talk that Nock is planning another meeting on Wednesday, maybe to try and appease IOC before it meets on Thursday.
An IOC ban would be a painful end to Kipchoge, denying him the lap of honour he deserves if he gave up his post voluntarily.
The Nock henchmen are vehemently opposed to the new constitution since it strips them the right to vote for the executive, a right sitting members have abused to maintain the status quo in casting their ballots as a bloc.
Numbering 13, each sitting executive member only requires a simple majority of 17 to retain their seats with 32 votes up for grabs, meaning they only needed to 'hunt' for at least four votes against any challenger.
On the material day, 11 Nock bosses and two federations ganged up to ensure the document failed to muster the two-thirds majority needed for it to be formally adopted as the new constitution to pave way for fresh elections at the end of March.
After leading a revolt against the IOC, the body that staunchly stood by him when Sports, Arts and Culture Minister, Hassan Wario disbanded Nock on August 27, 2016, Kipchoge faced the media where he made a startling if not disturbing statement.
Kipchoge termed the outcome as "good for the youth of this country," and charged that the will of Kenyans had prevailed.
"We have shown Kenyans what we want is fair play. If you put politics in sports, then we are not building this country.
"We want our youth to perform worldwide. We were number 15 overall at the Rio Olympics, number one in Africa and number two overall in athletics. We want to improve in other sports," the Nock leader said without batting an eyelid.
If anyone needed a sign that the much respected septuagenarian had lost touch with reality, they needed to look no further.
The roadmap to Nock reform was sparked by the outrage that greeted the Rio 2016 Olympics fiasco amid charges of theft and mismanagement by a string of senior officials, including two vice presidents, the secretary general, and the team leader at the Games who have been charged in court.
Kipchoge was not implicated in the scandal that saw one of his vice-presidents, Ben Ekumbo, shamefully arrested by police while hiding under his bed in an apartment stocked with boxes of Nike kit allegedly pinched from Team Kenya.
Following Wario's disbandment order, Kipchoge travelled to the IOC headquarters in Lausanne in the company of government officials where he returned to announce a deal had been struck to reform his tainted organisation.
That presented him with the golden opportunity to distance himself from the sharks that have plundered Nock by setting it on the path to transformation.
But on Tuesday, Kipchoge shocked even further when he claimed the Rio scandal never happened.
"Athletes were not mistreated. If the team was mistreated, they would not have come home with six gold, six silver and a bronze.
The team was taken care of and performed well," the Nock president uttered.
By saying in broad daylight that the most shameful sporting disgrace in the country's recent history was just a figment of fertile imagination, Kipchoge is well on course to self-destruction.
In essence, Kipchoge has disregarded the international body he continues to serve as an Honorary Council Member for life.
An organisation that has seen two of its presidents, Thomas Bach and his predecessor Jacques Rogge, visit his private farm in Eldoret and on August 5, 2016, and named him the first ever Olympics Laureate at the opening ceremony of the Rio Games.
Kipchoge was selected as the pioneering Laureate by an independent judging panel from the five continents, including Michaëlle Jean, Secretary General of La Francophonie (Americas); Phumzile Mlambo-Ngcuka, United Nations Under-Secretary-General and Executive Director of UN Women (Africa); writer Paulo Coelho (host country); José Ramos-Horta, former President of Timor-Leste and Nobel Peace Prize Laureate (Oceania); actor Michelle Yeoh (Asia); and IOC Honorary President Rogge (Europe).
So, is Kipchoge a stubborn man? A loyal man? A romantic? A revolutionary? A relic? A survivor?
By standing with a majority of his tainted executive—only former world marathon record holders Paul Tergat and Catherine Ndereba broke ranks with their colleagues in the vote— Kipchoge risks being seen that all along, he was the puppet master behind the rot at Nock but used his henchmen to carry out the dirty work such as the scandals at the London 2012 and Rio 2016 Olympic Games.
It has been reported in some quarters by his critics that the legend is a despotic leader behind closed doors who perfected and milked his excellence in distance running to catapult him to a pedestal that is beyond reproach.
One wonders what the discredited Nock officials have on Kipchoge that is compelling him to wash his legend down the drain by closing ranks with them to disobey the international body as well as make a mockery of the people of Kenya he has diligently served.
Kipchoge took over Nock in 1999 after the disgraceful exit of his predecessor Charles Mukora— who was embroiled in the Salt Lake City Winter Olympics bribery scandal—and the 1968 Mexico and 1972 Munich games champion is staring at a similar fate.
Born Hezekiah Kipchoge Keino, his middle name in his native Nandi expression means someone "born near the grain storage shed."
He rose from humble beginnings and his predicament got worse when both his parents died when he was young.
He then moved in with an aunt who raised him which explains why he established an orphanage in one of his expansive farms.
Kip made his name in 1968 Mexico Games
The 1968 Mexico Olympics marked the occasion when the world fell in love with Kipchoge Hezekiah 'Kip' Keino. Born on January 17, 1940, the then 28-year-old uncoached athlete from Nandi County crafted one of the most enduring stories in the history of the Games.