SHOCK FOR KDF CROSS COUNTRY TEAM: Soldiers miss out as AK names squad to Kampala IAAF meet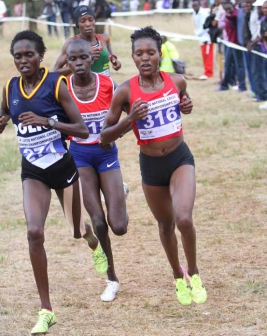 The National Cross Country selections at Uhuru Gardens in Nairobi elicited debate among athletics lovers.
Yesterday, Kenya Defence Forces runners fell by the wayside and KDF found itself without representation in the squad to World Cross Country which the soldiers have dominated in the past.
Defending world cross country champions Agnes Tirop and Geoffrey Kamworor will defend their turf at the 42nd IAAF World Cross Country gala scheduled for Kololo Ceremonial Grounds in Kampala, Uganda, on March 26.
Tirop makes a third stab at the biennial showpiece having bagged silver medal at the IAAF World Cross Country Junior Championships in Bydgoszcz, Poland, in 2013.
She now returns to Kampala three years after winning the Africa Cross Country title in 2014 before becoming the second youngest ever gold medallist at the 2015 world cross country championships in Guiyang, China, after Zola Budd.
The Kampala contest offers a perfect global stage for Tirop and 2013 world cross country champion Faith Chepng'etich, who picked up injury ahead of the 2015 world cross country.
Leonard Barsoton, fourth at the 2015 world cross country, returns to Kampala after winning the 2014 Africa cross country title and would be out to avenge defeats to Kamworor and Bedan Karoki, who won silver in Guiyang.
Irene Chebet Cheptai, the 2008 World Cross Country silver medallist, is out to make amends having not impressed since graduating to senior ranks.
Yesterday, Cheptai led 2013 World Youth 3,000m champion Lilian Kasait, who is her neighbour in West Pokot County, to a 1-2 finish and remains to be seen whether they will replicate the brilliant showing in Kampala.
Kamworor heads to the world cross country contest for the third time, having won the 2011 world cross country junior title and the senior title in Guiyang, China, in 2015.
It's now a riddle if the he can emerge as the first Kenyan to win junior title and two senior crowns at the World Cross Country Championships.
Leonard Komon, the 2008 world cross country silver medallist, offered a comeback tale to the explosive trials and will team up with newcomers in Vincent Rono, and Leonard Lagat.
Full story on www.standardmedia.co.ke
Alice Aprot returns to world cross country championships after finishing ninth in 2010 in Bydgoszcz, Poland, where her elder brother Joseph reclaimed the men's 12km crown. World 3,000m steeplechase champion Hyvin Kiyeng makes her world cross country debut.
World Youth 3,000m champion wants to win gold in Kampala and graduate to senior level with pride next season.
Kenya and Ethiopia are by a distance the most successful countries in the world championships' history, having won 122 of the 161 available team titles in World Cross-Country Championships.
The two nations have met 123 times where both have fielded full teams, with Kenya beating Ethiopia 80-42. Kenya has won six individual senior women's titles.