Pros and cons of citizenship change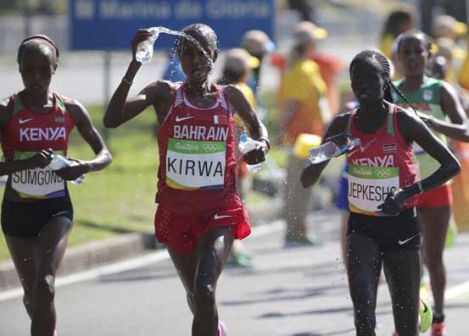 "It has become abundantly clear with regular multiple transfers of athletes, especially from Africa, that the present rules are no longer fit for that purpose.
"Athletics, which at its highest levels of competition is a championship sport based upon national teams, is particularly vulnerable in this respect.
"Furthermore, the present rules do not offer the protections necessary to the individual athletes involved and are open to abuse," world athletics governing body — the IAAF — President Lord Seb Coe said when announcing they will not allow any athlete to transfer allegiance to another country.
It came barely 24 hours after a feature titled Medals for Passports aired on a local TV station.
It reported how the oil-rich Gulf State of Bahrain had set up camp in Kapsabet where they were training a team of young Kenyan runners to pursue glory for them in distance running.
What the new system will be is not clear, but the IAAF wants to crack down on the practice whereby Middle Eastern countries pay African athletes to run for them.
Also targeted in the crackdown is the coterie of fixers, middle men and local federation officials who are milking the loopholes in the current rules to enrich themselves.
"The present situation is wrong. What we have is a wholesale market for African talent open to the highest bidder. Our present rules are being manipulated to the detriment of athletics' credibility.
"Lots of the individual athletes concerned, many of whom are transferred at a young age, do not understand that they are forfeiting their nationality.
"This must end and a new way forward found which respects the athletes' rights and the sports' dignity," IAAF Vice-president and Confederation of African Athletics chief, Hamad Kalkaba Malboum added.
Kalkaba, the Africa Area Group Representative on the IAAF Council, will drive the IAAF working group chaired by Japan Athletics president Hiroshi Yokokawa.
It will study the subject area and submit proposals for new rules as a matter of urgency, not later than the end of this year.
In freezing all new transfers of allegiance in athletics, save for 15 cases that were already being processed, the IAAF exercised its powers under its Constitution to revoke Competition Rules 5.2(b), 5.4(d) and 5.4(e) with immediate effect.
While the rules governing eligibility of competition which touch on switching allegiance are lengthy, countries like Bahrain, Qatar and Turkey capitalised on the clauses that allow federations to negotiate a reduction of the three-year waiting period to recruit heavily in Kenya.
Informed by the prevalent poverty in talent catchment areas in the Rift Valley as well as complicit Athletics Kenya (AK) officials and coaches, the lure of the petro-dollars has proven to be too hard to resist, fueling a multi-million dollar market for young athletes.
For example, provisions set out on Rule 5.4 (d) enabled the men 3000m steeplechase record holder and two-time world champion, Saeed Saif Shaheen (born Stephen Cherono) to run for Qatar at the 2003 and 2005 World Championships.
The then AK top brass 'agreed' to the request of their Qataris to persuade the Government to waive the three-year requirement period only a year after Cherono won gold at the 2002 Commonwealth Games in Manchester for Kenya.
Following an outcry, AK bosses, then led by the late Isaiah Kiplagat announced the Qataris would construct a state-of-the-art stadium in Kamariny in Keiyo, Elgeyo Marakwet County as a reward to Kenya but that is yet to see the light of day with allegations that millions of dollars changed hands to oil the move.
Shaheen would probably have won the gold at the Athens 2004 Olympics but the National Olympics Committee-Kenya President, Dr. Kipchoge Keino blocked efforts to fast track his waiting period under the International Olympics Committee rules.
At the Rio 2016 Olympics Games, the country erupted once again with rage when Ruth Jebet, born and bred in Nandi County, won Bahrain their first ever gold medal at the Games when she scorched Kenyan world champion, Hyvin Kiyeng and a week later, like Shaheen before her, broke the world women 3000m steeplechase record in Paris.
Barely 20, she transferred her allegiance in 2013 having competed for her nation of birth at the East Africa Triangular Championships when she won the national titles in the girls' 2000m steeple and 5000m despite the fact an erroneous entry on her Wikipedia profile states she made her switch in February that year.
Her proud father Joel Sitienei was delighted her daughter had 'made the choice' to run for the Gulf State where the King Hamad bin Isa Al Khalifa rewarded her with USD500,000 (around Sh52m) in cash and other lavish gifts for her gold medal.
"Since she went to Bahrain, she has built me a house, bought me two dairy cows and land.
"I am happy I no longer live in a thatched house," Sitienei gushed to reporters last year at her 'home coming' in Eldoret before she flew out to Bahrain to be feted. Those in favour of changing nationality point out that Jebet could comfortably have paid all Kenyan six gold medalists from Rio including men 800m record holder, David Rudisha who bagged a second top medal in Brazil, the Sh1m the Government offered them and still be left with a fortune.
"The money a Kenyan athlete receives is very little. You cannot build anything with Sh1.5m. With Sh5m for example you can do something solid," Jebet stated, and ultimately threw shade on her former compatriots.
Spurred by the two Olympics medals won by Kenyan-born athletes at the Rio 2016 Games, with Eunice Jepkirui Kirwa winning silver behind Jemimah Sumgong in the women's marathon, Bahrain intensified their efforts to set up base in Kenya.
Saudia-born Saad Shaddad, a retired five-time Asian 3000m steeplechase champion is the coach hired by Bahrain to run the camps in Kenya, Ethiopia and South Africa where they are shopping for sprinters and field athletes.
According to him, Bahrain is not buying athletes but recruiting them for a 'scholarship programme' and they are targeting underage runners discarded by the local structure where only the best get a chance to represent Kenya but still talented enough to be molded into future stars.
"We do not look for good, old athletes. We do not look for old guys like Saaed Shaheen. Taking from the national team is not a good idea. We take an athlete, give them salary, good engagement etc and they perform well. We don't have 16 or 17 year-olds in the (Kenyan) national team," Shaddad said.
He is assisted by local coaches, including Gregory Kilonzo who is credited with the Riruta Satellite production line that gave Kenya a number of World Youth and World Junior champions.
Kilonzo was investigated in 2014 by AK for aiding the flight of young students to Gulf nations of Bahrain and Qatar and was shocked when reporters spotted him at the Kapsabet hotel where the Bahrainis have set up their operation centre, barely a fortnight ago. When asked, Shaddad readily admitted that an AK official who is eyeing national office during the April elections, was their main fixer in Kenya, a charge he strenuously denied, terming the reports as a well calculated scheme by his opponents to scuttle his bid.
An athlete who was hoping to complete his transfer to Bahrain this year, before IAAF's intervention, confessed they were being paid Sh800,000 with an addition Sh200,000 to their families monthly if agree to run for the Gulf State.
"You cannot compare that to what Kenya is doing. It's doing nothing at all! You cannot bring your team to train for two weeks only.
"Ruth was given everything. Food, accommodation, allowances, a physiotherapist, a doctor and six guys to train with for about six months," Wilson Kipsang, the former world marathon record holder and chairman of the Professional Athletics Association of Kenya said in support of the Bahrainis.
However, presented with contracts in a language they can barely read or understand poses the danger for those athletes who fail to scale the heights of Shaheen, Jebet or Kirwa with a large number of the flops now stateless and discarded.
"There are many issues that arise from change of allegiance. The idea is to look at the rules as they exist and see if changes need to be made.
"Many issues have been raised by African and European countries and there hasn't been certainty as to whether the rules and regulations have been complied with or whether they are up to date," AK Vice-president and lawyer, Jinaro Kibet said.
He urged runners who have been rendered stateless and denied monies accruing to them for deciding to run for Gulf States to contact his office.
"We are ready to help the athletes. I am trained for such matters and I will assist in the best way I can," he pledged.