Peris Jepchirchir sets new Half Marathon World Record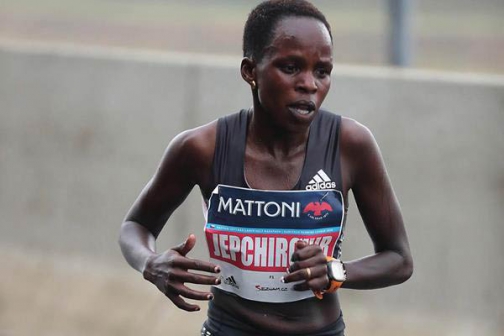 Peres Jepchirchir, the reigning world half marathon champion, set a new 21km record at the RAK Half Marathon Friday morning.

Jepchirchir, who comes from Kapsabet, beat three-time New York Marathon winner Mary Keitany as she set a new world mark of 65:06.

The 23-year-old Jepchirchir defeated Keitany as they waged an epic duel in a race that featured arguably the greatest women's half marathon field ever assembled.

She ran a negative split to break Florence Kiplagat's 65:09 world record from 2015. Each of Jepchirchir's 5k splits in the 21.1 km/13.1 mile race were faster than the previous as she ran 15:37 for the first 5km segment, then 15:27, 15:24 and 15:10 from 15k to 20k to finally drop Keitany. At that point, Jepchirchir was chasing history.

Jepchirchir dug extremely deep for the world record. Her form was completely falling apart as she neared the finish line (she slowed the final 1.0975km, running 15:43 pace for that stretch of the race), her face sporting an intense grimace as her torso swayed from side to side. Jepchirchir managed to hang on before collapsing immediately after the finish line, where she had to be carried away from the finish area.

Bedan Karoki, the 2016 World Half Marathon silver medallist, won the men's race in a new pb of 59:10 as 1:44 800 man Augustine Choge ran 59:26.

The race was not just historic for the time, but whom Jepchirchir beat. Keitany finished as runner-up today in 65:13 (putting her third on the all-time list), and this was the first time she had lost a half marathon since 2007.
Olympic marathon champion Jemima Sumgong was fourth in 65:43, with three-time Olympic champion Tirunesh Dibaba, arguably the greatest female distance runner of all time, fifth in a pb of 66:50 (previous pb 66:56), a whopping 1:45 behind Jepchirchir.

Jepchirchir took home just about $113,000 for the world record as there was essentially a $100,000 world record bonus. She got 50,000 AED ($13,612.85) for the win and 365,000 AED ($99,373.81) for the WR – a fact she was unaware of until broadcaster Rob Walker broke the news to her on air after the race.

"I was not thinking that I can run world record but it's God's plan," Jepchirchir told Walker. "I'm so happy. I'm not even believing myself that I ran a world record."

Jepchirchir said that her future plans are up in the air.

"My plans now, maybe I'm going to go home, find my manager, he will tell me what to follow. I can't choose for myself, he's the one choosing for me."

However, she did hint that those plans may involve a marathon debut.

"Now I've started preparation for [the] marathon," Jepchirchir said.
Jepchirchir had battled pneumonia in the fall, and said she was sick again earlier this week.
LEADING RESULTS (women)
1. Peres Jepchirchir 65:06
2. Mary Keitany 65:13
3. Joyceline Jepkosgei 66:08
4. Jemima Sumgong 66:43
5. Tirunesh Dibaba 66:50
6. Helah Kiprop 67:48
7. Rose Chelimo 68:37
Men
1. Bedan Karoki 59:10
2. Yigrem Demelash 59:19
3. Augustine Choge 59:26
4. Solomon Yego 59:50
5. Nguse Amsolom 60:04
6. Edwin Kipyego 60:05
7. Shadrack Kimining 60:07