SECOND BITE AT THE CHERRY: Asbel out to prove critics wrong, coach and fans want him front run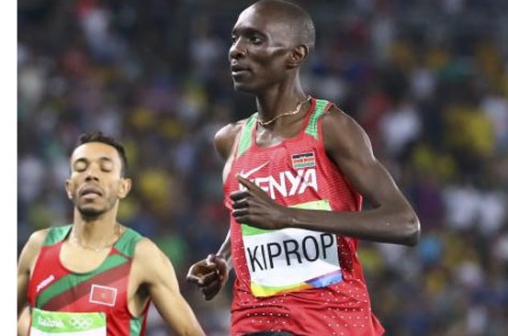 Asbel Kiprop, the three-time World 1,500m champion, is confident of reclaiming his title at the Olympic Stadium tomorrow morning.
He has been in fine form this season and he said he wants to atone for failing to defend the title at the 2012 London Olympics despite having vowed to win it squarely on the tracks.
He was handed the 2008 Olympics medal in a boardroom by Dr Kipchoge Keino, the National Olympic Committee of Kenya president, in Nairobi, after Algeria's Rashid Ramzi failed dope test.
Asbel has been craving to win the medal on the tracks and listen to the national anthem in the stadium. Unfortunately, he went for the 2012 London Olympics while nursing a career-threatening hamstring injury and got the wooden spoon as Algeria's Tauofik Makhloufi won gold.
"During my last day of training before we travelled to London, I picked hamstring injury. I painfully made it to the final and decided not to give up," said Asbel, a Chief Inspector of Police based in Nairobi.
"Competing in the Olympics even if one finishes last, just as I did, is something great though I am still disappointed. I now want to make up for that," Asbel said in reference to the poor show in London.
And he has to prove his worth and if he is to fit in the club of Morocco's four-time world champion and world record holder Hicham El Gerrouj as he lines up at 3am tomorrow.
He has posted brilliant wins in Doha, Eugene, Oslo and Birmingham and lost to his teammate Ronald Kwemoi at the Diamond League meeting in Monaco last month.
Elijah Manangoi, the world silver medalist and another member of Team Kenya in the race, pulled out due to injury.
Coach Julius Kirwa regretted Manangoi's injury but said it will not affect their plans tomorrow though they expected a podium sweep.
In the semis yesterday morning, Asbel summoned his usual behind-the-pack running style in what sent fans in panic mode before surging forward in the final lap to win in 3:3973.
Coach Kirwa and the Kenyan fans do not expect Asbel to employ similar tactic — which has cost him titles in Osaka (2007) and Berlin (2009) worlds — as he tackles quality line up that include defending champion Makhloufi.
Asbel was, however, to share in detail with the press his tactics as he jogged through the mixed zone.
Kwemoi eased into final in heat two in 3:39.42 and it is a wait-and-see if the Kenyan duo will secure top two medals.