Kenya's hope: Nyairera only Kenyan in 800m final as hunt for more medals continue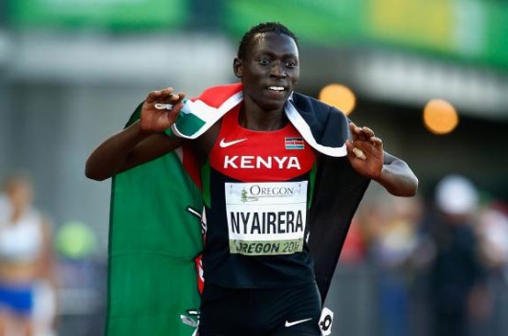 Former world junior champion Margaret Nyairera is Kenya's sole competitor in 800m women's final today morning.
Nyairera, who won the national trials in Eldoret, secured her spot in the finals by winning the semi-finals on Friday morning.
She has dared her rivals to brace for a mouth-watering battle at 03.15am on Saturday.
Eunice Sum, the 2013 world champion and former world junior silver medalist Winnie Chebet fell by wayside in the semis, leaving Nyairera to tackle South Africa's 2009 world champion Caster Semenya in the medal chase.
"Anything can happen in the final as this is a championship event and anyone can win it," Nyairera said after winning in 1:59.21.
Despite being cleared by the International Association of Athletics Federations to compete in 2010 after being subjected to gender testing in 2009, the story about Semenya's gender is not about to end.
According to media reports in the run-up to the finals, the South African superstar has testosterone levels three times higher than is expected in women due to hyperandrogenism.
Hyperandrogenism, or excess androgen, is a medical condition characterised by excessive levels of androgens in the body. Media reports say Semenya has no womb or ovaries but, due to chromosomal abnormality, internal testes.
For her, the claims will count for nothing when the women's 800m race gets underway.
Nyairera could not speak about the controversy surrounding the South African, only saying she was ready to race as she is shouldering Kenya's hopes.
"I felt good after running in the semis as I was not okay in the heats, but now my body had responded well and hopefully I will feel like this in the final," Nyairera told Feverpitch yesterday.
Apart from Semenya's threat, Nyairera should expect a challenge from Ninyosaba, who has performed well in the Diamond League meetings this season.
World champion Marina Arzamasova of Belarus and Commonwealth Games silver medalist Lynsey Sharp of Great Britain are other stars to watch.
Sum finished seventh in Heat Two in 2:00.88 while Chebet (2:01.90) was sixth in Heat Three that was won by Semenya in 1:58.15.
Zlatan and Pogba shine as United sink Southampton
Zlatan Ibrahimovic struck twice as Manchester United beat Southampton 2-0 at Old Trafford on Friday, with the world's most expensive player Paul Pogba making his second Premier League debut for the home side.