Jebet jets back with gold: Bahrain Olympic 3,000 meters steeplechase champion jets back to celebrate with family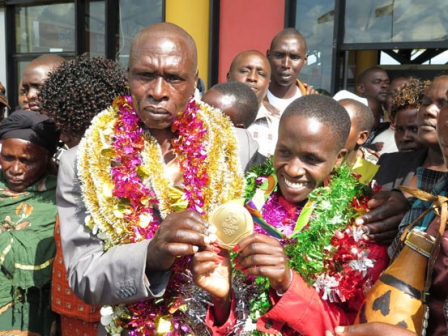 Ruth Jebet, the Kenyan-born 3,000 metres steeplechase Olympics gold medalist jetted into the country from Rio de Janeiro, Brazil to a warm reception from family, friends and athletes.
The 19-year old from Chepkemel village in Nandi County, who won the gold for Bahrain landed at Eldoret International Airport at 3pm to a rousing welcome from a crowd that had waited patiently to have a glimpse of the champion.
Jebet's father and aunts gave her mursik as they broke into songs of praise for their daughter who bagged a gold medal in Rio de Janeiro by upsetting Kenya's Hyvin Kiyeng who won a silver.
Interestingly, she had the gold medal she won for Bahrain hanging on her chest as she narrated how she emerged the winner in the race.
For the love of family, the third child in a family of seven flew back home to celebrate with them before heading to Bahrain.
"I decided to come home soon after the race because I wanted to see them before going back to Bahrain on Saturday," she said, and added that "the race was good, I went to Brazil prepared for a win and through intense training, I managed to cross the finish line with an impressive 8:59.75."
She was categorical that her decision to compete for another country was as a result of a sponsorship she received in 2012 after completing secondary education.
"I am currently pursuing a course in Animal Health in my Fourth Year at the university. It is also easier to make it to the national team in Bahrain because competition is not stiff like in Kenya and also, there are a few athletes and that makes it easy for me," she added.
Joel Murey, Jebet's father, heaped praises on her saying the decision to represent another country has brought good tidings to their family.
"Before she left for Bahrain through the help of her coach, life was challenging but right now, my daughter has brought us hope. She bought land and two cows and she is building a good house for me. I am happy for her," he said.
Mr Murey insisted that Jebet is still a Kenyan even though she represents another country in international races.
Jebet said her eyes are now set on World Championships in London in 2017.
Kenya take on Cameroon in return match
The national under-17 team takes on Cameroon in the return match of the Africa Youth Championships at Kasarani today with no hope of making it to the next round.