Unending drama: Paralympic athletes cry foul after being dropped from traveling squad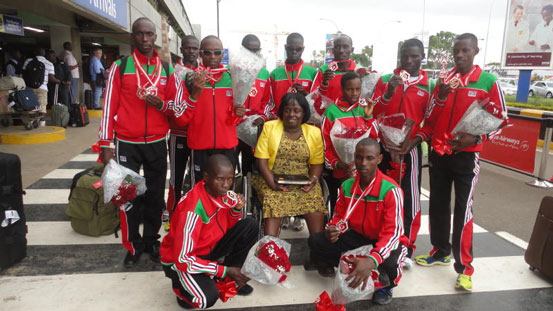 It is the dream of every athlete to represent his or her country in the Olympics or Paralympic Games.
Indeed athletes train for not less than four years hoping to have the honour of being among thousands who turn up at the world's biggest games.
It is therefore disheartening when they are dropped from the traveling party at the last minute.
This is the feeling of five Paralympic athletes who have been dropped with just weeks before the Paralympic games start in Rio next month.
One of the dropped athletes said they were told last week and up to now they still do not understand the criteria used to remove them from the team considering that they had already qualified.
They are also concerned that while they have been dropped, their coaches will still travel to Rio.
"All of us had attained the 'A' qualification standards as required by the international body and we have been training hard in preparation for the Olympics.
"Last week, our officials dropped the bomb shell that the international body has reduced our quota and we have to be dropped.
"We have not been shown any official communication from the international body to this regard and we therefore read mischief in this," said an athlete who asked not to be named.
"The most surprising thing is that my coach has been retained and this raises questions about the decision to drop us.
"Also, there seems to be a large number of officials who are travelling but do not add value to the contingent," the athlete said.
Agnes Oluoch, the chair of the Kenya National Paralympic Commission, admitted the athletes were dropped at the last minute, but said the reasons were explained to them.
"Initially, we were informed by the world body that athletes who had the 'A' and 'B' qualifying times will go to Rio. But we were later informed that only those with 'A' qualification will make it.
"Even those with the 'A' qualifications had to be those with the best times. This reduced our quota and we had to drop five more athletes," she explained.
Ms Oluoch said only nine athletes will represent Kenya in the Paralympic Games.
She also defended her board's decision to retain coaches whose charges have been dropped, and insisted that the tacticians are not just exclusively confined to certain sportsmen.
"We have the required number of officials to take care of our athletes at the games and there are no joyriders at all," she concluded.
Early in the week, some officials also complained of being unfairly dropped from the traveling party.
Rudisha sends message
Olympic champion David Rudisha yesterday sent his statement of intent with a commanding show in the 800m heats in Maracana.