Rudisha sends message: Rotich, Keter show great power in 800m heats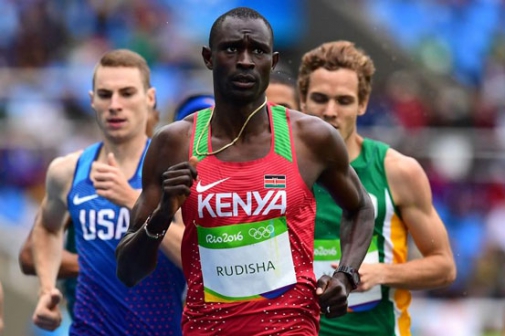 Olympic champion David Rudisha yesterday sent his statement of intent with a commanding show in the 800m heats in Maracana.
The world record holder led compatriots Ferguson Rotich and Alfred Kipketer into today's semi-finals.
Rudisha, who was running in Heat 2 lead from start to finish in his characteristic front-running style and stopped the clock at 1:45.09. This was the faster of the heats compared to the earlier two.
Rudisha has not been in good form in the Diamond League meetings despite having the world lead time. He had a split time of 1:32.1 in the 700m and did not need to exert too much energy as he jogged across the line ahead of South Africa's Van Rensburg.
In chasing Rudisha down, the South African managed to run his season best time as he clocked 1:45.67 to automatically secure a passage to the semi-finals.
The first three athletes across the line qualify for the semi-finals and will be joined by two other fastest losers from the other heats.
Ferguson Rotich, who has beaten Rudisha more than once in the Diamond League circuit this season, was the first Kenyan to take to the track.
Rotich, who ran from behind in the opening stages of the race finished in second place behind Poland's Adam Kzzcot. He clocked 1:46.00 with the Pole stopping the clock at 1:45.83.
Adreas Arroyo of Peru was third in 1:46.17 and Egyptian Hamad Mohammed has to wait to see if he will make it to the semis as a fastest loser after finishing in fourth place in 1:46.65.
In the fourth heat, Kenya's Olympic trials champion Alfred Kipketer commanded the proceedings from start to finish and even had time to look across the line to see who was likely to overtake him as he strolled home in 1:46.61.
The semi-finals will be run today and the three Kenyans will all be hoping to make it to the finals as they strive to ensure that the Olympic title held by Rudisha returns home.
A world record time, however, looks highly unlikely as Rio's weather patterns are unpredictable.
Yesterday, the athletes had to run in the rain and the track was wet. If conditions will be the same during the finals then the organisers should forget about the world record time ran by Rudisha in London in 2012 being improved here.
NOCK DISOWNS LEGEND
The misfortunes facing sprint coach John Anzrah, who allegedly presented himself as 800m medal prospect Ferguson Rotich, has brought to fore problems that Team Kenya face in Rio de Janeiro, Brazil.