Elusive gold: Cheruiyot settles for silver as women gold medal in 10,000m proves unattainable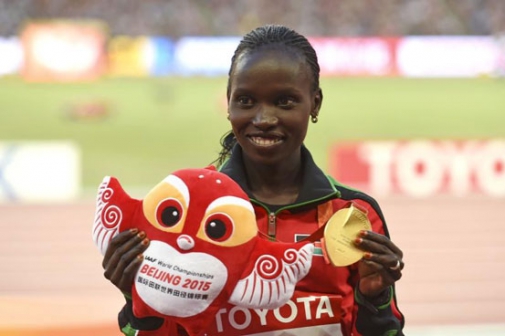 When will Kenya win women's Olympic 10,000m gold medal? That is the question on the lips of many after hot-favourite Vivian Cheruiyot settled for silver – and put Kenya on the medal table – in Rio today.
Even though Vivian did not win an Olympic title she has been yearning for long, she will take heart from the fact that she fought a good fight consideirng that Ethiopia's Almaz Ayana not only won the gold, but also broke Junxia Wang's world record.
Ethiopia struck their fifth Olympic 10,000m gold medal which has eluded Kenya since their Olympic debut in 1956.
Ayana clocked 29:17.45 to lower the world record which stood at 29:31.78 which was set by Junxia in Beijing, China in 1983.
While winning the silver, Vivian also set a new national record as she clocked 29:32.53.
Alice Aprot, who had taken control of the race in the opening stages, lost the battle for a bronze medal to Ethiopia's two-time Olympic 10,000m champion Tirunesh Dibaba, who was hoping to defend her Olympic title which she won in 2012.
Aprot, however, set a new personal best time by finishing fourth in 29:53.51. The third Kenyan in the team Betsy Saina was sixth. She also run a personal best time of 30:07.78.
Vivian, the reigning world champion, went into the Olympics hoping to win the elusive Olympic title, but Ayana proved a tough nut to crack after stepping up from her 5,000m specialty.
The race started on a promising note for Kenya when Aprot, the African champion, lead the large field in the first 5000m.
The pace by Aprot broke down the field in three races in one as three Kenyans, three Ethiopians, a Turk and an American were in the first pack while another group composed of mainly European runners were in the chasing pack. The third pack had South Americans and a Mexican, who was the first to be lapped considering the suicidal pace that Aprot kept injecting into the field.
However, Aprot was bound to get tired at some point given that Saina did little to help her with the pace. That is when Ayana struck.
Jesus is my doping says Ayana after world record
Ethiopia's Almaz Ayana brushed off doping suspicions about her astonishing world record-breaking Olympic 10,000m victory here Friday, attributing her performance to hard work and religious devotion.