Three-time Boston marathon winner Rita Jeptoo faces bleak future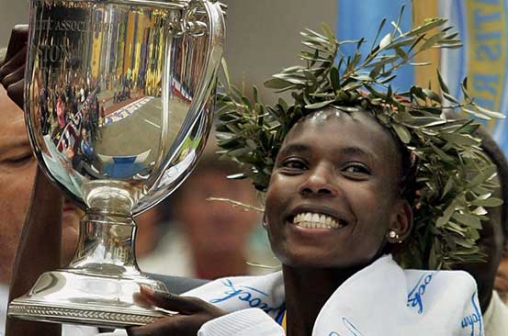 Fresh twists continue to dog three-time Boston Marathon winner Rita Jeptoo's as the Court of Arbitration for Sport (CAS) sat to hear her doping case in her absence.
Last week, Ochwada and Associates claimed that Jeptoo had no access to facilities required for her to participate in the hearing through a video conference, which was further handicapped by date clashing with a public holiday (idd-ul-Fitr) on Thursday, making it difficult for her to summon witnesses.
However, the hearing went on without her or her lawyers, which means she faces a bleak future.
According to Insidethegames.biz website, the hearing went on: "The hearing was held today (Thursday) in the presence of the IAAF representatives," a CAS statement outlined.
"Ms Jeptoo joined the initial phase of the hearing by telephone, but opted to leave the hearing during opening statements.
"The CAS Panel decided to proceed with the hearing in Ms Jeptoo's absence," Insidethegames.biz reported.
Jeptoo, however, denied the accusations that she deliberately hung-up midway through her hearing with CAS.
The athlete, who was handed a two-year suspension in 2014 by Athletics Kenya (AK) following a positive test for erythropoietin, is facing an appeal from the IAAF.
IAAF are seeking to extend her ban from two to 12 years and for her to be stripped of her 2014 Boston title due to "deliberate usage" of the banned blood-booster and or "attempted tampering" of samples.
On Wednesday, AK also withdrew from the hearing just few hours before the start of the court session in what appears to put her quest for justice in a tricky position.
In a letter AK sent to CAS, the federation's lawyer Elias Masika Juma of Tripleoklaw LLP said several obstacles, also cited by Jeptoo's lawyers who earlier withdrew from the case, would hinder her from getting a fair trial and that the International Association of Athletics Federations (IAAF) and CAS had no sympathy for the athlete's situation.
"In the face of the withdrawal of her Advocates from further representing her in the matter...we do not agree with the court's decision to insist on proceeding with the hearing of the appeal despite the various positions advanced in opposition to Thursday's hearing by her Counsel on record," the letter stated.
"The letter also stated that the arrest of the Athlete's former manager, Federico Rosa and her former coach, Claudio Berardelli who, by reason of their incarceration as above cannot be subjected to cross examination during the hearing is extremely critical to the case.
"As a Federation that is aware of the Athlete's level of education, we are not without sympathy to her present circumstances."
In response, Brent J Nowicki, a counsel to the CAS, said: "I acknowledge receipt of Ms Jeptoo's letter of today, a copy of which is attached for the other parties' attention. Ms. Jeptoo comments are noted, and in particular, the panel takes note that Ms. Ochwada has withdrawn as counsel for Ms Jeptoo. Therefore, all future correspondence will be sent solely to Ms Jeptoo and Ms Lagat.
"Ms Jeptoo is invited to inform CAS Court Office as soon as possible whether she wishes to seek replacement pro bono counsel, or whether she wishes to represent herself either in in person, by video, or by telephone. Such arrangements will made accordingly.