Standard Chartered Nairobi Marathon 2016 launch: Nairobi Governor Evans Kidero to participate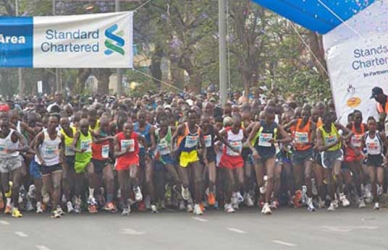 Nairobi Governor Dr. Evans Kidero has warned company CEO's that he will take lead in this year's Standard Chartered Nairobi Marathon scheduled to begin in October 30, 2016.
Kidero spoke during the launch of the marathon registration at City Hall Nairobi on Friday, where he presided over the event.
"I would like to send an early warning to the respective CEOs taking part in this year that this time round I will fully participate in the race, and they should expect very tough competition from the Governor." Said Kidero.
Launched in 2003, the marathon has been useful in nurturing local talents and has restored 10000 children countrywide.
It has also enabled industry sponsors to engage with their customers in building customer loyalty, a move that has seen growth in market.
Celebrating the 14th anniversary, the Standard Chartered Marathon, sponsored by The Standard Chartered Bank, will host up to 30000 participants.
The Governor noted that, Nairobi County Government relationship with The Standard Chartered Bank geared by a memorandum signed in 2014 has been beneficial to Nairobi residents.
He assured the County governments' total supported to the marathon, stating that the CEO marathon challenge introduced las year increased the awareness of 'Seeing is Believing initiative'.
Seeing is Believing initiative is an ingenuity that supplements efforts in providing affordable health to the community.
It also ensures that avoidable blindness is eliminated as it provides special eye care and training.
Kidero poured praises to Standard Chartered Bank for its continued engagement with all the country stakeholders.
'I would like to assure you of our continued support and also appreciate your efforts and interventions that have helped to change lives of thousands of people". Said Kidero
"Indeed the County Government of Nairobi is honoured to be associated with the biggest sporting event and the only International Association of Athletics Federation (IAAF) accredited marathon in Kenya"
He also commended the Seeing is Believing initiative for its commitment in eye care services to Nairobi city residents and assured it full support from the County Government.
"During last year's launch, I was touched by the spectacle of thousands of parents who brought their children to Uhuru Park for the free eye screening, check-up and treatment."
"Through such partnerships championed by Standard Chartered Bank, we shall be able to achieve a lot of success in the health sector."
Kidero challenged the Bank to further its investment in the marathon to make it renown worldwide.
"We would like to see the world beaters from Kenya, Ethiopia, Eritrea and Uganda doing battles in Nairobi."
The Governor thanked all the stakeholders, Athletics Kenya, the government, athletes and the media for making the marathon a great success.
"I urge all Kenyans to turn up and register for this noble cause that will undoubtedly make a difference in the life of a deserving child. I now declare the registration of the 2016 Standard Chartered Nairobi Marathon officially open."
In attendance were The Standard Chartered CEO Henry Wanyoike, Athletics Kenya, acting President Lamin Manjang, Gen (Rtd) Jack Tuwei, Seeing is Believing Ambassador, Sponsors and the media.
Brexit: Blow to Premier League Players
There are currently 332 players in the top two divisions in England and Scotland who would not have been able to sign for their clubs had Britain not been in the EU