'WE FEAR NOTHING' Athletes welcome IOC's thorough testing over 'no presumed innocence' rule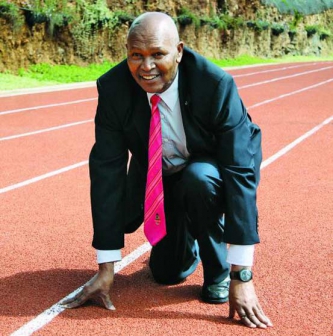 Kenyan athletes have promised to comply with International Olympic Committee (IOC) requirements ahead of the Olympic Games in Rio de Janeiro, Brazil, in August.
The move comes after World Anti-Doping Agency (Wada) declared Kenya and Russia "non-compliant", which led to the announcement by IOC President Thomas Bach on Tuesday that athletes from the two nations could no longer be "presumed innocent".
"IOC has serious doubts on the presumption of innocence of athletes from Russia and Kenya," said Bach.
Yesterday, some athletes said the decision makes no impact on a clean and eligible athlete.
Eliud Kipchoge, who is in the marathon squad to the Rio Olympics, exuded confidence over IOC rule.
"There is no big deal. Each and every athlete will prove his or her innocence. There is no cause for worry since when we attend such big championships like Olympic Games, we give blood samples on arrival at the hotel. So, thorough testing is welcome for fair sport," said Kipchoge, winner of Olympic 5,000m bronze (Athens) and silver (Beijing) medals.
On Tuesday, IOC ruled out Russian and Kenyan athletes from all Olympic disciplines unless the
respective international sports federations determine their eligibility.
Kenyan Olympic chief Kipchoge Keino confirmed that 60 athletes, including Rugby Sevens players, have already undergone the new testing procedure and more tests were expected before the team departs for the Olympics.
"They have already tested 60 athletes, including junior runners preparing for the IAAF World Under 20 junior athletics championships in Bydgoszcz, Poland in July, and the Rugby Sevens players who will play in the Olympics for the first time," Kipchoge told AFP.
IOC may have extended the rule to Kenya and Russia for they have had quite a number of athletes testing positive for doping –given that the two countries have been declared non-compliant by World Anti-Doping Agency (Wada), with poor funding cited as Kenya's main hindrance.
Sally Kipyego, the Olympic 5,000m silver and 10,000m bronze medallist, said IOC's decision, "offers the right opportunity for us to prove to the world that we are talented and run clean."
"Most Kenyan athletes run clean and if it's a procedure that we must prove that we are clean, then it's okay. I am ready to be tested as many times as possible. Even 10 times is fine. We will comply with every requirement and take care of our business –competing. We believe in clean sport and have nothing to fear.
"The IOC rule will have no impact on us, unless an athlete has something to hide. I call on fellow Kenyan athletes to support it to enable us erase any doubt on our eligibility," said US-based Kipyego.
Wilfred Bungei, the 2008 Olympic 800m champion, decried the timing of the IOC announcement saying it might affect athletes' preparations.
"Winning the race starts from the trials. And such an announcement would distract some athletes. But, from my experience, there is no reason to panic. We were tested even five times in a week at the Olympics and being subjected to thorough testing makes no negative impact. Kenyans have a rich history competing at the Olympics," said Bungei.