Did doping run these world-beaters to their early graves?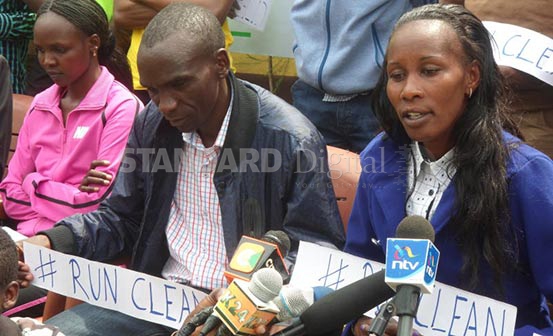 One hot Wednesday afternoon in 2013, Geoffrey Tarno run a hard and furious 40 kilometres.
He was hundreds of metres away from his nearest competitor. He could already feel the tape break against his lean torso as he crossed the finish line of the Kimbilio Hospice Marathon. The only thing that could beat him to the tape was a slight wind.
Tarno was at the peak of his abilities and had the best years ahead of him, posting personal bests in the run up to the Kimbilio meet.
But, unknown to him, this particular race would not add another medal to his fast-growing collection. With less than two kilometers to go, Tarno collapsed into a heap. By the time his nearest opponent, who was 700 metres back, got to him, Tarno had breathed his last.
Dead on the track aged 30.
With his death evaporated not only his dreams and ambitions, but those of his wife and children too.
As Kenya dithers in confronting the doping monster, questions linger over the circumstances surrounding the deaths of two other Kenyan athletes over the last five years.
Banned substances
The cause of these deaths has been hushed up and efforts to get medical reports have been curtailed by doctors citing Hippocratic Oath on patient-doctor confidentiality. But as the silence continues, so do the rumours and the debilitating effects of the banned substances.
A former world marathon majors champion is currently battling a heart condition that friends suspect to be a result of long-term usage of endurance drugs. But none of them is willing to go on record and openly discuss it.
Tarno's death on the track was not the first to hit Kenyan athletes. In fact, another marathoner collapsed and died during a marathon in Brazil five years before Tarno's death. On November 30, 2008, Kenyan athlete Barnabas Kipkoech, while participating at a half marathon event in Goiania, Brazil, collapsed and died.
Speaking to The Standard at the time of the incident, Wesley Kiprotich, a longtime friend of Barnabas, said he collapsed after five kilometres. That fateful half marathon was his third scheduled race that month. He had earlier come third in one road race, withdrew from a second one before the third in which he ran his last 5km.
And this too raised eyebrows.
On March 15, 2014, Pamela Chesopich Lisoreng, fresh from a routine morning run, collapsed on her way back home. She was pronounced dead on arrival at an Eldoret hospital. She was 26 and had participated in more than 13 IAAF sanctioned events since her first official race - a 3000m race in Nairobi on June 15, 2005.
Her last, according to the IAAF, was the Hengshui Lake Marathon where she finished with a time of 2hrs 34 minutes, narrowly missing out on a podium finish.
"It is true some deaths have been brought to my attention, but I have no way of proving whether they are caused by drug abuse. Because of my position, these things are brought to my attention but I have no capacity to determine their cause," said track legend Kipchoge Keino, chairman of the Kenyan Olympic Committee.
Sports medicine specialist Dr Edward Odipo Nyamogo said most of these athletes rarely have a lifespan of more than five years.
"What they could have achieved in 10 years they do in five, wrecking everything in their bodies and their careers in the process," he said.
The doctor said the athletes never know when to quit since "they are so pumped up they feel invincible and do not notice when things start to go wrong".
Nyamogo said some athletes later develop problems with major organs like the heart, lungs and muscles. "Some die in their sleep. Others just collapse while doing simple tasks like jogging," he said.
Thus, putting some truth to the claims by the Eldoret marathoner with a heart condition.
In spite of winning numerous tittles across the globe, the athlete, once touted as Kenya's great marathon hope, now relies on fellow athletes to raise money for medication. At his prime, the athlete competed in and won some of the most prestigious marathons on the athletics calendar. All his major victories came in a span of four years.
Kenyan authorities, however, continue to deny the seriousness of the doping claims, often branding expose's by foreign media as exaggerated and meant to tarnish the image of their "world beaters."
In 2012, a German TV station, ARD, aired a documentary claiming widespread doping in Kenya after one of its journalist, Hans-Joachim Seppelt, recorded undercover his conversation with a doctor allegedly helping several athletes to dope.
"Regarding the clinic in the high altitude region, we have been told by the doctor that he is working with a lot of world-class athletes," Seppelt says in the documentary.
Seppelt told Athletics Illustrated, "Kisorio (Matthew) described it very clear. The doctors invest in the athletes, telling them, that they don't have to pay the whole amount, only a little part. But they expect to get a certain percentage of all the money the athletes earn in competitions. Easy business."
Kisorio is one of the athletes implicated in doping scandals and has since served a two-year ban for the offence.
Reacting to the ARD TV expose in 2012 that doping was rampant in Kenyan athletics, former AK president Isaiah Kiplagat said: "These (foreign) coaches have been extracting blood from some athletes and mixing them with other things to qualify their doping claims. They are even responsible for calling in international journalists and feeding them with their doping lies. Compared to other countries we do not have a serious problem."
But over the years, new information has continuously placed AK on the wrong side of the doping argument.
Moses Tanui, the 1991 10,000m World Champion is worried the imminent suspension of Kenya from track and field competitions will lay to waste several generations of athletes.
"All fingers point at Athletics Kenya, who allowed in agents without checking their background. They have come here and targeted lower cadre athletes, put them on drugs so they can also compete at the prestigious races around the world," Tanui, who also twice won the Boston Marathon, said.
Winnie Kitetu, the All African Games team psychologist, says in this cut-throat world of winner takes all, some are willing to do all to emerge winners.
"Most sportsmen have a lot of anxiety disorders. Some panic a lot and have esteem issues so they turn to steroids, stimulants, hormones, alcohol and even cannabis to deal with their issues," Kitetu says. "Of course some do so knowingly, others unknowingly."
This has forced the World Anti-Doping Agency (WADA) to come knocking on Kenya's door. For many years, Kenya treated concerns raised over the possibility of her athletes doping as wild allegations. That is until WADA caught up with one of her biggest stars.
In September 2014, Rita Jeptoo, winner of the Boston and Chicago marathons, was banned for two years after failing a drugs test.
Serious danger
Jeptoo remains the first high-profile athlete to fail a test, when she tested positive for performance-enhancing. In her defence, the marathoner said she might have been prescribed the wrong drugs after a road accident.
Jeptoo's and the cases of 44 other athletes suspended over doping allegations put the country on a WADA watch list, compelling the Sports Ministry to draft a long awaited Anti-Doping Bill, which it is hoped, will save Kenya the boot from the 2016 Rio Olympics.
On February 22, in a KTN Morning Express Sports Chat, Prof Moni Wekesa, the lead consultant drafting the Anti-Doping Bill 2016 warned that the health of athletes was in serious danger and called for urgent interventions.
According to Prof Wekesa, one of the most commonly abused drugs in sport are the anabolic steroids.
"They are used for building the body so that you see bulky muscles. These steroids have a bad effect on reproductive aspects on the persons using them. In ladies using them, they will never be called mummy in their life because their reproductive system is interfered with," he said.
"By abusing steroids, one exposes the body to the early onset of cancers. It can be seen in ladies when their voices change from soprano to base. Beards start sprouting on the chins and breasts shrink. In the long run, their life span is actually shortened. Most of those who abuse these drugs do not go beyond 40," Prof Wekesa said.
World athletics governing body, IAAF, has already suspended Athletics Kenya officials Kiplagat (President), David Okeyo (Vice President), Joseph Kinyua (Ex-AK treasurer) and lately CEO Isaac Mwangi for doping related issues.
Kiplagat, Okeyo and Kinyua are also accused of subverting anti-doping rules and other wrongdoing related to the misappropriation of federation money.
Mwangi was placed under IAAF investigation on Monday for allegedly asking for bribes from two banned athletes in exchange for more lenient sanctions.
But as grand posturing continues within boardrooms, many more athletes may be willingly or unwillingly falling into the doping vicious cycle.
Death, it seems, remains a worthwhile risk as Kenya's world beaters, having only themselves to compete with over years past, attempt to catch the wind and beat it too. At all costs.
Louis van Gaal hailed by Manchester United chiefs
United executive vice-chairman Ed Woodward will have the final say on Van Gaal's future, in a tough season that has seen the Reds exit the Champions League, Europa League and fail to mount a title challenge.