Two stables in mysterious tussle for top runners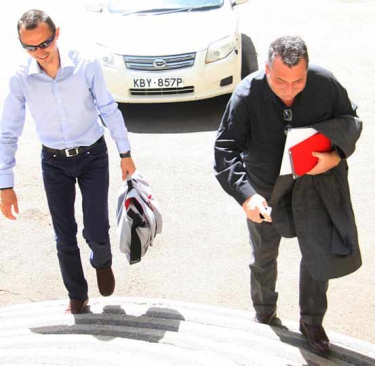 As athletes jostle to renew contracts with foreign agents this month, a wave of migrations is looming large around two Italian-based track and field stables.
There is an expected exodus of athletes attached to Rosa and Associati camp in Kaptagat and Kapsabet moving to Iten-based Gianni Demadonna's stable when the signing up and renewing of contracts start this month.
The development comes after the exit of coach Claudio Berrardeli from Rosa camp following a fall out with Federicco Rosa, the manager who is the son of the silver-haired Gabrielle Rosa.
But Federicco had earlier dismissed the reports that he sacked Claudio. "That's wrong. I have not sacked him...who told you that? I don't do act in such a manner," he said.
Rosa's athletes who were coached by Claudio who are reportedly planning to "flee" include Commonwealth Games 800m champion and world bronze medallist Eunice Sum, former world champion Janeth Jepkosgei and Chicago Marathon winner Dickson Chumba.
DOPING ALLEGATIONS
"We cannot ascertain their movement now since renewing of contracts will start later in the month. If they sign up with Gianni, it will have some repercussions," said a source privy to the developments.
Gianni works with Adidas Sportswear apparel while Rosa's athletes don the Oregon-based Nike apparel.
The three top athletes are said to be managing their exit and making headway to Gianni Demadonna's management, another Italian, where coach Claudio had a soft landing after his contract reportedly expired at Rosa camp.
Earlier this year, AK issued a six-month ban on Rosa camp and Dutchman Gerard Van de Veen from managing Kenyan athletes over doping claims.
The decision came before AK reinstated the Rosa camp after it suspended them early this year over doping allegations.
Three-time Boston Marathon winner Rita Jeptoo, former world junior 5,000m silver medalist Mathew Kisorio and Africa 800m bronze medalist Agatha Jeruto were in Rosa camp when they were banned for doping.
Claudio's decision to feather another nest in Gianni Demadonna's camp has generated mixed reactions especially on doping.
Abraham Mutai, the Central Rift Athletics Kenya chair, absolved Claudio from blame.
MIGHTY GOR MAHIA
He is a very amiable old man. He is often kind enough to return calls. And on this day, it was not different. I offer to call him back and once he answers, I venture to pick his brain.