Kenya transit point for ivory bound for Europe and Asia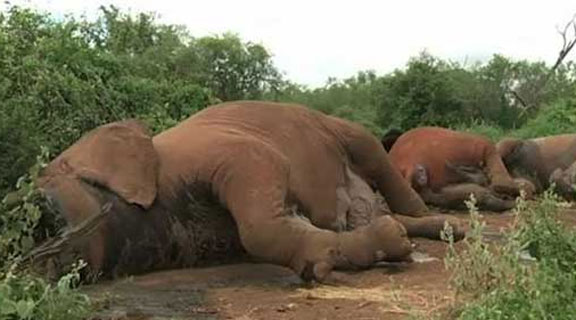 Some of the elephants killed by poachers. [Photo:File/Standard]
By KIBIWOTT KOROSS
NAIROBI, KENYA: Most ivory impounded in Kenyan ports are from neighbouring countries enroute to other destinations.
Kenya Wildlife Service says most of the ivory netted in the country originates from Democratic Republic of Congo, Central African Republic, Uganda and Chad.
KWS Director William Kiprono says: "If it was of our elephants, all could have been wiped out by now."
The Kenya Revenue Authority (KRA) last weekend seized four tonnes of ivory at the port of Mombasa.
The container, which had 686 pieces of ivory weighing 1.9 tonnes, and which was disguised in 250 bags as sesame seeds, was destined for Turkey.
An investigation by The Standard on Saturday has revealed that the container was marked to have originated from Kampala but its original source was DR Congo. Two containers have been seized by KRA and KWS but there are reports that another eight are suspected to be on their way to Nairobi disguised as timber and peanuts.
"The ivory could not have originated from Uganda since there are no elephants in Uganda," said a source privy to the tracing of the remaining eight containers.
Poaching of rhinos and elephants has been on the rise not only in Kenya, but in Africa as a whole where herds are massacred for their horns and ivory. One kilogramme of rhino horn can fetch more than Sh5.5 million while that of ivory is estimated to be worth more than Sh170,000 on the Asian black market.
The United Nations Office on Drugs and Crime in their September report says most ivory is trafficked by road though Uganda with timber as cover load and notes Kenya as a gateway point.
Poachers from DR Congo, Central Africa Republic, Uganda, Chad and Tanzania are shipping their illegal cargo through the Mombasa port to Asia.
Illegal wildlife trade is driven by high profit margins and, in many cases, the high prices paid for rare species. Vulnerable wild animals are pushed further to the edge of extinction when nature can't replenish their stocks to keep up with the rate of human consumption.
As far back as 2010, the Convention on International Trade in Endangered Species of Wild Fauna and Flora accused the Congolese army of being 'responsible for 75 percent of poaching in nine out of 11 sites' in the country. The World Wildlife Fund (WWF) has declared the forest-dwelling Congo basin elephants an endangered species.
The Congolese Nature Conservation Institute (ICCN), estimates that around 1,000 elephants were poached in DRC between 2010 and 2013. The organisation also believes that local chiefs have been complicit in elephant poaching.
Broad daylight
They use Kenya only as a transit point because the port of Mombasa is fast moving and the Jomo Kenyatta International Airport is one of the only three airports in Africa with direct flights to Asia where their consignment head to.
The containers are either transported through rail or by road once they cross Malaba, they are repacked into private four wheel drive cars which always pass uninspected in the several police road blocks along Malaba-Nairobi highway.
"We are aware of this new method they are using," said Kiprono when contacted, "It has been difficult to nab them (those transporting repackaged ivory) but soon we will make some arrests."
The system is so organised that there are other escort cars who bribe police officers before hand.
One of the escort cars leads the pact and will ask police officers for a safe passage of the car ferrying the ivory after being oiled with money.
"Wildlife crime is a big business run by dangerous international networks," said Kiprono, "it involves those who have money and they easily bribe their way.
Once in Nairobi, the ivory again is repackaged into smaller cars in order to reduce risks.
According to KWS sources, the ivory is repackaged at posh estates in the city which include Westlands, Lavington,Runda, Limuru and Eastleigh where it is believed that some holding warehouses exist.
Services of security officers are enlisted here with military officers being roped in due to the nature of their work. The officers also provide safe passage along the highway and some are often used to deliver the ivory to available buyers in Nairobi.
Kenyan wildlife officials arrested an army officer early this month for possession of elephant ivory in a rare crackdown on a fellow government employee.
The 44-year old soldier, who has served in the army for 23 years, was arrested in possession of three pieces of ivory weighing seven kilogrammes
Organised and armed criminal gangs are regularly blamed, but corrupt government officials are also accused of turning a blind eye or even of active involvement in smuggling.
Life sentence
And once in Mombasa, following strict inspection at the Mombasa Port, the smugglers have resorted to using speed boats to haul the contraband ivory to ships inside Indian Ocean and find its way to the Asian countries.
"Regardless it's often we hear if ivory brought across borders and from DRC through the ports in Kenya. It can come in via Uganda but as the routes are all illegal it's hard to track" says Niall Nocconor, head of World Wide Fund for nature, an international organisation campaigning against poaching.
He says despite much of the seized ivory coming from other countries, there was also possibility it can be mixed with what is poached in Kenya.